Android Pay coming to Canada, Spain, Brazil and others, debuts peer-to-peer payments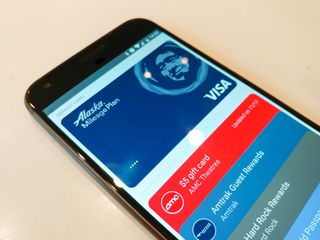 Even though Android Pay is available in 10 markets right now, it's been a relatively slow, plodding expansion for Google's mobile payment platform. At Google I/O 2017, the company announced that it is expanding to a further five markets in the coming months, launching in Canada, Brazil, Russia, Spain and Taiwan. There have been numerous hints that Android Pay was imminently launching in Canada and Russia, so it's nice to finally see the plan put on paper.
At the same Google I/O session, Google also detailed some interesting new ways that people will be able to make payments, both to vendors and retailers, and to one another through its first peer-to-peer operation.
There's the Google Payment API, which saves verified credit and debit cards to a Google account and allows users to quickly make payments in-app or on the mobile web. This is different to Android Pay because it's not platform-specific — you can likely use it on iOS in addition to Android — and is not tied into Android Pay, so it can be used in all countries Google operates.
There's peer-to-peer payments using Google Assistant. You'll be able to say things like "Ok Google, send $10 to Jane for pizza," and a connected debit card will send the payment through. Pretty easy.
A Card Linked Offers API will allow customers to see targeted offers based on location. Panera Bread is the first company on board with the enterprise, and users will see marketing offers when in store, often tied to a loyalty program like MyPanera. Pretty neat.
Finally, Google is making it easier for loyalty cards to be added to its various marketing partners. If a customer is making a payment at a particular store that has hooked its loyalty program into Android Pay, users will get a notification asking whether they want to add their card and, once added, will begin collecting points with every transaction.
While personally I'm most excited about Android Pay coming to Canada, there are a lot of small improvements to the way users can send payments and use their loyalty that should make the experience better for everyone. That's not to say all markets will get the above features — it's likely the loyalty and peer-to-peer options will remain U.S.-only for a while yet — but it's a good foundation.
What are you most excited about for Android Pay? Let us know in the comments!
Daniel Bader was a former Android Central Editor-in-Chief and Executive Editor for iMore and Windows Central.
This is the first time I've seen Spain mentioned regarding Android Pay, which is strange because we already have both Apple Pay and Samsung Pay, and Android's market share is approx. 90%. PLEASE, don't tell me it's a typo.

Finally Android Pay hits Canada! I'm not in Canada but it's shocking that it has taken SO long.
Peer to peer payments is pretty awesome though.

Finally! I've been waiting to use Android Pay here in Canada. Looking forward to it launching soon.

Why wouldn't the loyalty offers be available in Canada as soon the US, I can see why even if I don't like it the peer to peer option but loyalty offers I don't get

Hopefully Android Pay Canada isn't gimped by Canadian financial institutes.

i feel like we always get left behind here in Canada, still no Samsung Pay, and who knows what "coming soon" means for Android Pay

I don't see the benefit. We already have mobile payments in Canada. I have had this ability for years, even with old BlackBerry devices (I think as early as BlackBerry Bold). I use Apple Pay regularly when I'm on my iPhone and some clear advantages exist like itemizing your transactions, Apple Watch payments, plus convenience of using Apple Pay in physical and virtual world. On my Android (currently S8+) I use my banks mobile wallet solution and it works perfectly fine. What does Android Pay offer that I can't get otherwise?

> What does Android Pay offer that I can't get otherwise? A choice? My banking app doesn't do loyalty cards, which is frustrating.

At long last Android Pay is coming​ to Canada

When will Google launch it in India . Samsung has already made a debute by its Samsung pay app . Wish it would also launch in India .

I don't think anyone on AC would know that. Call Google and ask.
Android Central Newsletter
Get the best of Android Central in in your inbox, every day!
Thank you for signing up to Android Central. You will receive a verification email shortly.
There was a problem. Please refresh the page and try again.