Android P first impressions: Everything's going to be okay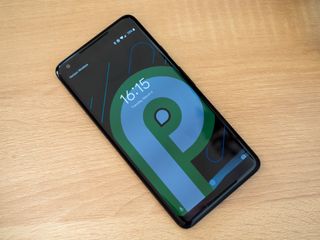 "The settings are too colorful."
"How dare they support screens with notches."
"The time is on the LEFT??? WHAAATTTT!!!!"
If you've spent any amount of time reading up on Android P's first developer preview, chances are you've come across comments along these lines. Some of the changes found in DP1 have left many Android users shaking with fear and anger, and while some of the design tweaks are questionable, there's nothing here worth breaking a sweat over.
Google will release three other developer previews before Android P goes public, meaning much of what we're seeing right now will likely change and become a lot more polished by launch day. With that in mind and based on what we're seeing so far, these are my initial impressions of Android P.
Confession: I like the new UI
Android P looks very similar compared to Oreo, but there are a couple key differences that have been throwing people for a loop – the quick settings panel and settings page.
In Android P, quick settings have adopted a rounded, more colorful aesthetic with circular icons and blue accent colors in favor of the white and gray ones currently found in Oreo. It's been referred to as "cartoony" and "childish", but I honestly don't hate it. The new look gives Android a bit more personality, and it blends nicely with Google's Material Design.
The settings page has seen similar treatment, too. The search bar at the top has rounded corners, and the icons for each settings page have been turned into circles – each one with its own unique color. It's quite the change from Oreo's monochrome color palette, but again, it's something I'm on board with.
A lot of what we're seeing so far in Android P shows an evolution in Material Design. Things are becoming more rounded and circular, there are more splashes of color where things used to be gray, and the notification tray and home screen dock have more card-like designs. This is likely our first glimpse at Material Design 2.0, and I personally can't wait to see more of it.
One more thing — if you absolutely hate the design changes found in Android P's first developer preview, what we're seeing here likely won't appear on most future Android phones. Most all of the design tweaks will be limited to Google's Pixel phones, and devices from Samsung, LG, HTC, etc. will retain their own skins. They could adopt some elements of the new design, but that doesn't necessarily mean they will.
This is first and foremost a glimpse at the new interface for Google's version of Android rather than "stock" Android, and whether you like that or not, that's the situation we're currently in.
Android's already great notifications are getting even better
One of Android's most underrated yet critically important features is its handling of notifications. Android's already years ahead of iOS in this department, and with Android P, they're going to get even better.
Android P will allow apps to show full pictures/stickers in the notification panel, and even more exciting, smart/quick replies are being added as well. This looks very similar to Google's recently launched Reply app, and having this functionality built into Android by default is awesome.
For someone like myself that uses their phone mostly for work purposes, notifications play an essential part in my day-to-day routine. Android already makes it easy to sift through a heap of piled-up notifications, and the new features P is touting off will only make managing these even easier.
There's a lot going on behind the scenes
Those user-facing features are enticing enough on their own, but just like Oreo, there's much more going on behind the scenes that'll help elevate the user experience day after day. I won't run through every single change, but some of the ones I'm looking forward to the most include:
Autofill will work with web browsers by default
Moving your cursor when editing text has a zoom-in effect so you can more easily see what you're doing
Do Not Disturb is much simpler. Instead of messing with three different profiles, you now just turn it on and choose what notifications you want to hear
Pixel 2's Always-on-Display now shows your battery percentage at the bottom of the screen
New screenshot button when holding down power button w/ built-in editing tools
A microphone on the Google Search bar in Pixel Launcher to prompt the Google Assistant
More could change with the Pixel 3
In addition to the changes and polish we'll see with future developer previews, there's a good chance Google will have even more software treats for us when it launches the Pixel 3.
Even after Oreo's public release, the Pixel 2 was the first phone to introduce the Google Search bar below the app dock, the At A Glance widget, the dark theme that appears based on the wallpaper you use, etc.
All of Android P's main features/changes will be out in the wild by the time of its public release in Q3 of this year, but don't be surprised if Google has a couple more goodies up its sleeve to show off alongside its new hardware.
Take it easy
Like I've mentioned a couple times already, the Android P we're seeing right now with Developer Preview 1 is by no means a resemblance of what the finished product will be like. A good deal of the features will remain intact, but any rough edges we're seeing will be polished up and gone within the coming months.
Even with that being the case, I'm already liking a lot of what I'm seeing. The new design tweaks might take some time to get used to, but like I mentioned in my Android P wish list, it's about time Google gives Android a visual refresh.
Add this updated look together with all of the small features going on behind the scenes, and we could very well be looking at one of the best Android releases in some time.
I don't know about you, but I'm damn excited to see where we go from here.
Android Central Newsletter
Get instant access to breaking news, the hottest reviews, great deals and helpful tips
Joe Maring was a Senior Editor for Android Central between 2017 and 2021. You can reach him on Twitter at @JoeMaring1.
1st
Needs Native themes PLEASE!
Otherwise I'm totally fine with everything I've seen so far. Keep up the good work Google! Good article!

I wouldn't use a device with the clock on the left. Otherwise the changes are fine I guess. Cutting notifications off on devices without a notch is a pretty amateur way of handling notches but whatever.

Yeah, do not like the clock on the left. I will always think I have a notification. Oh well , time to adjust.

Hopefully it's just a test (kind of like a forced A/B testing?), to see the responses. But yes, in general, in LTR languages, time has always been to the right - Windows (bottom right corner, unless you move the tray), Ubuntu (top right), macOS (top right). Or to better define it, the clock is always at the end of the status bar plane (in LTR, it means the rightmost part, in RTL, it means the leftmost part, in TTB (e.g. Windows tray set to the left of the screen) it's the bottom). This change kinda screws with that, putting the clock to the beginning of the plane. It's unintuitive.

Time for some old dogs to learn new tricks. Clock on the left is not a big deal.

Its change for change's sake though, and that's kind of annoying. Like there's a whole host of UI designers there that feel like they have to "do things" to stay relevant.

I agree, it's not that much of a big deal.

I also like the look of the changes, especially the splash of colour but as mentioned this is DP1 so it's subject to change anyway.

Neo. What the hell are you doing here? Once Nadella finds out your cheating on him with android you will be banished.

Zoom in for editing text!! Thank you!!! Can you post a picture or gif of what this looks like?

Google does great job as always.. Can't wait to see the final release.

Wow... looks a lot like EMUI from what I have seen so far. I like it.

It reminds me so much of LG and Samsung's bubbly colorful design. Neither of which I like. The simplicity of Stock Android has always been a major selling point. Though I suppose it's because Google is trying to reach a more mainstream market that it's shifting gears. Which most certainly means more colors, more features, more everything, to keep everyone's attention. Oreo served as an even further simplification of Android. It's a bummer that they would begin to change their minds so quickly.

The only thing I really care about wasn't mentioned here, the removal of actual features, IE customisation. There's still not going to be a system level dark theme baked in, and they're apparently removing substratum support. If that remains the case I honestly don't want android P. I'd rather stick with Oreo.

They kinda went even further with whitening the UI. Now even the toggle bar turned white. I really don't know, why can't they give us a simple option for Dark Theme.

I'd like to see a dark mode that's system wide with Android P.

I'm never upgrading if time stays on the left (why not make that optional?) and no substratum themes will work. Now that I have Android in a dark theme, I'm never going back. Both of those are a BIG deal to me.

P needs a dark, dark, deep black mode!

Ain't gonna happen. Unfortunately

"Needs Native themes PLEASE!" New Android user here - what are Native themes? Thanks!

That would be built in support for letting you, the user, choose from pre-done themes, which could include coordinating color schemes, fonts, or icon sets, depending how it is done. So you could choose a theme that would make everything (including menus and notifications) black with red highlights, or green with yellow highlights, or whatever you or some artist out there could dream up. This is possible on most Android devices if you root the device, and was possible without root (by adding the Substratum app) on Android O, but is so far not included in Android P.

Things we as Windows-Users are used to since Windows 95 - you can color stuff yourself.

Oh Good lord, give us dark themes already!!!

First Android release I am not excited about and actively dislike some of the choices (so damn much white ugh among others what the hell google it's hard on the eyes and sucks battery on Amoled) especially design to the point where I will be happy not to upgrade unless things get better. If I wanted iOS I would have bought an Apple phone. If I wanted an OS that looks like it was designed by a six year old, I would have bought one of those tablets they sell for kids. Seems like a lot of astroturfing here compared to AP where there are some actual critiques of the glaring flaws in this release.

This is actually a refreshing take on all the hate this first developer preview is getting, including ones from myself. I'm not totally cool with the design choices, but I'm really hopeful for more improvements the next developer previews would bring.

Thanks for the insight, Joe! I still am not really digging many of the design choices Google made with this preview, though it's starting to grow on me. I really am looking forward on the refinements the future preview versions would bring

Still don't like the translucent shade placed over the dock. It weakens and masks the detail and color of your screen background

All this Android P talk and my Note 8 is still running nougat. SMH.

Since Android 6 I've become less and less bothered what version I'm running.

I have a LG so I'll never know

I have a Samsung so I'll never know.

Take a close look at your article Joe. Is there anything of substance to Android P mentioned? No, of course not. Yawn, Android P matters about as much as Android Oreo... It doesn't matter. In fact, still only 1.1%of Android users have Oreo installed. The only issue with Android is that security patch level updates only roll out to Google hardware... Everyone else is a month behind. When the March patch was released, I received the February patch. Are the Android security threats overstated... Or more accurately, do people buy inferior Google brandred hardware because they issue security and Android OS versions fastest? Yes. Is superior hardware running an older version of Android better than average hardware running the latest Android OS? Absolutely, a resounding yes. Sheep will be sheep.

"hmm... someone has a different perspective than me and goodness, there are a *lot* of those someones. they must be sheep then." - you, probably

Dodge & deflect... Ok. Or be sheep & rush to inferior hardware for the latest Android OS... Ok. Fact: Android security risks are overstated... But no excuses for late security patch level Samsung updates. Fact: Android 8.0 / 8.1 are immaterial upgrades.... If Oreo mattered, Samsung would have worked more diligently to upgrade.

1. The shaded box behind the dock, search bar + navigation needs to either go away completely or have there be a setting to toggle it on/off. It is hideous. (While we're at it, why not a toggle to turn off the navigation buttons as well? We all know where they are and what they do by now, give users the option to have as clean of an interface as possible without having to rely on a third-party launcher!) 2. I'm down for having a dark theme toggle, as well. 3. Otherwise, what I'm cool with what I'm seeing.

Love the way they have rounded off the corners.

That "P" looks kind of like the Philadelphia Phillies logo.

« Android's already years ahead of iOS in this department,« I don't think so. iOS notification are clearxand simple overall. And those new messages notifications are already on ios.
Android Central Newsletter
Get instant access to breaking news, the hottest reviews, great deals and helpful tips
Thank you for signing up to Android Central. You will receive a verification email shortly.
There was a problem. Please refresh the page and try again.