Android is getting Duet, a popular iOS secondary display app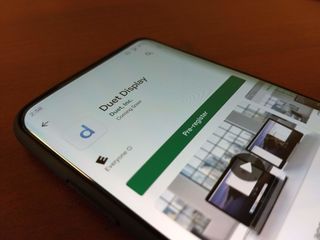 What you need to know
The app is currently in a pre-register stage.
Duet works via software and a USB cable.
You'll have access to touchscreen functions as you'd use on your phone or tablet.
Fans of Android are well aware of the gap that exists between apps on the platform vs. iOS. This gap applies to apps that are available on both operating systems, but even more so towards apps that we can only find on iOS without a true option on Android. Finally, an app that has been previously developed only on iOS is making its debut to Android users.
Duet is an app — developed by a team of former Apple engineers — that lets you turn your phone, tablet, or Chromebook into a secondary display for your Windows or Mac computer.
Using the app seems to be pretty straightforward. You install Duet on your computer, download it on the device you want to use as the secondary display, launch both programs, and connect with a USB cable — POOF, you're extra productive.
The team at Duet says that there is zero lag and is supposed to be very battery efficient. It's great to see that the ability to use touchscreen functions (like pinch to zoom and scrolling) will still be available on your secondary display.
The system requirements to use the app only details software needed, so it's unclear what is going to be needed from a processor, RAM, or graphics card standpoint. As for those software requirements, however, Duet works with all Android devices running 7.1 or newer, Macs on 10.14 Mojave or later, and all PCs running Windows 10 or later.
While the app isn't available to download just yet for Android, it is up for pre-register in the Google Play Store (opens in new tab) — indicating that it should launch soon for everyone to use.
High productivity, lower cost
(opens in new tab)
Into the Galaxy without a sky-high price
The Samsung Galaxy Tab S5e has great specs and a solid build. It carries many of the features much more expensive tablets offer and a more palatable price tag.
Senior Editor - Smart Home
Chris Wedel is a fan of all things tech and gadgets. Living in rural Kansas with his wife and two young boys makes finding ways to get and stay online tricky. By utilizing his years of experience with the tech and mobile communications industries — success is assured. When not conquering connectivity challenges and testing new gadgets, he enjoys cruising a gravel road in his UTV with some good tunes.
I would love to use my phone's 6 inch screen with my 32 inch monitor!
I can get more things accomplished..

I would love to use my phone's 6 inch screen with my 32 inch monitor!
I can get more things accomplished..

So after all this time being iOS exclusive, they wait until Apple releases the baked-in Sidecar and kill their popularity, to move platforms to Android... A big middle finger to them...
And android not having really any tablet left is left with using big phones as secondary screens, no thanks, I will keep using my Surface Book with a regular TV and my wireless adapter or miracast to another surface nearby at home.

Duet still has a following on the Windows side. Using your iPad as a second screen for your PC/Surface has a lot more potential market than the Mac crowd. Granted Sidecar kind of kills the Mac market. Not sure there are enough adequately sized Android tablets to make this worthwhile.

Death Rally - no longer on the Play Store
Fast & Furious: Legacy - replaced by F&F: Takedown but the servers go dead at the end of October. C'mon AC, do better.
Android Central Newsletter
Thank you for signing up to Android Central. You will receive a verification email shortly.
There was a problem. Please refresh the page and try again.