Holiday gift guide: What to get the fitness nut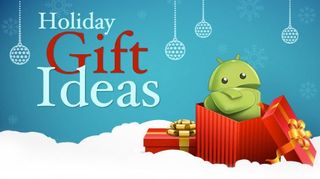 With the holidays right around the corner, we're staring down the ugly double-barrel of gifts and the inevitable New Year's resolutions. Finding the right gifts for the fitness freak in your life can sometimes be a chore, but here at Android Central, we've got you covered.
And what about those folks who'll pledge to be more active and exercise more in the new year? Well, there's gifts for them on this list, too.
Join us after the break for the whole shakedown of what'll get yours (or their) blood pumping.
Apps
1. Calorie Counter: If you're into fitness and exercise, you're probably into counting calories. For that, there's nothing better than Calorie Counter. You open the app up, give it some personal information about yourself (like age, weight, and level of activity), and it tells you your recommended daily intake.
Tracking your RDI is easy with Fatsecret's extensive food database. Search for foods, scan barcodes, and pick from foods you've recently eaten to populate your graph for the day. You can also add in calories you've burned, and best of all, it's free. [Market Link]
2. C25K Pro: From what I hear, running is a good form of exercise. If you're just starting out but want to be able to go the distance someday, C25K Pro is the app for you. It has every workout in the Couch to 5K program in it, broken up by week and then by day.
You've got options on how you want to be notified to start running or start walking, and with the Pro version, you can access your music and leave the app without the timer pausing itself. C25K Pro is $1.99. [Market Link]
3. Endomondo Sports Tracker PRO: Now that you're doing all this calorie counting and physical activity, you're going to want to make sure you're keeping track of it (and all those pesky calories you burn). There are a couple of apps that'll do the job, but one of the best is Endomondo Sports Tracker PRO.
Endomondo has a ridiculously long list of activities it can track (like fencing and polo), syncs all of your workout info to a detailed online portal, and has a built-in audio coach that helps you challenge your old times to keep improving. Endomondo Sports Tracker PRO is $3.99. [Market Link]
Accessories
4. Plantronics BackBeat 903 Bluetooth Headset: Listening to music is a great way to pass the time when you're feelin' the burn, and the Plantronics BackBeat 903 Bluetooth Headphones are a great way to keep the beats coming while keeping the wires away.
Featuring Altec Lansing technology, the speakers put out a pretty respectable range of sounds for wireless, and they also boast music controls and dual-microphones for enhanced call quality. Lightweight and comfortable, they're the perfect companion during a workout. The Plantronics BackBeat 903 Wireless Bluetooth Headphones are $89.95. Find it at ShopAndroid.com
5. Tune Belt Sport Armband: Carrying your phone while you work out can be a hassle, so grab a Tune Belt Sport Armband and slap it on your arm. If you're rocking one of those phones with a 4-inch screen or larger, have no fear; Tune Belt has an armband specifically for that.
While it's not custom-tailored for a particular model, it fits everything from the Droid X2 to the Thunderbolt to the EVO 3D, so no matter your device, you're covered. The soft, elastic arm band is comfortable no matter the exercise, and the clear screen makes it easy to get to your screen when you need to. The Tune Belt Sport Armband is $14.95. [Amazon]
6. Zephyr HxM Bluetooth Heart Rate Monitor: Knowing your heart rate when you exercise is a big deal. It helps you keep track of how hard you're working, lets you see if your endurance is improving over time, and gives you an idea if you're hitting your target rate for maximum fat burn.
The Zephyr HxM Bluetooth Heart Rate Monitor lets you do all of this in a small, comfortable package. Put the elastic band around your chest, snap the monitor into place, and pair it up with your phone. From there, it's usually auto-detected by your fitness app, and you're good to go. The Zephyr HxM Bluetooth Heart Rate Monitor is $99.00. [Amazon]
7. MOTOACTV: No Android lover's fitness list would be complete without the MOTOACTV. It's your all-in-one fitness tracker, with Bluetooth, GPS, Wi-fi, and 8 or 16 GB of storage right on the device. Small, lightweight, and tough-as-nails, the MOTOACTV is for the enthusiast who plans on working out and working hard.
You can also keep it on you at all times to track your steps walked and an estimate on how many calories you've burned over the day. When you're done, check out Motorola's complete online portal to see how you're doing, set goals, and bask in the glory of your fitness. The MOTOACTV is $245.40 for 8GB or $299.99 for 16GB. [Amazon]
8. MOTOACTV Sports Wrist Strap: Now that you've got your shiny, new MOTOACTV, you need some way of keeping it on you. Enter the MOTOACTV Sports Wrist Strap for all of your stylish, fitness needs.
The Sports Wrist Strap lets you wear the MOTOACTV like a watch (great for the all-day tracking) and is made out of a sweat-resistant, plastic material that's also comfortable all day. With the Sports Wrist Strap, your MOTOACTV is always within easy reach, so you're free to change music, check notifications, or start a workout at your leisure. The MOTOACTV Sports Wrist Strap is $29.99. [Amazon]
9. MOTOACTV Sports ArmBand: Not a fan of wearing your MOTOACTV like a watch? No problem. For you, there's the MOTOACTV Sports ArmBand. With it, you can wear your MOTOACTV in a more traditional style, without worrying about compulsively checking it every time your arm goes past your face.
It's made of a soft, comfortable mesh material and the Velcro/hook design promises to last many a workout (and still stay tight). The MOTOACTV Sports Armband is $29.99. [Amazon]
10. Withings Wifi Body Scale: Stay up-to-date as you shed the pounds with the most hi-tech scale there is: the Withings WiFi Body Scale. With a design that suggests it should be anywhere but the bathroom floor, the Withings Wifi Body Scale is as functional as it is gorgeous.
Save up to eight profiles on the scale and track stats such as your weight, fat mass, lean mass, and BMI. When you're done, the information is uploaded to a private, password-protected website so you can see your progress, and there's also an app built just for Android, to boot. [Amazon]
Sign up for Black Friday email alerts!
Get the hottest deals available in your inbox plus news, reviews, opinion, analysis and more from the Android Central team.