What's new in Android Auto is a reason to finally consider it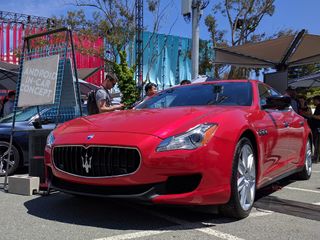 Android Auto has come a long way in the past year of so of its public existence. It's gone from being built in just a handful of cars to dozens and dozens, from major manufacturers in nearly 30 countries. (And counting!) It's available as an aftermarket option in a number of head units from several manufacturers. Android Auto apps are expanding all the time.
And it's just getting started.
We caught up with what's new in Android Auto at the annual Google I/O conference in Mountain View, Calif.
Android Auto on your phone, now with hotwords
OK, first things first. Android Auto already is on your phone. It's just that any an all apps output to the infotainment display in your car. Don't have one of those? You don't get Android Auto. But that's going to change with an future update to the Android Auto app.
Yes, Google's bringing back Car Mode. And that's really all it is, if you think about it.
The demo phones we saw were already running the new Android Auto app (itself in Demo mode). To launch this view, just open up the Android Auto app and it'll go straight to this mode until it's plugged into an Android Auto-compatible head unit to display it there instead. Touch points are larger than usual. The phone can be used in either portrait or landscape, but the interface seems tailored to portrait use. The back and home buttons take you back to the Android Auto home screen, and not to your launcher home screen. (To get back to that, you'll have to exit the app via the drawer, which is also where you'll get to the settings menu.)
From there, it's largely the same experience. The Google Play Music, Maps and Phone experiences look as they'd look on Android Auto on your car's head unit, only redesigned for a phone.
Image 1 of 4
I'm still torn as to how I feel about a phone-based Android Auto experience. On one hand, it's a gateway drug. It gives you a taste of the full Android Auto experience, which simply is the best infotainment experience I've seen. (Even if it's still a little more simplistic than I'd prefer.) On the other, it's another invitation to futz with your phone in the car, which is precisely what Android Auto is trying to keep you from doing. That's a never-ending fight, of course.
The bigger deal, I think, is the addition of hotwords. This future version will enable you to simply say "OK, Google," and Android Auto will spring into life. Currently, you have to physically press the voice button on the screen, or on your steering wheel control. It's a small addition, but a sort of obvious evolution for Android Auto. This will still be your phone listening in, of course (because Android Auto is on your phone), but it removes one more layer of interaction — and the less you have to mess with in the car, the better.
Waze is coming
Waze not being available for Android Auto has never quite made sense. Sure, some of the data is baked into Google Maps, and that's fine. But being able to report construction and speed traps and accidents and all the other stuff you're used to.
Millions of users, actively sharing data about their trips, in real time. That's a big deal, and this'll probably become my go-to map app in the car — even if I still prefer the more professional look of Google Maps.
At first you'll only be able to report by hitting buttons on the screen. But voice reporting would certainly be a useful evolution of that. Again, the idea is to keep your hands on the wheel as much as possible.
Manufacturers get their own apps
Cars have been pretty dumb for a long time. Inexpensive OBD2 readers, Android apps like Torque and services like Automatic aim to make that easier, giving you proper interfaces for your car's data port, instead of a binary check-engine light.
But why shouldn't car manufacturers actually give you more (and better) information, directly in the best user interface available? To that end, manufacturers like Honda and Hyundai are working on their own components for Android Auto, for newer-model vehicles. Tire pressure low? You'll know about it. Time for an oil change? It'll tell you — and give a list of places nearby in which you can get it done. (The advertising and promotional possibilities for that one are pretty obvious.)
Image 1 of 5
And to be clear, this has almost certainly been in the works since Android Auto was released. (You could find demo screens available in Android Auto's developer mode.)
It is, undoubtedly, a good thing. You can't know too much about your car's health. The reason for the wait most likely has been twofold. New car features almost always will take longer than you expect, especially when the manufacturers are thrown into the mix. The other, in this case, is how much access does Google have to the data gleaned?
In any event, it's a welcome addition. But let's go one step further, and use my aging 2005 Civic as an example. I'd love to see Honda provide access to an OBD2 reader (or tie into existing ones) and then, through its own on-device Android Auto app, so that older cars have an easy (and official) option to dive into the data.
Wireless connections
The biggest pain in the ass for Android Auto doesn't actually have anything to do with Android Auto. It has to do with getting your phone to work with it in the first place. If you're on a Nexus phone, this isn't an issue. Plug in, and it works. Same goes for a good number of other devices out there. But spend 30 seconds in our Android Auto forums and you'll quickly find that the No. 1 issue folks have is getting anything to happen when you connect your phone.
There are two known issues currently listed in Google's support pages for Android Auto. One involves the LG G4 and LG G5. The other with Samsung phones that are running Android 6.X Marshmallow. And that's a pretty huge swath of devices right there. If the phones connect at all, you may have to manually change the USB connection to MTP mode. Every. Single. Time. (My Verizon Galaxy S7, on the other hand, has never worked properly.)
Along with that, however, is the simple inconvenience of having to plug in your phone in the first place. First-world problems, we know. But if you're plugged in to Android Auto, you can't use a quick charger. And in any event, wires aren't all that futuriffic.
For that, we'll need a wireless connection. And it's coming to Android Auto, for new cars that support it. That's definitely a new-purchase sort of thing, but it's a very welcome addition.
Snapdragon-powered infotainment
And then there's the matter of having Android Auto baked into the car, instead of running on your phone. This is very future stuff at this point, but it's been in the works for a while. Qualcomm had a Snapdragon 820-based demo (in a damned Maserati, of course) up and running at Google I/O. Needless to say, this isn't something you'll have in your car for a while. But there's a bit of a war brewing between the silicon manufacturers (NVIDIA has been in the car game for a little while now), and it's going to include Android Auto.
Qualcomm's demo included a 15-inch vertical display, and a 720p digital dash. It was impressive in the conceptual sense, but it also bares little resemblance to anything the vast majority of us currently own. (High-end cars notwithstanding — but even then I've was pretty disappointed in Tesla's Model S console screen, in the short time I got to see it. And if you've ever driven the Model S you know how hard it is to move your eyes from the top of a large, vertical screen like that to the bottom — and still keep an eye on the road.)
But it is the future, and it's important to have Google and Qualcomm on board here.
So what's next?
Patience is necessary. Getting a Car Mode version of Android Auto onto your phone likely is up first, and we'll probably see Waze land on AA around the same time. (Nothing has been publicly set for any of this, however.) Waze is a big deal. You've got great maps, that do more than just get you from Point A to B.
Hotwords should land sooner rather than later, I imagine. That's also a big deal. If you don't have steering wheel controls (and a good many of us using aftermarket head units down), then you'll no longer have to take your hand off the wheel to initiate voice commands.
Wireless connections will be a huge shift, probably, for those who have it. That's some real next-gen stuff, though.
I've been using Android Auto for more than a year. It's been a slow, uphill drive for Google's first foray into the automotive world. But it's also been a safe one. And Android Auto has done more to keep me from playing with my phone while I'm driving than any other solution I've used.
And this year, it's only getting better.
Get the Android Central Newsletter
Instant access to breaking news, the hottest reviews, great deals and helpful tips.