What's new in Android Auto is a reason to finally consider it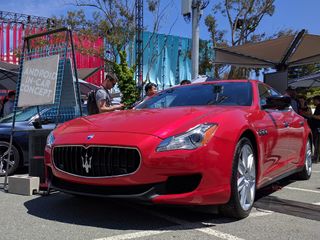 Android Auto has come a long way in the past year of so of its public existence. It's gone from being built in just a handful of cars to dozens and dozens, from major manufacturers in nearly 30 countries. (And counting!) It's available as an aftermarket option in a number of head units from several manufacturers. Android Auto apps are expanding all the time.
And it's just getting started.
We caught up with what's new in Android Auto at the annual Google I/O conference in Mountain View, Calif.
Android Auto on your phone, now with hotwords
OK, first things first. Android Auto already is on your phone. It's just that any an all apps output to the infotainment display in your car. Don't have one of those? You don't get Android Auto. But that's going to change with an future update to the Android Auto app.
Yes, Google's bringing back Car Mode. And that's really all it is, if you think about it.
The demo phones we saw were already running the new Android Auto app (itself in Demo mode). To launch this view, just open up the Android Auto app and it'll go straight to this mode until it's plugged into an Android Auto-compatible head unit to display it there instead. Touch points are larger than usual. The phone can be used in either portrait or landscape, but the interface seems tailored to portrait use. The back and home buttons take you back to the Android Auto home screen, and not to your launcher home screen. (To get back to that, you'll have to exit the app via the drawer, which is also where you'll get to the settings menu.)
From there, it's largely the same experience. The Google Play Music, Maps and Phone experiences look as they'd look on Android Auto on your car's head unit, only redesigned for a phone.
Image 1 of 4
I'm still torn as to how I feel about a phone-based Android Auto experience. On one hand, it's a gateway drug. It gives you a taste of the full Android Auto experience, which simply is the best infotainment experience I've seen. (Even if it's still a little more simplistic than I'd prefer.) On the other, it's another invitation to futz with your phone in the car, which is precisely what Android Auto is trying to keep you from doing. That's a never-ending fight, of course.
The bigger deal, I think, is the addition of hotwords. This future version will enable you to simply say "OK, Google," and Android Auto will spring into life. Currently, you have to physically press the voice button on the screen, or on your steering wheel control. It's a small addition, but a sort of obvious evolution for Android Auto. This will still be your phone listening in, of course (because Android Auto is on your phone), but it removes one more layer of interaction — and the less you have to mess with in the car, the better.
Waze is coming
Waze not being available for Android Auto has never quite made sense. Sure, some of the data is baked into Google Maps, and that's fine. But being able to report construction and speed traps and accidents and all the other stuff you're used to.
Millions of users, actively sharing data about their trips, in real time. That's a big deal, and this'll probably become my go-to map app in the car — even if I still prefer the more professional look of Google Maps.
At first you'll only be able to report by hitting buttons on the screen. But voice reporting would certainly be a useful evolution of that. Again, the idea is to keep your hands on the wheel as much as possible.
Manufacturers get their own apps
Cars have been pretty dumb for a long time. Inexpensive OBD2 readers, Android apps like Torque (opens in new tab) and services like Automatic aim to make that easier, giving you proper interfaces for your car's data port, instead of a binary check-engine light.
But why shouldn't car manufacturers actually give you more (and better) information, directly in the best user interface available? To that end, manufacturers like Honda and Hyundai are working on their own components for Android Auto, for newer-model vehicles. Tire pressure low? You'll know about it. Time for an oil change? It'll tell you — and give a list of places nearby in which you can get it done. (The advertising and promotional possibilities for that one are pretty obvious.)
Image 1 of 5
And to be clear, this has almost certainly been in the works since Android Auto was released. (You could find demo screens available in Android Auto's developer mode.)
It is, undoubtedly, a good thing. You can't know too much about your car's health. The reason for the wait most likely has been twofold. New car features almost always will take longer than you expect, especially when the manufacturers are thrown into the mix. The other, in this case, is how much access does Google have to the data gleaned?
In any event, it's a welcome addition. But let's go one step further, and use my aging 2005 Civic as an example. I'd love to see Honda provide access to an OBD2 reader (or tie into existing ones) and then, through its own on-device Android Auto app, so that older cars have an easy (and official) option to dive into the data.
Wireless connections
The biggest pain in the ass for Android Auto doesn't actually have anything to do with Android Auto. It has to do with getting your phone to work with it in the first place. If you're on a Nexus phone, this isn't an issue. Plug in, and it works. Same goes for a good number of other devices out there. But spend 30 seconds in our Android Auto forums and you'll quickly find that the No. 1 issue folks have is getting anything to happen when you connect your phone.
There are two known issues currently listed in Google's support pages for Android Auto. One involves the LG G4 and LG G5. The other with Samsung phones that are running Android 6.X Marshmallow. And that's a pretty huge swath of devices right there. If the phones connect at all, you may have to manually change the USB connection to MTP mode. Every. Single. Time. (My Verizon Galaxy S7, on the other hand, has never worked properly.)
Along with that, however, is the simple inconvenience of having to plug in your phone in the first place. First-world problems, we know. But if you're plugged in to Android Auto, you can't use a quick charger. And in any event, wires aren't all that futuriffic.
For that, we'll need a wireless connection. And it's coming to Android Auto, for new cars that support it. That's definitely a new-purchase sort of thing, but it's a very welcome addition.
Snapdragon-powered infotainment
And then there's the matter of having Android Auto baked into the car, instead of running on your phone. This is very future stuff at this point, but it's been in the works for a while. Qualcomm had a Snapdragon 820-based demo (in a damned Maserati, of course) up and running at Google I/O. Needless to say, this isn't something you'll have in your car for a while. But there's a bit of a war brewing between the silicon manufacturers (NVIDIA has been in the car game for a little while now), and it's going to include Android Auto.
Qualcomm's demo included a 15-inch vertical display, and a 720p digital dash. It was impressive in the conceptual sense, but it also bares little resemblance to anything the vast majority of us currently own. (High-end cars notwithstanding — but even then I've was pretty disappointed in Tesla's Model S console screen, in the short time I got to see it. And if you've ever driven the Model S you know how hard it is to move your eyes from the top of a large, vertical screen like that to the bottom — and still keep an eye on the road.)
But it is the future, and it's important to have Google and Qualcomm on board here.
So what's next?
Patience is necessary. Getting a Car Mode version of Android Auto onto your phone likely is up first, and we'll probably see Waze land on AA around the same time. (Nothing has been publicly set for any of this, however.) Waze is a big deal. You've got great maps, that do more than just get you from Point A to B.
Hotwords should land sooner rather than later, I imagine. That's also a big deal. If you don't have steering wheel controls (and a good many of us using aftermarket head units down), then you'll no longer have to take your hand off the wheel to initiate voice commands.
Wireless connections will be a huge shift, probably, for those who have it. That's some real next-gen stuff, though.
I've been using Android Auto for more than a year. It's been a slow, uphill drive for Google's first foray into the automotive world. But it's also been a safe one. And Android Auto has done more to keep me from playing with my phone while I'm driving than any other solution I've used.
And this year, it's only getting better.
Android Central Newsletter
Get instant access to breaking news, the hottest reviews, great deals and helpful tips
I hope Google eventually opens the Maps app slot up to other Maps providers, like they have Music. I understand why they only want Google-owned providers in at first, but I'd love to be able to use Here Maps on longer road trips. On a side note, why are Waze and Google Maps still different products? Posted via the Android Central App

They are. That's where Waze will live. (Your question, I reckon, is whether OTHER mapping apps will be allowed?)

Yes, I'm hoping other (non-Google) map services will someday be allowed Posted via the Android Central App

Just wait till the EU gets their dirty antitrust claws into AA.

Might not be a problem for us here in the UK, not if we take the chance to 'get the hell out' in the upcoming referendum.

Here maps works fine on Android auto.

Finally!! I've always thought Android Auto was pretty pointless. I already have a screen on my phone docked to my dashboard and connected to my bluetooth radio. Why do I need to duplicate it on the dash? Car Mode will be welcome addition to Android.

The in-dash experience was usually better, IMHO, because of the touch points and app paradigm. Those will mostly be replicated on the AA-on-phone experience. That's the big difference.

But $800-worth better (or whatever the get-in price is for an Android Auto car stereo)? Obviously, you can only answer that question for yourself. For me, I would have a hard time justifying it (granted I've never used it).

I think so, yeah. Bigger screen. Larger touchpoints. Safer use.

Hey Phil, I'd be up for an AndroidCentral Maserati contest!

Is Phil tight with Qualcomm like that? :)

Car Mode was already on my HTC M8, but hidden by AT&T so you would use their product instead.. You can go to the play store and select open from there, or open it via NFC tag or sticker that you programmed (I have an NFC key fob).

My car has wifi, why is AA over wifi support a new purchase sort of thing? I literally just bought a new car a week ago, and AA was a must have. Are you telling me it is already obsolete?

Nope. Not entirely sure on the exact requirements, actually. Meant new car vs. WAY OLD CAR LIKE PHIL'S. :p

I read a similar statement from android police a day or two ago, that wifi AA would need new hardware. Oh well, if it isn't coming out until the end of the year, it'll probably be 2 more years until cars support AA over wifi. I'm not holding my breath that Kia is going to update the 2016's to support it.

You can be sure the auto manufacturers will make you buy their newest car models in order to get the "amazing new wireless Android Auto which is so advanced we couldn't possibly make it work in the ancient outdated tech inside your car from last year that just started working with wired Android Auto"...

Phil, I've noticed that the audio quality for music is far better through (obviously wired) Android Auto in my 2016 VW than it is using Bluetooth alone in the same car. Won't the switch to wireless reduce the quality of music transfer? I imagine once Apt-X is around it won't matter. Also, doesn't wired Android Auto use the car's bag antenna to get a better signal? Posted via the Android Central App

Not sure, actually. Those are good questions.

Bluetooth trasnfer rates are far lower than that of Wifi direct. So long as they implement the connection through wifi direct the compression of audio music that Bluetooth uses wouldn't be necessary. Leaving you with better quality music vs if you used bluetooth.

You take the Android, I'll take the Auto thank you very much ;) I do wish my Fiat had this. Anything is better than Blue&Me...gag. Posted via the Android Central App

I wonder how long until I can get my video streaming services, powered by Android, into the back seat for my kids. Then the next step would be games back there too. I've wanted to do this for years.

Why not just use tablets?

Many reasons. Battery life, can only stream to one screen, to name a couple. What I want is essentially the shield TV combined with Android auto. Kids could play decent multiplayer games. Movies could be streamed to as many screens as wanted. It's powerful. I have tons of ideas for this (been thinking about it for a while).

I've been wanting to make this a reality since 2012. Unfortunately, I lack the engineering skills. Here was my attempt way back then. https://youtu.be/O6kgzzmpKe0

Just got a new vehicle that supports Android Auto and if you use a proper data cable it works flawlessly on my Samsung Galaxy S7 Edge running Android 6.0.1 Marshmallow...

Allow me to paraphrase/plagiarize David Ruddock over at Android Police: "What is a big deal is that car manufacturers are actually letting vehicle data be piped into the Android Auto app, albeit in a very limited and highly restricted fashion. Both Honda and Hyundai retain complete custody of ANY vehicle data shown in Android Auto, and that data is only available to the apps Honda and Hyundai will publish (presumably, on the Play Store) to access it. And even if the data were technically accessible to other apps in Auto, Google holds all the keys to the larger Android Auto castle and Google individually certifies and whitelists any app that has an Auto mode. For now, ONLY media playback apps are even allowed from third party developers on Auto, and they must use Google's strictly-defined app layout. There is essentially no freedom in designing your app to work for Auto. Android Auto isn't an operating system, though, so the restrictions have the excuse of being about protecting a single Google app's experience, not a larger platform. This tight control is no doubt a big part of the reason OEMs like Honda and Hyundai are extending their own applications into the Auto experience - they trust that Google won't let that vehicle data be tapped into by third parties, and likely not even by Google itself. It lets CARMAKERS corner the vehicle data experience on Auto in the way they and Google agree to present it, and carmakers are all about control of their products." The article does go on to say (and my favorite part)… "The tech industry and consumers at large are demanding car companies get with the program, or customers will move on to more forward-looking brands like Tesla. And what could such continued cooperation entail? I think Google made that crystal clear at I/O: full-on Android in the car. In partnership with Qualcomm, Google showed us what an Android Car OS would look like, built from the ground up for a vehicular experience. And Android N is the first version of Android to include, as part of AOSP, core vehicle functions that automakers can use to more easily put Android on their vehicles without hacking it into a million pieces." So the question is: Just how much of that coveted "black box" data will be allowed to pipe through AA? How many of those "check engine" sensor codes? It would be awesome if your head unit, not just a mechanic, could tell you the O2 levels in your engine are off (i.e. you have a problem with your intake system). Or give you the precise code and what it means.

When is this supposed to be available on phones. And are there and software requirements. Android N? Or will it work on Marshmallow Posted via the Android Central App

They had announced it for later this summer, I think it's part of N though so doubt it would work on M

My concern is I have a 2011 Acura TSX tech package (so I've got this big extra display for my nav). Say I go ahead and drop the considerable amount of money it is going to take to put in an AA head unit. Then I want to sell or trade in my car. Do I pay to have the head unit taken out and the Acura one put back in (if that is even possible)? I mean who is going to buy a car with a big hole in the dash where the stereo used to be? How big of a hit will I take at trade in? Leaving the unit in doesn't sound much better. A private buyer may not want AA. A dealer isn't going to give me any more for my trade and then I'm left with getting a new head unit for my next car (assuming I can't get it build it). If I could go back in time to the launch of the iPhone, I'd tell the OEMs "ok great, now lets get this in our cars ASAP. Trust me" :)

Well most has units seem to support both Android Auto and CarPlay (Apple's thing) in the same unit (at least that's how I interpreted it from reading one manufacturer's website). Not sure if that alleviates something of your question. Obviously Swindon's may still want the original Posted from my One M8 running a version of Android other than what HTC intended

I think there is dual support. Putting in the perspective of the long history of automotives, this stuff here is pretty fledgling. Roll things ahead five years, and I bet a lot of these issues (my concerns) will have been addressed. I mean There are people now with AA in their cars. Even if they bought their car today, five years from now they might be thinking about a new ride and the issue of how to deal with their AA head unit will come up. I am not likely to worry about an AA head unit on my older car. I will definitely try out AA on my phone mounted to my vents like I have it now. In a few years when I am ready for a new vehicle, I'll revisit all of this.

well, i will chime in for some actual use here. I own a 2016 Chevrolet Silverado pick up. I purchased it in late april. It came pre loaded with AA and Apple P BOTH installed on the the factory head unit. I also have OnStar 4G LTE WiFi. I still use my LG G2 as my daily driver, all stock with Lollipop. AA for me works pretty darn good, sometimes there is a hiccup here and there but nothing major. A simple restart of my device or powering off/on the head unit in my truck does the job. I have car mode. As far as I know I never had car mode in my phone(unless it was hidden somewhere). Bottom line is, yeah, I have Android car mode already. I also use AA over my OnStar Wifi on a daily basis and it sure is speedy !!!

I want to be able to view my podcasts in the AA Google Play Music screen! Posted via the Android Central App

So what about aftermarket head units? Posted via the Android Central App

Developer settings on my Verizon s7 edge has a spot for Usb configuration. Options are plentiful for what happens when you plug in, do these not actually work?

Android Auto on my phone is a big deal to me. Which means I can mirror it to my car's head unit if it supports it but doesn't support Android Auto natively or just use it on a car dock. That said, I want my old-fashioned knobs back. The one thing I consider a big deal in cars is the tactile feedback of the controls, which is especially true because for something like adjusting the fan speed, I would prefer turning an actual wheel rather than looking at a display because you get some tactile feedback. Then again, I'm probably getting old.

Why should we care about this, when in twenty years we'll have self driving eggs, and can play VR COD while moving? All "Auto" tech, designed to keep you less distracted, is already obsolete. Unlocked Marshmallow Nexus 6 on Verizon. I'm a happy guy.

I don't think AA will induce anyone to mess with their phone while driving who wasn't already messing with their phone while driving. Let's face it: the idiots aren't going to use AA; they'll just keep doing what they're doing now. But now people who do care about safety will have a safer option that was previously available only to those willing to spring for an AA head unit. I see this as unambiguously a good thing.

"But if you're plugged in to Android Auto, you can't use a quick charger." My VW charges the phone while using AA. It seems to give it a good bump. I think this is a good benefit of AA over phone and BT connection: I'm using the phone for nav and sound, but it is still gaining charge since the screen is off. I've also noticed the better audio quality: Phil's mic sounds too sharp over BT sometimes! Posted via the Android Central App

Phil, your dream for Honda to create some sort of OBDII reader dongle for your old car will never come true. What you will soon learn about the car industry is they give ZERO support to past models when it comes to any sort of infotainment. Maybe less than zero. Basically, it's charge the customer a small fortune to get a fancy nav system and amazing wireless/BT/wifi/phone app features. Then after a year, they charge you $15-20/mo to use all those same features that you paid a fortune for. Plus your proprietary nav maps are out of date and need to be updated for $150/yr. Oh, and your Sirius/XM subscription needs to be paid at $10-15/mo to keep the music and nav updates flowing. Pretty sure this is why companies are kind of resistant to AA/CP and don't want to do too much. It makes their ridiculous ever-increasing subscription system obsolete and lets you use a (much better) free nav/map system and stream music that you're paying someone else for.

So true, Mazda for example, doesn't give 2 ***** about updating all the "coming soon" stuff on my wife's Mazda 6 in dash system !

If Android Auto includes a free Maserati, then I'll pay my ETF to sprint for my Iphone and switch now. Can anyone confirm if a Maserati is included ? Any color is good, it need not be red. Also it looks like the Maserati supports Quick Charge (going by the photo, thanks Qualcomm) !

"And Android Auto has done more to keep me from playing with my phone while I'm driving than any other solution I've used" Not for me, I have issues. My phone is set to start the hotspot as soon as if connects to my truck and I have an 8" tablet mounted facing me that picks up and uses that connection. So, not touching phone, but two screens (AA screen and tablet screen). Issues, like I said

So when you injure / kill someone just "Oops, sorry, I have issues" ?! Just knock it off and DON"T have issues you'll regret later.

Its been a few months since the announcement, do we have a date yet of when this update is to be released?
Android Central Newsletter
Get instant access to breaking news, the hottest reviews, great deals and helpful tips
Thank you for signing up to Android Central. You will receive a verification email shortly.
There was a problem. Please refresh the page and try again.