Android App Review: Pocket Casts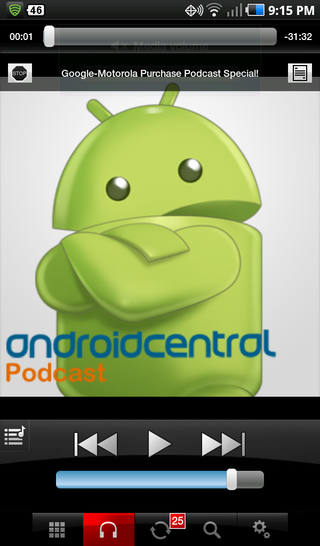 I'm a big podcast listener. On a given week, I'll probably listen to at least several hours of podcasts during commutes and downtime. Due to this, I require a high quality podcast app for Android that makes managing and listening to the content that I enjoy simple and easy. I've been a fan of Doggcatcher for a long time. While it is more costly than the average app ($6.99), the amount of use I get from it makes the purchase more than worth it for me. While I love the app, I'm always searching for alternatives that provide different experiences. Pocket Casts is the best alternative I have found thus far and for half the price ($2.99), it's a really good deal. It doesn't have all of the functionality that Doggcatcher offers but it does just what you need it to do and the UI is better in my opinion.
Once you open Pocket Casts, you'll see the the homescreen with five tabs along the bottom. The options are, from the left:
Library: Displays all of the podcasts you have chosen to subscribe to.
Now Playing: Shows you the artwork for the podcast that you are currently listening to
Refresh: Will refresh your podcasts and display an aggregated list of all your subscriptions and the most recent episodes
Search: Allows you to search or browse for podcasts that you enjoy. Options include 'search by podcast name' browse 'popular podcasts', 'podcast networks', 'categories' and 'import' if you know the url.
Settings: The final button is where you can find the settings if you want to tweak the app to our liking. Options include the ability to set the amount of time the player skips ahead or backwards, whether to store the podcasts on the SD card or phone, and whether to auto-delete after you're finished listening, among many others.
There is one more option up in the right hand corner when you're in the Now Playing tab. The Playlist option allows you to create customized playlists if you know that you'll be listening to a variety of podcasts at one time.
Pocket Casts is a good podcast app with a very good UI. If you're looking for an app that will manage your podcasts but don't want to fork over $6.99, check out Shifty Jelly's app. Pocket Casts is available from the Android Market for $2.99. Links and more pictures after the break.
And don't forget to check out the Greatest Android Podcast in the World!
Get the Android Central Newsletter
Instant access to breaking news, the hottest reviews, great deals and helpful tips.
Pocket Casts on my Evo help me cut the ipod 'cord' for listening to my favorite podcasts - android central, adam carolla, (2 of my faves) ......and alot of others available. A must get app!

I heard about this app re: the controversy with the Amazon App Store. Seems like a more than decent choice. I've purchased Doggcatcher and BeyondPod (hey, I like podcasts) and I'm currently loving BeyondPod. The things I like most about BP right now is:
• Very nice Widget
• full A2DP Bluetooth support
• "Virtual Feed" (this is a MUST for me - drop in audio books or w/e)
• Dynamically create and reorder playlist
• Tons of options for scheduling when feeds should update/delete old episodes etc. Does PocketCasts offer these?

I agree with @icu, BeyondPod is great! I have been using it for a couple of years. Before BP was rewritten for Android, BP was available for Windows Mobile, so the dev has a lot of experience in this area. I favorite BP features:
- the Widget, love it!
- automatically downloads new podcast episodes per my schedule
- automatically turns on/off wifi when downloading so that my mobile data isn't used
- connects with Google Reader Of course there are many more features. Other podcatchers offer the same features, but BP is tried and true for me! I have no connection with BP, I just a very happy BP user!

PocketCast *has* a widget.
there is 1 playlist but it gives you add, delete sort, & auto-add features. Tons of options for scheduling when feeds should update/delete old episodes etc. not sure about "Virtual Feeds" or Bluetooth

I completely agree about the virtual feed & bluetooth.
Podtrapper is app that offers both of those, but it doesn't support a secondary SDcard, and my internal SDcard doesn't have enough space for Music & books. The only issue I have with BP is that my virtual feeds often end up in the Play Music app.(yes i've tried the .nomedia file) It amazes me that there are so few podcast apps that include this.

Awesome podcast app, and really like the clean ui. After 3 years of using different podcast Apps I've finally replace Google listen as my podcast Catcher. I recommend people to go and buy it.

Great Podcast app, it even downloads all your podcast automatically. It has become my only podcast app. It was a bit buggy at first when it was the app of the day on the amazon app store, which gave it a really bad reputation, but it works great now on my EVO 3D since the recent updates. I even picked up it in Google Market after the drama that happened with Amazon and Shifty Jelly.

Last time I tried Pocket Casts it had an issue where it wouldn't automatically pause the podcast if i got a phone call. Very annoying. That and the limited options for auto-updates in the version I tried made me switch back to BeyondPod.

The developers from ShiftyJelly are VERY responsive to user feedback and have already fixed many bugs including the phone one you mentioned. Not sure what the Auto-update problem is.

i want to buy a podcast app, but every time i think about it, i remember that google made the google reader app available the week after i'd bought an RSS reader. frustrating

PocketCasts looks cool but other then that it's meh. Doggcatcher has a lot more features. I would never recommend someone buy this app. They should have took the money from Amazon cause good looks only gets you so far in the app world.

One side-effect to the drama with Amazon: The Dev got his feelings hurt, and no longer supports the users(app owners) that downloaded his app for free at Amazon. Even though the app is worth $2.99, the Dev should still respect the transactions between Amazon and its customers, regardless of the price discount.

I agree he should have handled it differently, but his options were a bit limited after every thing was said and done. I believe if there was a way he would have liked to support the people that downloaded his app regardless what happened with amazon. There isn't away leave the Amazon app store and support the people that downloaded it, unless he made the app free in the Google Market. By making it free there would been no way for him to recoup the cost of the added load to his servers. So he did what he could and do what he felt was right. Regardless of how it was handled I feel amazon is taking advantage of independent developers by forcing them to not get any compensation in order to be the featured app the app of the day. We should be putting are full support behind independent developers like Shifty Jelly.

I agree with you that Amazon appears to be taking advantage of devs. It's the under-the-table agreements that differ depending on the dev, and the requirement to keep it all "hush-hush" that got to me. When Angry Birds was featured as an Amazon free app-of-the-day, I doubt very seriously that the makers got no revenue for the downloads that day. Most likely, Amazon paid them boatloads of money. And Amazon certainly either stated or gave the impression that devs were being paid their anticipated revenue if their apps were featured as free. I am glad Shifty Jelly exposed what Amazon was really doing, even though it violated his non-disclosure agreement. I also heard an interview with Shifty Jelly on the "All About Android" podcast (sorry, Android Central) and I was satisfied that he took his action out of the immense frustration that comes when you are trying to get a foothold in a business, every penny counts, and what looks like a lifeline becomes an albatross. After hearing the interview, I deleted the Pocket Casts app that I downloaded from Amazon and bought the app from the Android market. Even though I already own Doggcatcher, I still feel like the $2.99 I spent is a good investment for encouraging devs to make and submit good apps to the Android market. Lord knows we need them.

That is not entirely true. I got the app for free as well but they have been very responsive to my feedback about bugs, etc. and I have received multiple upgrades & bug fixes. They have been VERY responsive to my feedback and concerns regarding the product.

I'm stuck on hapi podcast. It's simple and easy to use. I have pocket vast and like that there are more search options but I find that entering the address into hapi for all my favorites is not to bad cause I only have to do it once.

So theses guys are smart enough to make a nice looking app but aren't smart enough to figure out that 20% of nothing, equals nothing. Major fail on not continuing support to all the people who downloaded their free app promotion, Its not our fault you agreed on a crappy deal from Amazon.

Are you seriously complaining about not getting support for something you didn't pay one penny to obtain?

T.D. makes a perfectly valid point. Not sure why anyone would defend this developer? They are continuing to support the app. So pulling the app from Amazon was childish. Are you seriously OK with them pulling support for (potentially) thousands of people that thought they were getting a free app? No one forced ShiftyJelly to give it away.

Using Doggcatcher right now. Not thrilled with the UI or the fact that there's no way to disable the running background service (even if I set updates to manual). However, the high speed playback is something I can't live without. When Doggcatcher finally implemented this (requires you to buy a 3rd party plug-in), I was finally able to sell my iPod. Being able to listen to a podcast in half the normal time and not having them sound like chipmonks is priceless. I don't suppose Pocket Casts has this feature?

I asked the Devs this same question - They are "working on it"

I'd really like to consider checking this out, but after having already paid the painful price for DoggCatcher I simply can't see shelling out another $2.99 just to take it for a test drive. Pity, as it looks like a fine app.

Downloaded this when it was Amazon's free app and I've been using it daily for downloading/listening to my podcasts. I listen to podcasts pretty much all day when I'm at work so this gets a lot of use from me. Sucks that it won't be supported anymore with updates through Amazon but after the dev's "I'm taking my ball and going home" attitude (which I think was an excuse for a bait-and-switch to try to get people who downloaded from Amazon to pay for it in the Market), I refuse to pay $3 for it in the Market. As long as it keeps working the way it has, I'll be happy with it.

I've gotten all the updates Amazon pushes out (and was unaware of the drama) but it still crashes randomly during podcasts and acts like the episode is finished. Fortunately with tracklists available I can usually find my place again to within a few minutes, but still not great. I'd care more about a podcast if more of the shows I listen to were available as podcasts, and esp. if they provided tracklists with the poscast so I don't have to manually integrate them.

This app is what Google Listen should be. I love this app. I use it every day. I got it free on amazon but paid for it in the market because I like to support the developers. I must say if it wasn't free on amazon I wouldn't have even heard of it most likely. The amazon thing gave him exposure and even though it was viewed a negative it put the app in the spot light. This is a top 10 all time app in my book. As far as it being buggy...hey what app or device doesn't have bugs. Nothing is perfect.

I love this app, especially the UI. It was completely worth $2.99.

I tried this when Amazon did the free app of the day. It looks good but really offers nothing more than Google Listen. I'll stay with Google Listen.

Bought it during the Amazon-ripoff-drama. Personally, I had no idea Amazon wasn't paying devs for their time in the free app spot, so I found it eye-opening; I would never have downloaded anything from there if I had known the devs weren't getting any money from it. Other than that, it's a great podcatcher. I think it's worth the money to support the devs who make apps that make the Android platform worth using.

Let's be careful calling it a ripoff. As far as I can tell this dev is the only one to come out complaining. He knew what he was getting into & cried about it later.

I started using Podtrapper when I had by Blackberry Storm. I love the app. It pauses when calls come in, and remembers where I quit listening. I have tried several others, and continue to come back to Podtrapper.

I've been using PodTrapper for years, first on Blackberry now on Thunderbolt. A worthy competitor to any of the others out there. Very responsive Dev has his own Forum for the app. Visit his web site for 30 day free trial download at versatilemonkey.com (no, I'm not the Dev I'm a very satisfied customer).

I too have been thrilled with this app and use it almost daily. Customer Service from the devs is excellent. they have been very responsive to my questions and concerns and are quick to release bug fixes & upgrades.