With Android 12 and the new Wear OS, Google can now better compete with Apple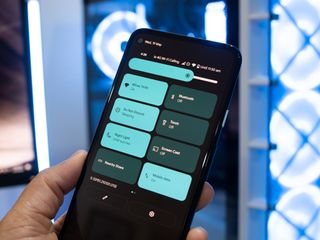 (Image credit: Harish Jonnalagadda / Android Central)
If you were to ask just about any iPhone user why they won't switch, there's likely to be one prevailing answer — the ecosystem. Everything just works. The seamless transition between the Apple Watch, iPhone, iPad, and Mac is the best system integration that we've ever seen. Samsung has been battling Apple in this respect for years, upping the ante by partnering with Microsoft for better integration with apps on Windows, but it's not the same.
Google, on the other hand, has felt like it has a bunch of different teams working on different projects that don't ever talk to one another. Of course, we're sure this isn't actually the case, but that's the way that it looks from where I'm sitting.
Wear OS has been a jumbled mess since its inception, and even after Qualcomm introduced a new wearable SoC that fixed many of the complaints from previous iterations, only the TicWatch Pro 3 uses it. Samsung and Fitbit have dominated the Android smartwatch market, so Google did the only logical thing — if you can't beat them, buy them or partner with them.
Chrome OS is a little bit different, as a lot of attention has been paid to the platform, especially in terms of allowing for better integration with your Android phone. But it's still not enough. Not yet at least.
It starts with You
Google I/O 2021 presented us with a lot of excitement with the introduction of the new Material You design language, along with the Samsung/Google partnership. Material You is much more than just a new interface for your smartphone, as Matias Duarte took to the stage to share that these changes are coming to more than just the phone in your pocket. We'll see elements arrive in Google's vast suite of apps, along with Chrome OS.
Android itself hasn't seen an overhaul in its UI since Material Design was introduced with Android Lollipop back in 2014. But with Material You and Android 12, Google is taking the best parts of Material Design and providing much-needed and long-overdue improvements across the board. It's all about the elements and theming here, as accents and buttons can automatically change based on the colors being used in your wallpaper.
This also introduces easier one-handed usage for phones with stock Android. We've already seen design element changes from the likes of Samsung, OnePlus, Xiaomi, and just about every other phone maker. Now, similar changes are coming to stock Android. Buttons are going to be bigger, you'll be able to reach the top of the Settings menu easier, all to avoid needing to play finger gymnastics with your phone.
But this change in design is also coming to the wrist with Wear, or Wear OS, or whatever it's going to end up being officially called when it launches. Google's wearable operating system will take some of these design elements and bring them to future smartwatches. Co-developing the software with Samsung, along with adding Fitbit's fantastic fitness and health-tracking features, and you have a recipe for a true competitor to Apple's WatchOS and Apple Watch. Well, as long as Google and Samsung deliver on the hardware front. Samsung stated during the keynote that its next smartwatch would be powered by this new operating system, so we won't have to wait for the fabled Pixel Watch to get our hands on it.
Change is coming
All I want is a cohesive experience that is going to be well-supported for years to come. When new technology and features arrive, I want them to be available as soon as possible, and the best way for that to happen is for Google to deliver. Cohesion is what makes the Apple ecosystem so enticing, and such a pain in the rear to try and leave.
There are plenty of options to choose from when looking at the best Android phone, and the same can be said for the best Chromebook. That gets me two-thirds of the way there for an all-encompassing Google ecosystem. The final piece is the smartwatch, and Google recognized that partnering with Samsung gives the company and its customer base the best opportunity to complete the trifecta.
Renders of the Pixel Watch, Pixel 6, and Pixel 6 Pro have appeared, giving us a glimpse at what could be coming this Fall. But as you might expect, there's no guarantee that these are the final products. It's entirely possible that the renders that have been shared constantly are nothing more than just one of Google's potential design choices. With shades of Robocop in tow, the Pixel 6 is lining up to be one of Google's most ambitious endeavors to date.
Combine this with the rumors of Google working with Samsung on the co-developed Whitechapel chipset, and Google's finally taking a page out of Apple's playbook. Rumors of Google working on its own series of processors have been circulating for years, but every time a new Pixel is released, Qualcomm is at the helm.
With Whitechapel, Google has more control over all of the processing power and prowess. Instead of needing to add another co-processor (a la the Pixel Neural Core), Google can make the chipset and software work hand-in-hand. Hopefully, this means that the Pixel 6 will take back the throne for having the best Android camera.
Google can't let us down
What does Google have to lose? Other than a bunch of undisclosed money in its Samsung partnership? This is Google's best chance to create the cohesive network of products and software to truly rival Apple. Delivering a near-flagship smartphone, with software featuring a drastic overhaul, along with the smartwatch we've been asking forever since Android Wear debuted.
Chrome OS, for all intents and purposes, isn't perfect, but Google's done a pretty damn good job at keeping it up-to-date and adding the right features. With that check box already marked off, it's time for Google to dump its enormous amount of resources into the hardware that it's been flailing around with for the past few years.
I'm not suggesting that Google should dump billions into its marketing budget, but it should learn a thing or two from Samsung and even OnePlus. Market the hell out of these phones, don't make the Pixel 4 mistake, and show it off intentionally, months ahead of the launch. Give us commercials galore. Sure, it'll be annoying, but as someone who wants the Pixel to succeed, it's something that I can live with.
And if it doesn't happen, then we're right back where we started. Google can go back to being conservative if it chooses, while Samsung and Apple continue to dominate every smartphone and wearable market.
Android Central Newsletter
Get instant access to breaking news, the hottest reviews, great deals and helpful tips
Senior Editor - Chromebooks, tablets, and wearables
Andrew Myrick is a Senior Editor at Android Central. He enjoys everything to do with technology, including tablets, smartphones, and everything in between. Perhaps his favorite past-time is collecting different headphones, even if they all end up in the same drawer.
I dont disagree with any of this, but Google also needs to create a truly competitive product to iMessage and FaceTime. RCS is not the answer. Those apple services, as much as anything, makes the ecosystem so difficult to leave.

Well said, regarding face time, google duo is a solid rival, but it just need to be baked in in the operating system as face time. I'm screaming for the longest that RCS will lay in ground next to allo and hangouts...it's a total mass. I just can't understand why such a giant company like google cant figure out a simple freaking messaging app.

Duo is baked into Android, there's a Duo button in Google Messages and Google Phone Dialler. Duo also comes preinstalled on Chromebooks. What you're asking for already exists. Google Messages is preinstalled and critically being used already by millons of people right now. Something Hangouts and Allo never had. I can't understand why people want Google to create another messaging platform just to watch that fail too. It's okay not to like a product. I don't use either as WhatsApp Messenger + Video Calls dominate in the UK. Zoom too but that's not positioned the same as iMessage, Facetime, WhatsApp, Google Messages, Goole Duo.

Actually Google Messages is only pre installed on Pixel devices as most OEMs have their own messages apps or that was the case as Google Messages and even the Google dialer are now becoming the default messages app but it still can't quite compete with iMessage and Duo can't quite match FaceTime either but Duo is a solid alternative.

Why are RCS + Duo the answer? Google Messages works across phones, Chromebooks, watches.. Encryption is out in beta. RCS is the only platform that can be the answer. Google's spent a decade frustrating people with another instant messaging platform one after the other. They also have Google Meet + Chat but like Microsoft Teams those are enterprise offerings. There's only a free tier because Zoom is also used by consumers. But none of these products are designed for us.

Good to see you understand and discuss Chromebooks and not Android tablets. Those don't have a future.

I'm afraid you're right, I'm selling my S7+ and getting an iPad. I'm a content creator there isn't enough support for Android tablets and Apple's iPad is simply superior in this regard and the only Chromeboook I'm interested in is made by Google.

Truth be told, the thought had crossed my mind. But I really feel like the status of Android tablets is a separate discussion entirely. If I/O taught us anything it's that Google is putting more focus on foldable phones, and the Android tablet as we know it is dead.

What this article doesn't realise that Google already has an ecosystem, in the smart home space with Nest and Google home and of course they have begun building a smartphone and laptop ecosystem with the Pixel phones and Pixelbooks, Google has been negligent in the smartwatch space with Wear OS and I think they didn't really believe in the platform while Samsung had the only worthy competitor to the Apple Watch. So this is Google's chance to compete with Apple in ecosystem because I think Google and Apple are very similar in philosophy with their phones, and that's what draws me to the Pixel phones and the iPhone in the past with their simple fluid and smooth software that's easy to use and both get quick updates although Google needs to improve with the way they rollout updates with this phase system but that's it as far as updates go because Pixels are the only ones I'm happy with overall especially when it comes to updates and overall software experience. If Google and Samsung can make this work with the new Wear smartwatch platform and Google makes a Pixel Watch I'll buy a smartwatch as I don't really want an Apple Watch or a Samsung one, as I don't want to be completely in their ecosystems and in the case of Samsung, I have no intention of being in the Galaxy ecosystem.

Regarding updates, Samsung is far quicker and superior to google the last couple of months. June update is already available for the s21. I own the s20, and I always got it on the 1st of the month if not even before that. https://www.androidcentral.com/samsungs-june-2021-security-update-starts...

Samsung is quicker because Google sticks to a schedule which is the first Monday of each month on the day it releases its security bulletin for Android and I'm fine with as Google pushes the security updates to ALL Pixels where as Samsung doesn't and in my experience I've been getting the security updates later and later in the last 2 months, on April 21 and only this past Monday for the May security update which I'd have gotten far sooner on a Pixel device so I don't buy that Samsung is "superior" with updates to Google and with Google they're guaranteed and more consistent than Samsung who outside of their flagships are inconsistent with updates where as Google is consistent with updates for Pixel devices no matter what Pixel you use. To be fair to Samsung, they have far more devices to support than Google does.
Android Central Newsletter
Get instant access to breaking news, the hottest reviews, great deals and helpful tips
Thank you for signing up to Android Central. You will receive a verification email shortly.
There was a problem. Please refresh the page and try again.