Android 101: How to 'forget' a Wifi network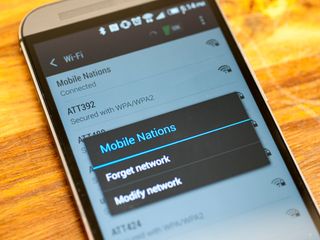 Wifi is a godsend. It gives fast, cheap data to these little devices in our pockets, and hooking in is a breeze. All you usually need is a name and a password. There are times, however, that you might want to tell your phone to "forget" a Wifi network. Maybe you don't want it to connect automatically, which for me is the case once I've landed on a plane, or gotten within sight of a Starbucks, even if I'm not going inside.
So, it's time to remove a Wifi access point from your list. Here's how to do it.
This is one of those areas in which Android got it perfect. To delete a saved Wifi network from your phone or tablet, all you need to do is go to the Wifi section of your settings menu. Find the network you want to get rid of. Long press it, then chose "Forget." (There's also a "modify" option, which mostly is a nice way to change the Wifi password saved on your device.)
And that's it. Simple, handy, and it'll keep you from tearing your hair out at times.
I have to do this like 10 times a day, I test wireless modems once a week and make the passwords 12345678 while testing them, then default them. Its really annoying if I don't forget one and my phone keeps trying to reconnect and is asking for a password.

Android doesn't have this perfect. I want to be rid of WiFi sites that the tablet picks up but will NEVER use. How do you do that or can you at all?

You have turn off the option that tells it to always be searching for open networks. Posted via Android Central App

If you never connect, they will never get saved, or what do you mean?

These are good tutorials, thanks for keep on posting them.

Agreed. Posted via the Android Central App

Now, I've noticed that when miracasting to a miracast reciever, the quality of the stream is improved greatly when you are on your mobile network for data and your wifi is dedicated to miracast (vs sharing wifi from your router and miracasting), but the only way to achieve this is to forget the wifi network I'm on (home network) but then have to reconnect when I'm done miracasting. Is there anyway to automate this forgetting and resigning-in to a network when I initiate and terminate miracast (respectively) either via tasker or some other app?

Now this would be a great idea to an article

Can you not just turn off Wi-Fi, or does that disable Miracast as well? EDIT: I remember you asked about doing this on the Tasker review comments, now I understand why. :) Posted via Android Central App

Yup, you turn off wifi and miracast shuts off too. Not the biggest problem in the world, but I just keep on trying to find the right tasker profile commands and can't seem to find them, or any other solution either.

Click on it in settings and hit "forget" Posted via my OnePlus One

Hi! I'd appreciate it if you could post an article about how to program my VHS VCR. Thanks!

What if long press forget or edit never appear ?

You can also short press on a network and the option to forget will be there too. The number of times I have hit it by accident when meaning to connect is annoying. I wish they would change this UX a bit.

Option to forget is not showing up on my S6 Edge. Folks from Samsung seems to not worry about. I cannot connect to the network with no-broadcast SSID setting. This is so 20th century!

Do people not know how to do that? Posted via Android Central App

Timely, thanks, was annoying seeing the same Wi-Fi pop up Posted via Android Central App

I wish there was an option to connect to a particular wifi network manually. For instance, my company has free wifi for employees that's a pain to remember how to set up, but most of the time I don't want to be on it. I wish I could save the setup but tell it when to connect.

Comments getting deleted....hmm

I'd much rather that Android (or whatever mobile device I'm using for that matter) not automatically connect to unsecured networks I've used in the past when Wi-Fi is on. So personally I feel Android does not have that perfect. Not by a long shot. Electing to forget a network harms the convenience factor of Wi-Fi and feels like a clumsy brute force method of keeping yourself safe from people impersonating unsecured networks, as does turning off Wi-Fi altogether. Sadly, that's something I've just had to live with for now, and I'm not sure if or when it will ever get addressed.

Hi
Anyone tell how to download the wallpapers (user pics set as home screen) from the phone. Not on the SDCard or in any file I can see. They are special for someone.
Thank You Regards chris

And what if it just returns, over and over again, forever?

They is a WiFi network that will not delete! What is it? Says Z95892800 ???? Is this something that is At&t related??? Or my HP.printer may be the cause???
I have a AT&T post paid line mobile share plan and right now I am using the Huawei fusion 3 android . Go phone Posted via the Android Central App

Doesn't work on my Note 4. If it's an open network, the phone just finds it again. Really wish there was a solution to this.

I have an issue with a WiFi network that doesn't show connect nor forget on my WiFi settings list and it's very annoying because I tried removing it with a WiFi app and it did for a second but it returned minutes later, so I'm afraid that I'm hit with some sort of malicious software and can't get rid of it. I even tried factory reset and it's still there.

I totally agree! No matter what I do on this Android phone, these UNWANTED networks continue to take over and I have to hit "Forget". Guess what? They always come back. Repeat and regurgitate. No solution (Apparently)!

I also have this same issue. A few WiFi SSIDs continue to come back and take over as the currently selected network, even after forgetting them multiple times. Is there any fix / workaround for this? Even with root privileges / Xposed ?
Android Central Newsletter
Thank you for signing up to Android Central. You will receive a verification email shortly.
There was a problem. Please refresh the page and try again.