Amazing Alex from Rovio arriving on Android in July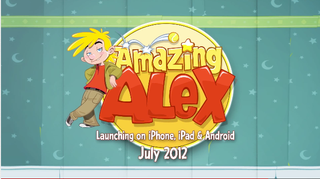 Rovio's next eagerly awaited title, Amazing Alex, will be with us on Android sometime in July. The above trailer has been created by Rovio confirming such, that we'll be seeing it this month. Sadly, what the trailer doesn't give us, is any sign of gameplay footage.
Amazing Alex will of course be a follow up title from the developers of the smash hit, Angry Birds franchise. It will be a physics based puzzle game, with over 100 levels to tackle. Additionally players can design their own levels using 35 different interactive objects. And, in true Rovio style, we're promised regular, free updates. We're looking forward to getting our hands on this one.
Source: Amazing Alex (Rovio)
Are you sure its not called the Amazing Alex Dobie?

-_- . . . . . . trailer looks lame. Let's get some Gameplay

Agreed I'm afraid. Glad to see Rovio working on something else though. Got bored of Angry Birds a long LONG time ago - never understood the hype behind it really anyway!

It was for long time top ios apps and on top of openfaint (most popular ios game network), was very exposed but also good so thats how they build up popularaty. But thats good now they got money and can do a lot better games (look on first angry birds and then space or rio you can feel better qulity). Probably alex still be minigame but thats what is most popular in portables

The theme song is pretty good, but I have no idea what the game is like. Is it a Rube Goldberg simulator?

Looks like "Casey's Contraptions" (a Rube Goldberg puzzle creator). Check it out on YouTube.

It is Casey's Contraptions. They bought it and rebranded it.

Looks like this is just a teaser :>

A teaser that didnt really tease me..

http://www.youtube.com/watch?v=25Noh7lT30U
Android Central Newsletter
Get the best of Android Central in in your inbox, every day!
Thank you for signing up to Android Central. You will receive a verification email shortly.
There was a problem. Please refresh the page and try again.