Future Alphabet earnings reports will separate Google from 'Other Bets'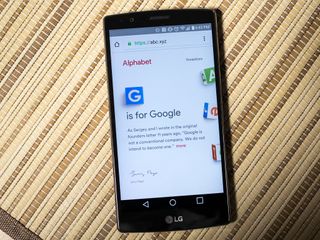 Ahead of its fourth quarter 2015 earnings report on February 1, Alphabet, Google's holding company, has provided insights on how it will disclose earnings for its businesses. The main crux is that Alphabet says it will report earnings split into two segments: Google and "Other Bets." For each segment, Alphabet will report the following line items:
Revenues
Segment operating income / (loss), excluding stock-based compensation expense
Stock-based compensation
Segment operating income / (loss)
Capital expenditures
Depreciation, amortization and impairments
Consolidated reporting will remain the same, but the new segmented approach will give investors a closer insight into how businesses like Google Fiber, Nest, Verily and other "bets" are paying off. Meanwhile, the Google segment will continue to provide a look at how Google's combined properties, products and hardware are performing.
Source: Google
I am intrigued by the numbers! Posted via the Android Central App

Sounds good. Having a whopping 25 shares in Google class C stock, it's good to know how other sections of Google are doing.

I'm gonna assume that the Other bets will have little revenue to show for them. Google is the only division making solid money in Alphabet. Posted via the Android Central App

Anyone else think it's a little odd that Google fibre isn't considered part of Google? I mean, I can understand why, but still... Posted via the Android Central App

No. Google Fiber is no different from other ISPs other than the Google name. It's not really integrated into the ecosystem nor has much to do with ads. Posted via the Android Central App

Yeah, I know. That's what I meant by I understand why it's not part of Google. But... It's called Google fibre! Rebranding is so awkward... Posted via the Android Central App
Android Central Newsletter
Thank you for signing up to Android Central. You will receive a verification email shortly.
There was a problem. Please refresh the page and try again.