Alcatel Idol 4S unboxing and first impressions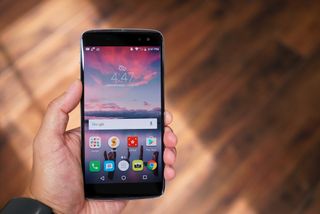 The Idol 4S was unveiled at Mobile World Congress 2016 in February, and it's now ready for pre-order. It looks and feels like a high-end phone, but it isn't priced like one. The Idol 4S features a 5.5-inch QHD (2560x1440) AMOLED display, 16-megapixel camera, dual speakers, dual SIM slots, and more. It's also bundled with a VR headset.
We've been playing with the phone for a couple of days already, so make sure to watch our unboxing video with our first impressions!
More: Read our first Idol 4S hands-on from MWC 2016!
Unboxing video
So, how about that box? This isn't packaging that you'll just crumple up and throw away, it's functional! Check out the video to see how it all works.
Specifications
If you needed a reminder, here's an overview of the specs you can find inside the new Idol 4S:
Swipe to scroll horizontally
Category
Features
OS
Android 6.0 Marshmallow
Display
5.5-inch QHD (2560x1440) AMOLED
Processor
Snapdragon 652 octa-core
Battery
3000 mAh
Memory
3GB RAM
Storage
32GB, microSD expandable
Camera
16-megapixel f/2.0 rear camera
8-megapixel front-facing
Connectivity
LTE Band 2/4/5/7/12/17
UMTS 850/1700/1900/2100
GSM 850/900/1800/1900
Security
Fingerprint sensor
Dimensions
153.9 x 75.4 x 6.99 mm
First look
The Alcatel Idol 4S feels very nice, with looks to match. There's glass on the front and back sides of the phone plus a full metallic frame. It's also thin at just a hair under 7 mm.
The 5.5-inch AMOLED display is sharp, vibrant, bright, and has wide viewing angles. This has dual front-facing speakers, and that's better than having one speaker or having it on the back or bottom like on other phones.
The left side has the power button, and a slot where you can insert two nano sim cards, or a combination of a nano sim card and a microSD card.
The right side has a Boom Key, which does different kinds of things depending on where you are on the phone. For example, pressing and holding it while the phone is asleep, opens the camera and takes a burst of photos. Pressing it while watching videos improves surround sound and pressing it while listening to music boosts the volume and bass.
While recent phones have started adopting USB Type-C, the Idol 4S still uses Micro-USB which is located at the bottom of the phone. It also has a 3000 mAh battery, so we're curious how long that lasts after more testing. It also supports Quick charging.
On the back, there's a 16-megapixel camera that lacks OIS, but offers a small consolation with electronic stabilization, and dual-tone LED flash. We'll have more details in our full review, but first impressions are good. The auto focus is fast, the images look sharp, the colors look fine, and taking photos were snappy. One thing to point out here is that the camera lens stick out and that might bother some people.
Speaking of cameras, there's also an 8-megapixel front-facing camera that automatically focuses on faces. It has a built-in real-time beautification filter, which smoothens your skin. There's a slider at the bottom which adjusts the strength of the filter. The lens is very wide too, so you can fit more people in your selfies. And one more thing. This has an actual flash on top for your selfies. It's not a trick where the screen turns white briefly.
Also on the back is a fingerprint scanner for security. We didn't have any issues with it or ever felt it was slow to unlock the phone.
Inside the Idol 4S is the Snapdragon 652 processor. Combined with 3GB of RAM, we didn't notice any lags from our initial usage. We'll need to spend more time with it and report back in our full review.
The Alcatel Idol 4S runs Android Marshmallow 6.0.1 and the company tells us it will offer up an Android Nougat upgrade as well. The UI feels close to stock Android with pre-loaded apps such Fyuse, LittlStar, Lamper VR, and the VR Store.
More to come
Overall, we're impressed with our first look at the Alcatel Idol 4S. The hardware is beautiful, and we didn't notice any lags.The camera seems like a good performer too, especially with the fast autofocus. Again, this feels like a high-end phone, but with a more affordable price. You also get a VR goggle along with VR content bundled in already.
The Idol 4S will be available for pre-order through Alcatel's website starting July 15th for $349.99, and will start shipping in early August. Pre-orders will also include a tempered glass protector and a protective case from Incipio. Official sale starts August 3rd for $399. We'll spend more time with the phone and report back with a full review soon.
See at Alcatel
Are you interested in the Alcatel Idol 4S? Let us know in the comments!
Android Central Newsletter
Get instant access to breaking news, the hottest reviews, great deals and helpful tips
Isn't this what the rebadged new BBRY device is going to be?

Close. Idol 4 is what BBRY is rumored to be working off of.

This is a pretty nice Galaxy S7 copy, in the S7 edge size. But, I'd rather spend the extra $50, and get the OnePlus 3. I hope the bootloader on this is unlocked, at least. I'm sure updates will be all but forgotten.

More of an S6 copy -- particularly the camera bump. For what it's worth, last year's model did get Marshmallow (only like 5 months later than it should have). The OnePlus 3 will no doubt have better software support from OnePlus, and is probably the better deal all around unless Alcatel makes the "introductory price" permanent.

For $50 more get the Axon 7. Posted via the Android Central App

You guys are slacking! Where's the Pokemon reference in this article?

there were plenty in the video =)

Oh I didn't watch the video, nice to know you guys are living up to Pokemon Central name

I like it too. Posted via the Android Central App

That's a nice looking phone. Posted via the Android Central App

The price is decent but for $50 more the axon 7 gives you 4 gb ram, the SD 820, a slightly better battery. Alcatel waited too long to release this thing.

Yep, axon 7 beats this device by a wide margin and supports all us carrier bands, no mention of which bands are supported on the idol but I'm guessing GSM only? Posted via the Android Central App

I bet the Alcatel gets a discount in price at Amazon maybe so it won't be only $50 less than the 1+3.

In the spec listing it's a QHD IPS display while this article it's an AMOLED panel. Which is it officially? Posted with my awesome Gold S6 Edge+

It's looking nice, but then again, another big phone.

With the One Plus 3 and the ZTE Axon 7 both sporting a 820 chip, OIS, and 6 and 4 gigs of ram for the same price, this is a loser.
I remember being impressed with it on paper when it was announced months ago, but new competitors have come to town in the $400 range.

I know specs aren't everything, but I can't see why someone would buy this over the ZTE Axon or OnePlus 3 when they're the same price

I'll agree with that this thing won't get beyond android N at all Posted via the Pokémon Central App

The other player is ASUS and the Zen Phone 3 and Zen Phone 3 Deluxe. I agree they waited too long to release these. Posted via Android Central App

Too late,too pricey and you can get more and better devices from China for a lot less.

Pretty nice device, but I have to agree that Alcatel took way too long to release this. The OnePlus 3 and Axon 7 are a thing now and they don't really cost much more, while offering arguably more bang for the buck.

Companies need to stop announcing a phone and then not having it available for sale for another 5 or 6 months . That's way to long,considering that mobile and the overall electronics industry operate on a 12 month cycle. Posted via the Android Central App

Overpriced. The Axon 7 is gonna kill everything that's being released anytime soon. Posted via the Android Central App

You want a:
Good looking phone: Buy an Idol 4/4S
Ugly but beastly phone without any software updates: Buy an Axon 7
Great software experience and regular updates: Oneplus 3 or Idol 4S

Played with Vodafone Smart Platnium 7 the other day which is based on this phone and it was very, very nice. As good as the One+ 3 maybe not, but it does have Micro SD support and a lush QHD screen which will appeal to some more than others.

Even though pre-orders are finished, I noticed that you can still get the Alcatel Idol 4S Bundle at the pre-order price of $349.99, which is $50.00 less than the current full price. (Although you will still have to pay for shipping.) When you are on the Alcatel website, do a search in the upper-right corner for "precision", then scroll down to the bottom of the results. You'll see three "partner" offers for the Bundle, all at $349.99.
(You could probably also search the individual partner names too, instead of "precision", but I didn't try.) Anyways, there don't seem to be any restrictions or special requirements to ordering these partner offers. Cheers,
VegasRooted
Android Central Newsletter
Get instant access to breaking news, the hottest reviews, great deals and helpful tips
Thank you for signing up to Android Central. You will receive a verification email shortly.
There was a problem. Please refresh the page and try again.