Acer Iconia Tab A700 review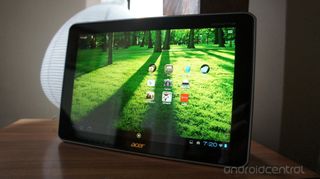 With the recent introduction of Google's Nexus 7, Android tablets have reached a bit of a crossroads. To the right lies the current trend of beefed up specs and raw computing power; on the left lies the newly-blazed trail of "content as king." Ask Google and it will say that its latest project is the face of how Android tablets should proceed, though unfortunately for tablet makers, that news hasn't quite made it down the pike yet.
Take for example Acer, a company that has focused solely on specs for its Android tablets, and thus hasn't been able to garner the attention that its competitors enjoy. Any maybe the reason for this is its lack of innovation: sure, you can put the latest and greatest processor and display on a tablet, but does that really make it unique enough to catch a consumer's eye? Acer's latest attempt at attracting people's attention is the Iconia Tab A700, the 10-inch successor to its first venture, the Iconia A500. But has Acer done any innovating here? Unfortunately, the A700 is the same Android tablet you've seen time and time again from nearly every Android manufacturer under the sun. That's not necessarily a bad thing, especially if you're a hardcore Android fan, but it's far from being a good thing for those who have yet to jump onto the Android tablet bandwagon.
Pros
The Iconia Tab A700 ships with cutting-edge specs, as well as a nearly-stock Ice Cream Sandwich experience. Its 1900 x 1200 resolution display is one of the best you'll find on an Android tablet today, and offers amazing color clarity and viewing angles.
Cons
Despite its Tegra 3 processor, the A700's performance is remarkably subpar. Touch sensitivity is poor, and lag makes using the A700 an exercise in patience. The A700's design is already last-generation.
The Bottom Line
Those looking for one of the best displays on an Android tablet today do not have to look any further. Though despite its HD screen, the A700 suffers from poor performance and an uninspired design. With the Nexus 7 days away, it's nearly impossible to recommend an already-dated tablet to someone who cares about getting their money's worth.
Swipe to scroll horizontally
The Iconia Tab A700 hardware
The Iconia A700 is, bluntly put, the same old 10-inch Android tablet that we've all seen time and time again, at least on the outside. The overall design is as attractive as it is uninspired, bringing to mind the A500 and countless other 10-inch tablets that have come and gone. Considering what its competitors have come up with in recent memory, the A700 is on the bulky side at 659 grams, though I'd stop short of calling it obese. To be fair, there is nothing overly unattractive about the A700, though in the same breath, there is nothing overly unique.
The A700's volume rocker and lock switch are located on the top of the device, while the bottom is home to two Dolby surround-sound speakers. Volume is loud and fairly clear, but I wouldn't say the speakers' performance does Dolby any justice (though in-ear performance is admirable.) This system might be slightly above average, but sticking a Dolby sticker on there was more of a marketing ploy than an indicator of performance. I'm still waiting to be blown away by a tablet's sound—I humbly believe sound is the next thing manufacturers have to focus on, as display innovation is already getting a bit long in the tooth. Galaxy Tab Boombox, anyone?
The left side of the tablet houses the power button and 3.5mm headphone jack; across the street you've got an HDMI out and a clean-looking door with SIM and microSD slots behind it. I appreciate the effort, and the door is fairly simple to open and close, but don't fiddle around too much with it, as it's anything but unbreakable.
The A700's display is the star of the show here, and rightfully so: this is simply one of the
best displays on an Android tablet today.
Acer would disagree with my calling the A700 generic looking, citing the tablet's 1920 x 1200 resolution 1080p HD display, and here it would have a valid point. The 10-inch screen is quite nice, and it's certainly a refreshing change from what we've grown accustomed to on Android tablets. Viewing angles are superb and colors seemed rich and deep. If you're upgrading from a tablet with 1280 x 800 resolution, you won't be able to fathom how you lived so long without this display. Though the Transformer Infinity offers better viewing angles in direct sunlight than the A700, the two displays are simply the best you'll find on an Android tablet today.
That said, there is still room for improvement. The A700's LCD display still pales in comparison to the iPad, and alternative screen technologies like LCD2 on the HTC One X and Super AMOLED HD on Samsung's Galaxy S III still overshadow nearly anything that's available on a tablet today. In short, the A700 is the cream of the Android tablet crop, though it falls short of being the best in the biz.
What's under the hood - Iconia Tab A700 specs and performance
Underneath the hood we've got Tegra 3 running the show, clocked at a respectable (if not increasingly standard) 1.5 GHz, along with a full gig of DDR2 RAM and a full 32 GB of internal storage. Coupled with Ice Cream Sandwich out of the box, the A700 should scream. Sadly, it does not. In fact, it barely even whispers. Performance on the A700 is passable at its best, and nearly unusable at its worst. The dreaded Android tablet lag we've all come to fear is rampant here, and perhaps even magnified. Switching between homescreens never failed to hiccup, and launching the app drawer consistently produced a stutter. Even the display, as beautiful as it is, is an act of patience-- touch response is shameful, with the A700 at times requiring two or three presses before your touch is even registered.
​Benchmarks tell only half the tale, though the A700's scores arean accurate reflection of its less-than-stellar performance.
What's to blame here? I hesitate to point the finger at Tegra 3, as its performance on the international One X is nearly flawless. I also hesitate to blame Ice Cream Sandwich, as we've seen it perform amazingly on latest-generation smartphones. If I had to shake my finger at one culprit, it would have to be Acer. Instead of innovating and creating a unique and optimized tablet experience, Acer seems to have thrown together top-of-the-line specs and crossed its fingers for the best. The best, it seems, is not what has resulted. The A700 could use some major tweaking behind the scenes, optimizing hardware for software and vice versa. Maybe it could be resolved with a simple OTA, or maybe we'll have to wait for Jelly Bean, but one thing is clear: the A700 requires a lot of deep breathing.
On the lighter side, I'm happy to report that the A700 offers admirable battery life, albeit a bit on the lower side for recent tablets. Acer advertises a solid 11 hours of video playback over wifi-- with light to moderate usage you should be able to squeeze at least two to three days out of the A700's 36.25 wH battery. With heavy usage, though, you'll be plugging in around lunchtime on your second day. For a transcontinental flight, you should make it to the other coast with around a half a battery to spare, depending on what you're doing up there.
Iconia Tab A700 software
Acer has remained firmly in the "less-is-more" camp, and I really enjoy what they've done (or rather, haven't done) with stock Ice Cream Sandwich. The "Acer experience" is pretty uniform across all of the company's tablets, so don't expect anything radical here on the A700. Acer's home menu is slightly skinned, as is its lock screen, but the company's touches are few and far between.
Acer's touches are few and far between, but they do add a nice touch.
Acer's standard launcher ring is present, offering one-touch access to a selection of apps directly from the system bar. We've seen this on previous Acer models yet on the A700 it looks gorgeous, thanks no doubt to that beautiful screen. But this rose has its thorns, as I learned from A700 owners who point their finger at the ring for the tablet's lackluster performance. According to some, disabling the ring (along with turning fonts from "large" to "normal') erases all signs of lag, stuttering, and the rest of the unsavory bugs mentioned above. I tried the trick myself and found perhaps the slightest improvement in performance, but certainly nothing to write home about. Other folks swear by it, so I'll stop short of knocking it, but disabling one of the signature selling points of the tablet should not be necessary.
The A700 cameras
The A700 is equipped with the standard 5 MP shooter we've grown accustomed to on tablets, and its performance is also something we've seen time and time again. Right now, manufacturers don't seem to be investing much in tablet cameras, and why should they? A tablet is one of the least convenient ways to snap a photo, which is one of the reasons why companies like Acer aren't pumping dollars into high end optics.
That said, the A700's rear-shooter works just fine in a pinch, and should be more sufficient for your next profile picture or Twitpic. Colors are accurate and well balanced, despite appearing soft and muted in certain conditions. The camera lacks the bells and whistles we've seen recently from Samsung and HTC (though panorama capability is present), so you're not going to be able to get too creative with your shots within the app. I'd leave the A700 home during your son or daughter's graduation and bring along the smartphone or point-and-shoot.
The bare-bones front facing camera does just fine for what its intended-- video chat lacked crystal clarity but offers more than enough detail to get the job done. Again, you're not going to be relying on the A700 for any respectable self-portraits.
​The A700's camcorder records in 720p and, much like the camera, lacks the bells and whistles you might have hoped for. Sound distortion is minimal and again, colors are accurate, though shakiness is certainly noticeable. Then again, you're probably not going to be relying on your tablet as your main camcorder.
The wrap up
Despite its young age and bleeding edge specs, the Iconia Tab A700 is already last generation's news. Call it bad timing, call it lack of innovation, or call it the victim of the Nexus 7, but whatever way you cut it, the A700 is already a dated piece of technology. Even in Android terms, that was fast.
With its Tegra 3 processor and stunning HD display, you'll be hard pressed to find a better-spec'd 10-inch tablet. That said, despite what the A700 is packing under the hood, its performance and responsiveness (or lack thereof) make it a hard sell. Using the A700 requires patience and a taste for the quirks of Android. Taking kid gloves off, I can honestly say its flaws make the A700 borderline unusable.
As you may have read, this unit was my second A700, as the first unit's performance was so poor that I thought it must have been a lemon. And though the second unit was indeed more usable, it still underperformed. Other sites have reviewed the A700 less harshly, and some even enjoyed their experience. How is my opinion so radically different? It could be the $450 pricetag that simply cannot be justified, or perhaps the perfect storm of specs that fizzled out when it all came together. Or maybe I've just grown increasingly weary of "next-gen" devices not living up to their hype.
Or then again, maybe it's that pesky 7-inch tablet from Google, just days away from shaking up the market. If you aren't hell bent on a larger screen, and if you're not easily fooled by CPUs, GPUs, GHz and pixels, the Nexus 7 outperforms the A700 is nearly every single aspect. With its fast-track to the latest and greatest Android, its focus on content, and its mind-blowing pricetag, the Nexus 7 is nearly impossible to pass up for the same Android tablet you've been seeing for the past year. The face of Android tablets is changing, and it's nearly impossible to ignore how quickly the new landscape will turn previous-generation tablets into dinosaurs.
If you want to roll the dice and hope that Jelly Bean's Project Butter improves performance, than the A700 certainly has the guts to perform well under better circumstances. But if you're willing to shave 3 inches off the size, and you aren't object to saving $200, pass up the A700 and grab yourself the true next-generation Android tablet.
Image 1 of 16
Sign up for Black Friday email alerts!
Get the hottest deals available in your inbox plus news, reviews, opinion, analysis and more from the Android Central team.