Every Merge Cube owner should check out 57º North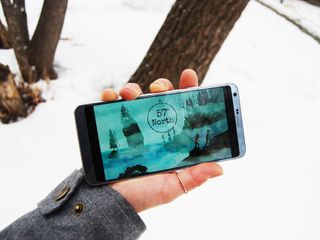 If you haven't seen the Merge Cube yet you are missing out on an amazing little gadget. Using the camera of your phone to create an augmented overlay of a soft foam cube, the Merge Cube creates endless different apps, from games to Education, all from one cheap accessory. For only around $15 in most places, the Merge Cube is well worth owning.
Most of the games are made by Merge themselves and have a lot of variety but 57 Degrees North is pretty unique in its execution.
57 Degrees North sets itself up as a narrative storytelling device rather than a full-fledged game from the outset. When the cube in your hand opens up you see beautiful artwork designed in an almost 3D, layered design with a parallax motion as you turn it. Each frame of the story is lovingly detailed like a young adult novel, and even the text feels like part of the story.
As a game, there is very little to physically do in 57 Degrees North. This is in no way a traditional game, unless your traditions go way back to the early nineties, maybe even the eighties. This game is very much a choose-your-own-adventure book for the modern age. You remember those books, don't you? Gather round children and let Grandpa James tell you about a different time.
We had books that instead of going from beginning to middle, to end, they rambled all over. The only way to get any sense out of them was to follow instructions. "Hit it with a sword! (turn to page 8) or Run away! (turn to page 32) were at the bottom of the pages and the choices you made determined the outcome of the book. For a child like me these books gave endless amounts of fun as each time you could have a different story. That is, essentially what 57 Degrees North is.
Each page of the story is narrated by a very talented voice actor. I have no idea who he is but I enjoy his voice immensely, it's soft, melodious and conveys the drama of the situation wonderfully. Along with an excellent score, the narrator's voice turns 57 Degrees North into a work of art. All you need to do is follow along with the story until you are given the choice and then make it. Most of the time your choice seems to plunge your protagonist cousins into more and more and more dangerous but hey, that's what makes it a good story.
Normally I would explain a little about the story and what you are supposed to do but doing that would only ruin the wonderful narrative that the makers of 57 Degrees North have tried so hard to weave for us. Suffice to say the story is an enjoyable and beautiful adventure taking place in the Canadian wilderness.
I have been a big fan of the Merge Cube from the start and I've been waiting patiently for the 3rd party apps to catch up with the fantastic offerings from Merge themselves. 57 Degrees North not only catches up but surpasses anything I've seen on the platform so far. It isn't a furious adventure game or a mind-bending puzzle, it is, at its heart, a wonderful story told in a unique and enjoyable way. For $2.99, this game should be in everyone's Merge library.
Get the Android Central Newsletter
Instant access to breaking news, the hottest reviews, great deals and helpful tips.
Since the days of the HTC Hero James has had two or three Android phones stuffed into pockets. James is always on hand to offer advice on phones, apps and most recently, PlayStation, especially VR, It's now something of an obsession. Find him @keridel wherever Media Socials itself.