Get organized with these great planning and to-do list apps for Android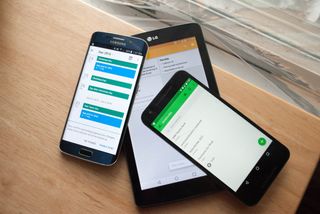 Trying to stay organized can be a hassle even if you're only keeping track of yourself. Add in children, roommates, your partner, friends and co-workers and it can become downright impossible. Thankfully, there are plenty of apps out there to help order the chaos of everyday life. Whether you need to be able to edit your To-Do list on the run, or see the schedules for everyone in your house at a glance, you're covered.
We've put together a short list of the best organization apps available on Google Play. Let's take a look!
Google Keep
Sometimes the biggest problem to getting organized is just remembering those last minute additions to your schedule, or the random add-on to your to-do list. For everything that life throws at you, Google Keep can help you to get and stay on track. Keep lets you jot down notes, create lists that can be checked off, and even put in reminders. These are super handful in a pinch, when you're in the middle of something but don't want to forget anything on your list.
Notes to yourself can be created quickly and easily by typing, drawing on a photo, or dictating with voice. Attaching a reminder to a list or note can help to make sure you won't forget, especially if you don't have the time to enter a full event into your calendar. Google Keep isn't a catch-all app, but it definitely helps to keep all of your reminders in one easy place. Even better, since Keep is part of the Google ecosystm you can access your notes and reminders across your phone, tablet and computer.
Download Google Keep from Google Play for free
Evernote
When it comes to apps that are built around organization, we all probably know somebody who swears by Evernote — maybe that somebody is you. Evernote has apps for you phone and tablet, and even has a Chrome extension on your computer. You can make notes and lists, along with saving articles from the web. The Android apps have a clear Material Design interface that makes it easy to get around.
Evernote is probably the most powerful app and service on the list. You can access it from anywhere, and once you get used to it, checking your Evernote becomes a way of life. You'll never lose a recipe that you found on Facebook again, so long as you remembered to save it. The notebook function lets you easily separate out everything you save so it can be found easily down the line, and there is a tagging feature as well for organizing and sorting. You can even upgrade from the free version to Plus or Premium to get access to features like locking the app, getting more storage space, and annotating PDFs.
Download Evernote from Google Play for free
Trello
Being able to easily adjust and edit a workflow, while keeping an eye on projects that are still a bit further out can be key in staying organized. If that's the case for you, then Trello might be the app you've been looking for. You can build boards with to-do lists, along with projects for work or home. The ability to invite coworkers or collaborators for a project makes it easy to stay on top of everything, without losing track of anything.
Trello works in a pretty simple way. You create a big board, divide it into columns of lists, and then fill those lists with cards that represent your tasks, projects, or whatever else you're trying to track through a workflow. From here you can drag and drop to move things around, invite people who are collaborating with you, and even assign tasks to other folks on your board. Trello has a very simple and clean interface that works well across multiple devices without any issues. There's even has a calendar view so you can see when all the moving parts of your project are due, as well as who is working on them.
Download Trello from Google Play for free
My Life Organized
Many times the hurdle to staying organized is just the scope of the project, which means you need to break it down into smaller bite-sized pieces. MyLifeOrganized offers you the ability to make project or to-do lists with unlimited subcategories. Being able to take a large project and chop it up into smaller pieces for easier task management makes it more likely you'll get it done on time. MyLifeOrganized also utilizes some fantastic features, so that all the tools you need to stay organized are at your fingertips.
MyLifeOrganized gives you a full suite of features that are available with the free version of the app. You can easily tag entries for context, making them easier to find down the road, as well as assigning due dates and reminders. Upgrading to the Pro version gets you features like charting your project progress, a calendar view, and a password lock. And you get to try out the Pro features for free for the first 45 days after installing.
Download MyLifeOrganized from Google Play for free
Google Calendar
If your biggest hurdle to staying organized comes because it's impossible to remember your schedule — and your partner's schedule, plus the kids, and then work — then Google has your back. Google Calendar aims to make it as easy as possible to keep track of your schedule, letting you you easily add, remove, and edit events, along with supporting multiple calendars and multiple accounts, plus shared calendars and events.
The Google Calendar app is one of the very best calendar apps available, especially is you're already a user of the online Google Calendar service with which it syncs. As a calendar it's organized around your events, and with those events you have a plethora of options. You can make your events repeat down to the granularity of the third Saturday of the month, set start and end in different time zones, invite people to shared events, pin map locations, plan Hangouts calls, and much much more. All of this happens in a clean interface that keeps everything smartly laid out with clear color coordination to keep it all straight. It's even smart enough to pull in your plane tickets and dinner reservations right into the calendar from Gmail.
Download Google Calendar from Google Play for free
Hopefully these apps will help get you a bit more organized and on track. Whether that means remembering your appointments with Google Calendar or keeping track of the project you're working on for class with Trello. There are of course plenty of ways to be organized and optimize your workflow. Do you have a specific app you like to use to keep organized? Let us know about it in the comments!
Get the Android Central Newsletter
Instant access to breaking news, the hottest reviews, great deals and helpful tips.
Jen is a staff writer who spends her time researching the products you didn't know you needed. She's also a fantasy novelist and has a serious Civ VI addiction. You can follow her on Twitter.