2Fuse: A quick time killer with simple gameplay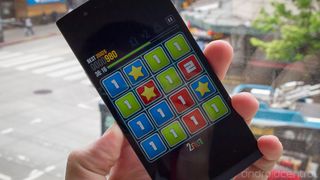 A game doesn't have to be complicated to offer hours of fun
There are in-depth and wonderful games that require hours and days of your time to complete, and then there are the equally necessary games that draw you away from reality for just a few minutes at a time. 2Fuse is in the latter group, and executes on that premise quite well. It's a quick and dead simple puzzle game with just a few rules and some fun animations and sounds to keep it lively, paired with a gameplay model that will keep things fresh no matter how many times you play.
Just because a game is simple doesn't mean it needs to be overlooked -- stick around after the break and learn a little bit more about 2Fuse, a new puzzle game on Android.
There are just a few simple rules to understand in order to play 2Fuse, but that doesn't mean it's an easy game to master. When you enter the game to play for the first time, you'll be given a quick tutorial of the game mechanics, which break down pretty simply. The game consists of a 4 by 4 grid of boxes, each having either "1", "2", "3" or a star in them and being either green, red or blue. Your goal is to match up pairs of boxes that are both the same color and type (same number or star), tapping to combine them. Pairing up two "1" boxes creates a single "2" box, and pairing two of those gives you a single "star" box. When you combine the star boxes, you're given different bonuses to help you score higher depending on the color of the boxes you combined -- red for a point multiplier, blue for a time slowdown and green for an instant refresh of available boxes on the screen.
As you pair up the boxes, the open spaces are re-populated with new "1" boxes, which you then continue to combine over and over again. Your goal for 2Fuse is to combine as many boxes as possible before the 60 second timer runs out for the round. You receive points based on the boxes combined, along with whatever bonuses you have associated with them and the combos you put together without making a mistake. As you play, you'll see a bar counting down the amount of time you have left in the round, as well as the status of your bonuses and your score vs. the highest score you've ever had -- but you'll be so frantically tapping pairs of boxes to pay attention to those.
After finishing your first round, you'll find there's a little more depth to this game awaiting you. Each game your points are converted into a system of in-game currency of sorts called "volts". These volts can be used to purchase "upgrades" and "boosters" that will help you score higher on subsequent rounds, such as permanent percentage increases to the points you earn every round and increases to your round length. Upgrades are permanent and work every round, while boosters are single-use purchases. As is the case in most games nowadays, you can make in-app purchases for volts if you would like, ranging from $0.99 to $19.99. You can also receive volts for doing things like liking the game on Facebook, rating it in Google Play and viewing the developer's other games.
Once you get a hang of the basic ideas on 2Fuse, you'll quickly get sucked into playing round after round trying to best your previous high score. The in-app purchases aren't at all necessary, and the game is good fun even in its completely free-to-play state. If you're in the mood for another new puzzle game that will help you kill some time -- be it 60 seconds or an hour -- then 2Fuse is worth a look.
Sign up for Black Friday email alerts!
Get the hottest deals available in your inbox plus news, reviews, opinion, analysis and more from the Android Central team.
Andrew was an Executive Editor, U.S. at Android Central between 2012 and 2020.