1Weather for Android from OneLouder [Android Quick App]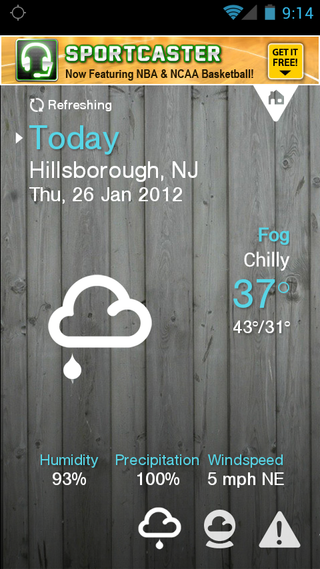 When it comes to weather applications on Android there is no shortage of options, and quite honestly that is a good thing. 1Weather by OneLouder is one of the latest weather applications to enter the Android market and it has done so with some serious style of its own. So what's it all about?
When looking for new applications to download most of us tend to look for something that is unique, clean, and very functional, and OneLouder has nailed all of this and more with this application. Let's hit the break together to check out some more information about the application and additional screen shots.
As soon as you launch the application you can see how well the information is presented, the font is very easy to read and nicely layed out on the screen. The problem some applications face is trying to add an overload of information that is all easily accessible and then stuff tends to get cramped and actually makes it harder to read. 1Weather offers all the information you want to be at your fingertips by breaking it down to various pages allowing the information to not become smushed or run together.
The first page that loads up gives you the current weather conditions with information like the current temperature, humidity, precipitation and an animated weather icon. From here you can scroll to the right and you have pages that show off the upcoming seven day forcast, weather advisories, upcoming precipition levels, local radar, sunset and sun rise times and more. Based on your location you will be able to see tweets pulled from Twitter about current weather conditions in your area and also see pictures from the past couple of days that are pulled from the internet based as well on your location. With the ability to add a widget to your home screen that pulls most of the current weather information it makes keeping tabs on your local area a breeze.
With the ability to add more than one location, keeping tabs on weather from various areas whether for travel or personal reasons it is extremely easy to do so. Adding a new location is quite simple, you can add based on current location or by zip code search, and with over 80,000 locations to chose from odds are your location can be found.
If you are looking to get rid of your current weather application in favor of something different and a little outside of the box, you will definitely want to hit the links below and check out 1Weather. The application is free, and as you imagined it is supported by ads and unforunately there is no way to purchase your way out of them at this point.
Get the Android Central Newsletter
Instant access to breaking news, the hottest reviews, great deals and helpful tips.
Jared started off writing about mobile phones back when BlackBerry ruled the market, and Windows Mobile was kinda cool. Now, with a family, mortgage and other responsibilities he has no choice but to look for the best deals, and he's here to share them with you.
Not compatible with HC, bah...

Off topic comment, Jared, but do you live in Hillsborough, NJ? I see the location on the phone. If so, I'm right next door to you in Somerville. Update: I guess you do. I just checked on G+

Yes I do! Born and raised here.

Haha I was looking at this as well I live in bridgewater. :) neighborhood android users! :D

I think this looks great and is a new fresh look when compared to 90% of the other weather apps out there. Unfortunately the AD's totally kill the look of it. They need to offer a purchase option to get rid of the AD's. If they do that I might actually use it.

I would think a paid version will be available soon as they offer an ad free version of the rest of their app line.

I love the widget style of this app, it fits in perfectly with my homescreens. That's saying a lot, because I normally hate weather widgets and just use a persistent nitification in the dropdown bar. However, I agree with Guy -- the ads really do kill it. I bought Tweetcaster Pro, I bought Sportscaster, and I don't use Reddit, so they're especially annoying. I would happily pay a dollar or three to get rid of them! I get a little delay upon opening the app, too, and that might be ad-related (downloading info), but even if it's not related, still a bit annoying. OC'ed EVO 3D, so no reason I should have lag on something like this, either. Oh, and the radar, while it appears to suck at first, you can interact with it and make it expand a little bit. Still not great compared to most radar implementations, but better than what it initially looks like in my opinion.

If most App developers will make quality apps like these for android. I love android but it seems like when you compare the same app for android verses ios there seems to be more creativity in the one for ios.Hopefully developers will improve.

I don't like the fact that it doesn't show hourly weather like weather bug. Other than that, it looks nice.

Want to learn how to build an Android App then check us out: http://www.meetup.com/StartupSaturdays/

Lots of info available, easy to read, simple, yet effective. When they offer the ad-free version, it'll be even better. I like it.

would love to try it but not compatible with Galaxy Note :-(

I love weather apps. This is a nice app. I like the widget. BeWeather is still my all time fav.

It's a fantastic weather app, better IMO than most. But the widget (only one!) is too meager. I sent an email to developers regarding this and once the widget options improve I'd get it in a heartbeat!

Tried this yesterday, it is okay, but has a long way to go. Uninstalled it.

This app was a true battery hog on my TB, I uninstalled it. After just a half day with nothing else much going on I was down to almost 50%.