YouTube Music's transfer tool is finally rolling out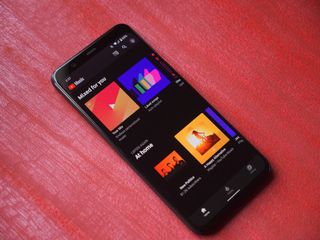 (Image credit: Joe Maring / Android Central)
What you need to know
Google is rolling out the Google Play to YouTube Music transfer tool widely.
YouTube Music's transfer tool was announced last month, but few users had access to the initial release.
The transfer should take under half an hour to complete once initiated.
Google is killing off Google Play Music at the end of the year, and its YouTube Music transfer tool means that users aren't going to be left in the lurch when the new feature launches, at least in theory. The tool was announced earlier in May, but is now being made available widely.
Reports from DroidLife and posts on r/YouTubeMusic show wider access to the new tool, and I've been able to access it as well while writing this post. Using the transfer tool is fast and convenient, with all songs (including uploads) albums and playlists making the leap in just over 20 minutes.
YouTube Music is finally ready to take over from Google Play Music. The service has received a bevy of updates over the past year, including a new explore tab, lyrics support with a redesigned Now Playing screen, and more. Sure, Spotify and Apple Music are better, but not so much better than the value proposition of YouTube Music and YouTube Premium, and that's what Google's likely betting on.
How to transfer your Google Play Music library to YouTube Music
Get the Android Central Newsletter
Instant access to breaking news, the hottest reviews, great deals and helpful tips.
So, does this mean you can upload music that does not come Google Music as well. I've got over 20,000 songs but many of them have the wrong tags or even the wrong music associated with the files. I'd like to do a "fresh" upload of music instead transferring a hackneyed library.

I think YouTube music reads the metadata of the files, so if your music has incorrect metadata, you should correct it BEFORE uploading to YouTube music

More widely but still only in the USA maybe? Not showing up for me in the UK. Also if you transfer across is that your GPM account closed? Or if its still open what happens if you need to do another transfer?

If you transfer your library to YouTube Music, you still reserve both libraries and both apps. Google is going to keep both apps running concurrently until late in the year when they will shutter GPM. If you make any changes to your GPM library/playlists, you will have to run the transfer process again to sync both apps.

I have mp3 chip tune music, how am I going to transfer that to YouTube music?

I was forced to use this software with Google play closing. I uploaded 3000 songs but found out later that you have to pay for premium in order to cast. I uninstalled the app immediately. I spent thousands by now on Google products but you won't let me play my own songs on your platform into your speakers I paid for? Instead I copied my entire library into my SD card and use Cloud Player to cast to your crappy speakers for free. I'm done with you and your stupid ads and telling me I need to spend more and not even give the service I deserve for being a customer. Never again, cloud player is awesome. I love being able to play a whole album whenever and cast it wherever with ads or limitations. Bye YouTube Music.

Don't get why there reducing the quality, Google PLay Music was just good enough not to really notice reduction in quality if you uploaded lossless files. I started playing with YouTube Music and it only streams 141 mp4a noticeably not as good as Google Play Music, I always set "always high" in all settings but can't get it to stream anything better than that. Is there some hidden tear I don't know about to unlock higher quality? I have YouTube Premium which includes YouTube Music, I can play entire albums and all the same music on Google Play Music

YouTube music sucks in the ways that gpm was good, and vice versa. Still can't transfer, but I also never got my free nest mini.

The joke is your downloaded Google Play Music does not really transfer to YouTube music... Simply the names of the artists and playlists you had in Google Play Music transfers. YouTube Music then streams artists in your library. If you wanted higher quality sounding music in YouTube music, you have to manually download every album on YouTube music.... The transfer from Google Play Music to YouTube music doesn't simply access your already download Google Play Music files. Therefore, the YouTube music transfer option is a pathetic joke. I'll use Google Play Music until it unfortunately gets killed off by Google. Seriously, it disgusts me I'll eventually have to down every album again. The bottom line is YouTube music expects you to stream everything. What, are people who download albums who want the better music quality dinosaurs?