YouTube Music on smart TVs is finally getting the basic features it should have launched with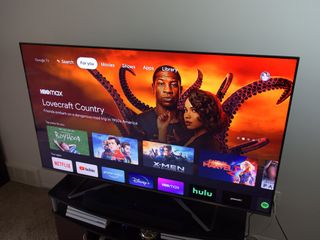 (Image credit: Joe Maring / Android Central)
What you need to know
Google is rolling out an update to YouTube Music on smart TVs today.
Now, users will be able to access and play back songs from their library — including their own playlists.
On Android TV specifically, Google has added support for playing back uploaded tracks
Google launched YouTube Music on smart TVs in July, albeit as a neutered barely functional app. The new app drew a litany of complaints about its bare minimum functionality, of which the team is clearly aware of.
In a blog post today, the YouTube team delivered a mea culpa of sorts:
As such, it's update time for YouTube Music. On smart TVs of all flavor, you can now access your saved playlists and liked songs in the Music app. Google has also reworked the artwork for playlists, saying it makes it easier to find music.
For Android TV specifically (including the Chromecast with Google TV) Google will now let you play your uploads from the YouTube Music app. The update also brings a new look for the now playing screen and integrates with the new home screen.
YouTube Music isn't yet up to par with its mobile experience, but it's not terrible anymore now that Google's added some of the features that really should have launched with the app. Google says it'll be adding background play for Premium subscribers in the coming months, so that's something to look forward to.
Chromecast with Google TV
The Chromecast with Google TV is Google's first real TV stick in the traditional sense. Coming in three sleek colors, the low-price and thoughtful interface make this a tempting product.
I know we like to joke about how one of the most prestigious and powerful digital services company in the world can struggle to do something so basic, but it truly is inexplicable how Google can work on something like YouTube music for years and still have so many shortcomings. Now they are ending Google Play Music when YouTube Music STILL doesn't have all the features and capabilities of GPM.

"YouTube Music is finally getting a feature it should have launched with" is going to be a headline for a long long time.

Hey Michael. Glad to see your most recent article just removed the ability to post comments. Certainty can't have people expressing their opinions on important topics. For a moment I was worried you guys might actually be supporting free speech and robust debate.

No worries Wolfie! Have a good one ❤️

It needs an option to favor music videos over just audio
Android Central Newsletter
Get the best of Android Central in in your inbox, every day!
Thank you for signing up to Android Central. You will receive a verification email shortly.
There was a problem. Please refresh the page and try again.