Your used Nest Cam might be spying on you [Update]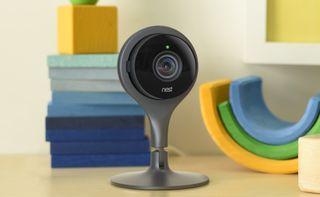 (Image credit: Google)
What you need to know
Despite factory resetting the Nest Cam, the Wink app allows you to view live images of previously owned cameras.
It is unknown if this affects all Nest cameras or other smart home integrations at this time.
Nest has not officially responded to a request for more information.
Updated 11:57 ET: Since this initial news broke, a Google spokesperson reached out to AC with the following statement:
If you've ever bought a used Nest Cam before, then get ready to be creeped out because the previous owner might be spying on you.
The discovery was made by a user on the Facebook Wink Users Group after he was able to still access images from a Nest Cam he had previously sold.
How'd he do it? The original owner had connected the Nest Cam to a Wink smart hub, and despite removing the camera from his Nest account, the Wink hub still kept the connection.
Through the Wink app, he was able to view a series of live images taken every few seconds from his old Nest Cam in the new person's home. That right there should be enough to freak anyone out who is currently using a used Nest Cam.
Our friends over at The Wirecutter originally covered this story and were able to replicate this using a Nest Cam of their own by connecting a Nest Cam to a Wink hub, removing it from their Nest account per the instructions, and then viewing the images via the Wink app.
For anyone who has bought a used Nest Cam, that is truly scary. A device you are purchasing in hopes to make your home more secure could end up giving the previous owner access to your most private space.
At this time, it is uncertain if all Nest cameras are affected by this or if this issue could persist among other smart home integrations besides just Wink smart hubs.
Wirecutter has reached out to Nest for a comment, but so far has not received an official response.
In the meantime, if you own a used Nest Cam, it would be best to unplug it. If you're considering buying a used Nest Cam, we'd advise you not to.
FYI, your new Nest Cam is spying on you as well.
Android Central Newsletter
Get the best of Android Central in in your inbox, every day!
Thank you for signing up to Android Central. You will receive a verification email shortly.
There was a problem. Please refresh the page and try again.