The Sony Smartwatch 3 is not getting Android Wear 2.0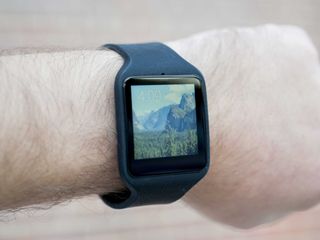 Is this the official end of the SmartWatch 3 as we know it? The square-faced, athletic smartwatch will not be seeing its official update to Android Wear 2.0, much to the chagrin of the few die-hard fans who have stuck around because — well, it's kind of a classic, not to mention it was equipped with one of the biggest batteries available in Android Wear (420mAh!).
The news of the SmartWatch 3's expiration came from its official product page, which Xperia Blog found to contain the following annotation:
If you're holding out hope, there's still a petition going strong for Sony and Google to revert on their stance. But consider that the SmartWatch 3's square face and bulky body are officially a relic of a different time in Android Wear. Although, let's be honest, the future looks equally as bulky.
Android Central Newsletter
Get instant access to breaking news, the hottest reviews, great deals and helpful tips
Florence Ion was formerly an editor and columnist at Android Central. She writes about Android-powered devices of all types and explores their usefulness in her everyday life. You can follow her on Twitter or watch her Tuesday nights on All About Android.
Great watch on paper but the issue with sweat interfering with GPS is damnable for a sports watch.

Still waiting for my fossil q to be updated

Yeah same, I don't think it'll happen quick though. Have any watches been updated yet? From any manufacturer?

This is the inherent problem with smart watches. Their life cycle compared to regular watches sucks and most of what you get in a smart watch is already on your phone.

That most people replace every year or 2 as well?

Bummer. I was hopeful, but didn't really expect it. It's got NFC!

How's the gshock sm doing

Any hope for the Sony smartwatch 4?

I just upgraded from this to the 360 sport and I'm very happy. Can't wait to see what 2.0 brings!

Just done with Smartwatches for now, will keep the sm3 for the next 3 years, if the market keeps on doing the same like it's on phone, I'll just continue with dumb watches and call it a day

Good choice. These devices are overrated

I paid $80 for the SW3 in early 2015. I'm not a watch guy, and only wore cheap but decent looking Fossils before that just to look at the time, but the smartwatch 3 was something else. It told the time and my scheduled meetings for the day, the weather, and notified me of pretty much everything. I used it for a bunch of automation tasks that would have otherwise been awkward with the company policy password locked phone that I had it paired with. It's been great, and still is. I regret nothing. I'll use the SW3 until it dies or loses any of the functionality I enjoy now, then I'm buying something with AW2, and by that time I might score something for another $80. I can live with that.

Yes I agree with you, mine is completly functional, 2 days of battery life,in my opinion it could run AW 2 without problems but... I´ll use it until it dies, really happy until now with this smartwatch.

That's exactly why no one rocks these in the first place

All 4 people that own this are bummed out.

I have a Zenwatch 3 which is utterly useless with the latest software updates & have zero clue if it's getting 2.0. What a joke.

So if the latest updates makes the watch useless... couldn't the next update make it even more useless?

Anyone out there happy with a SINGLE Sony product? Sony is the new HTC...

Their mirrorless cameras are tops.

I like getting notifications on my wrist... Other than that i dont really care. I have a moto 360 gen 2, its alright... Nothing to get excited over though.

Bulky LOL.... I wore this watch until I recently lost it since it came out. And while I loved my older G Shocks, the new LG Watch Sport is twice as bulky.

Eh, it did it's time. Mine was lagging with newer AW versions so I decided to switch. Hopefully the SW4 with a more dedicated wear processor comes out soon.
Android Central Newsletter
Get instant access to breaking news, the hottest reviews, great deals and helpful tips
Thank you for signing up to Android Central. You will receive a verification email shortly.
There was a problem. Please refresh the page and try again.