You can back up and sync everything to your Google account starting June 28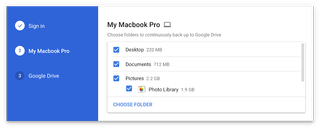 Beginning June 28, you'll be able to back up all of your files and folders from a Mac or PC to your Google Drive. It's called, very simply, Backup and Sync, and once installed, it will help you keep things in check even when you're not checking them.
From the official blog post:
Since its inception, Google Drive has required that you manually sync any data stored on your main computer, or move files and folders so that they're saved directly to the cloud account. But once the new app goes live, you'll be able to choose which files and folders to stay synced. It'll also be integrated with the current Google Photos Backup tool for Mac and PC.
On the mobile side, this means you'll have access to those files and folders from any tablet or smartphone that has access to Google Drive. It also means you won't have to two different desktop apps installed to keep Photos and Drive synced at the same time.
Google suggests that if you're planning to use the backup feature for your work-related G Suite account, you should use the Drive File System instead because it allows for larger data uploads. Also, not all G Suite users will automatically be upgraded to the ability — managers of the G Suite account will need to turn on the option for employees to utilize the backup feature for them to get access to Backup and Sync.
Get the Android Central Newsletter
Instant access to breaking news, the hottest reviews, great deals and helpful tips.
Florence Ion was formerly an editor and columnist at Android Central. She writes about Android-powered devices of all types and explores their usefulness in her everyday life. You can follow her on Twitter or watch her Tuesday nights on All About Android.