You can back up and sync everything to your Google account starting June 28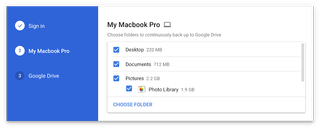 Beginning June 28, you'll be able to back up all of your files and folders from a Mac or PC to your Google Drive. It's called, very simply, Backup and Sync, and once installed, it will help you keep things in check even when you're not checking them.
From the official blog post:
Since its inception, Google Drive has required that you manually sync any data stored on your main computer, or move files and folders so that they're saved directly to the cloud account. But once the new app goes live, you'll be able to choose which files and folders to stay synced. It'll also be integrated with the current Google Photos Backup tool for Mac and PC.
On the mobile side, this means you'll have access to those files and folders from any tablet or smartphone that has access to Google Drive. It also means you won't have to two different desktop apps installed to keep Photos and Drive synced at the same time.
Google suggests that if you're planning to use the backup feature for your work-related G Suite account, you should use the Drive File System instead because it allows for larger data uploads. Also, not all G Suite users will automatically be upgraded to the ability — managers of the G Suite account will need to turn on the option for employees to utilize the backup feature for them to get access to Backup and Sync.
Get the Android Central Newsletter
Instant access to breaking news, the hottest reviews, great deals and helpful tips.
Florence Ion was formerly an editor and columnist at Android Central. She writes about Android-powered devices of all types and explores their usefulness in her everyday life. You can follow her on Twitter or watch her Tuesday nights on All About Android.
That will be much more convenient than using symlink / file junctions for some scenarios (like game saves, app config, etc).

This is good timing considering Amazon pulling it's unlimited storage plan. It's client was half-baked anyway. I am interested in this for sure.

So will this work like one drive does?

This sounds very cool, makes me consider switching from Dropbox, but I also saw that OneDrive is bringing back their placeholder files, which makes me consider switching back to them! To many great file sharing/backup services. I'll probably just stick with Dropbox, but I'll for sure be checking this out.

Coincidentally happened while Microsoft remove the "File History" utility from upcoming Windows 10 Fall Creators Update ☺

Another face-palm moment from Microsoft.

Google Drive for Mac/PC, which is now integrated with the Google Photos desktop uploader.
does this mean this is replacing the photo uploader? or is there some kind of integration with photo uploader? if so whats integrated?

The current Google Drive app for Windows isn't a "manual" backup tool. Not sure what exactly is meant by that.

Hmm. So I just renewed by Carbonite subscription for $60. I have 473 GB worth of files (85,000 files! ugh) backed up when I log into the Carbonite online. I'm on the free 15GB Google Drive plan and see the paid subscription prices are $20/year for 100 GB or $100/year for 1 TB. So, having to go for the 1 TB is more expensive than my current carbonite plan. However, we also have an Office 365 subscription (2 kids in school) so I have 1 TB MS OneDrive plan included. Okay, but there doesn't seem to be an automated way to backup and sync folders to OneDrive. Closest I could find was this somewhat clunky workaround:
https://www.windowscentral.com/how-move-default-user-folders-onedrive-wi... Ok fine, I can do that since I only have a handful of folders to set up this way one time. I guess I'll set a calendar reminder for next June to not renew my carbonite and move over to OneDrive. While this article may not have caused me to switch to G Drive, it did cause me to think through what I'm paying for, so a big thanks to the author!

I use onedrive and a NAS for my Mac. I also have a 1 terabyte cloud storage as I use office 365. I copied all of my files and folders to to the onedrive and that's what I sync. I have access to everything on my Priv and any other computer. Really quite simple.

I thought about moving my folders I backup with carbonite (documents, photos, music) into the OneDrive folder, but I am concerned that if OneDrive cloud storage is hacked and stuff gets deleted I would lose critical documents. Is the OneDrive folder also stored locally on your PC? I might feel better about moving those things over if that were the case.

Yes you can enable offline sync for your OneDrive docs. By default they would go in C:\Users\USERNAME\OneDrive (but you can chage that). However a synced could storage is NOT a backup... If you delete a file from one PC (because of a virus or whatever), the delete will sync to the cloud and all other devices. Yes OneDrive has a "recycle bin" but that should not be your backup plan. I use OneDrive offline sync and still do a manual backup every month to a external drive.

I'd settle for text message backups...

SMS Backup & Restore https://www.androidcentral.com/e?link=https2F2F...

I've used that for my wife who insists on keeping text messages for years, works like a charm when I have to move her to a new phone.

Does this include Android?
This is Android Central, but the article did not mention. What did I miss?

Ooooo, all that juicy data for them to scan.

Lets start with txt message and call logs..
In an. Easy to access/use spot on ur android device... Then move on to other stuff.

SMS Backup & Restore https://www.androidcentral.com/e?link=https2F2F...

One of my must install Android apps, when friends come to me screaming they don't want to delete anything. I tell them, you don't need to, back it all up and THEN delete it, and you can still access the old text and call logs at any time, for that number you forgot to save or that text you meant to keep but deleted.

I'm still waiting for a complete backup/restore option for Android users. Yes, having Googly sync your app data helps get you partially back after a phone reset or replacement. But there are still other apps from Amazon that turn up missing, and several apps from the Google app store come up with missing data, like Fuel & Costs which I've given up on. Performing a full seamless restore is where Apple does well, and I miss that.

What about the storage space? Do I have to buy more storage as per my PC size? Please advise.

Funny, at this point my laptop is just a device for accessing my Google Drive files. Backup is becoming like the save button in programs, something I just don't need any more and i'm better for it.

I've always been using Tresorit to backup custom folders, I'm looking forward to try this out, since I am already using Google photos and Google drive, and I wanna reduce the amount of cloud storage services I'm using.