Yes, mobile graphics are catching up with consoles (which also will improve)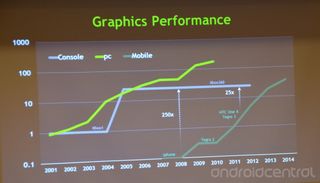 A couple of things to remember when you're looking at this slide of projected mobile graphics performance, which NVIDIA showed us Thursday at HTC's Frequencies meetings in Seattle and has been making the rounds.
And, yes, ZMOG! Tegra will be as powerful as the Xbox 360 in 2013 or whenever! That's a great line. But it's not like we're talking apples to apples here, and it's also not like Microsoft's never going to refresh the Xbox hardware. (Lord knows it could use it just to kill the jet-engine fan noise.)
It's also probably safe to say that there's been more room for improvement and innovation in the mobile space. Console gaming, relatively speaking, is more of a long-term endeavor than mobile. Yes, new versions of Tegra SOCs are coming. (And, no, Tegra 3+ is not the official name for what's next.) Yes, they'll be faster and more powerful, and we'll all fawn over them when they arrive.
Get the Android Central Newsletter
Instant access to breaking news, the hottest reviews, great deals and helpful tips.