How to fix Google Play Music crashing bug (Update: fixed)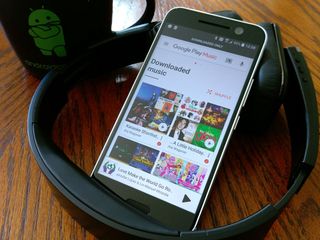 Update: Google has pushed out an update to Google Play Music that fixes the problem. Good stuff!
Google Play Music is being a naughty app for some users after an update sent the app into a crash loop and locked them out. Music is a highly important part of my phone, and my life, so I went in search of a fix or workaround. Good news! There seems to be a simple enough way to get back in, though depending on your listening habits, it might be a bitter pill.
Turning off Bluetooth seems to make the app useable again. If you're someone who listens over Bluetooth, wears an Android Wear watch, or just likes having Bluetooth on, reboot your phone before you try turning it on. For some, Bluetooth needs to stay off, for some of us, turning it off and rebooting was enough to fix things.
Here are the individual steps:
Open your phone's Settings.
Turn off Bluetooth.
Re-open Google Play Music.
Whichever camp you're in, we can all hope that a permanent solution comes soon, but for now, I'm just going to hold my playlist close and tell it I love it. After all, you never know when they'll be taken away by random bugs.
Android Central Newsletter
Get instant access to breaking news, the hottest reviews, great deals and helpful tips
Ara Wagoner was a staff writer at Android Central. She themes phones and pokes YouTube Music with a stick. When she's not writing about cases, Chromebooks, or customization, she's wandering around Walt Disney World. If you see her without headphones, RUN. You can follow her on Twitter at @arawagco.
I think it is about damn time they overhaul the entire app design and functionality wise. It is over-cluttered and at times just too much to handle. And I hate the orange, it is just too much!

You're preaching the choir, buddy. Fixing Play Music: How Google can improve its streaming music service https://www.androidcentral.com/fixing-google-play-music-incomplete-playlist

Agreed it's very clunky and every other music service app is better. Play music looks fine but easy of use is horrible for a music app. Hopefully they will redesign the app soon otherwise don't feel like using this even though I have play music subscription as part of YouTube red.

Are they inadvertently making an argument for the why the headphone jack is important before they get rid of it in the Pixel 2?

Ha. That is funny. For those that don't have headphone jack, your out of luck.

Same problem, here.
Fixed::
Open settings, app info, clear cache, clear data, uninstall, reinstall.
Accept permissions, sync account.
Music-y goodness. [If that doesn't work:]
SD maid from the play store; scan and delete app corpses, databases (cleans them up only).

And this allows you to listen to music over bluetooth again? Or does reconnecting to a Bluetooth speaker, headphones or car audio still crash the app?

What works for me is to open the app before connecting to your Bluetooth device. For those on Android Wear thinking the fix in the article will work for you.

Very interesting. Thanks - I'll try that in the car at lunch today.

I disabled and uninstalled updates. Then I reinstalled the version prior to this one. That worked for me.

Are ppl sure it's just not an app it is clashing with? I haven't ever had an issue with GPM crashing or not working over Bluetooth I know there's always a few ppl without a common issue but it's strange bc I've seen quite a few ppl say they've had issues with GPM and I've had it since its release day with no issue

For me, if you're not connected to a Bluetooth speaker, headphones or car audio, GPM works fine (it doesn't require me to turn BT off - I'm still connected to my watch). As soon as I connect to my headphones or get in the car, the app crashes, repeatedly. This only started last night when I received the update to 7.9.4920-1.S.4134653

I was experiencing the crashing after the latest update. I cleared cache and rebooted phone. I start the app with Bluetooth off. I then turn on Bluetooth and was able to listen music without the app crashing. Please Note: I only played part of one song.

There is a huge issue now with GPM not working on Android Auto (AA). I am having the same problem as many others in that you can be listening to GPM in your car via AA and it works fine. Get back into your car an hour later and the GPM screen in AA will show a message that says "GPM doesn't seem to be working right now." Happens on multiple car models, if people are just using AA on their phone alone, and for multiple phone models. Google staff have commented they are aware of the issue and have acknowledged the easiest temporary fix is turn bluetooth off and on again. This has worked for me. Makes me think it is a problem with a GPM update and bluetooth implementation. An active thread on this topic is here:
https://productforums.google.com/forum/#!msg/android-auto/5ETR94i0y60/oJ... I checked in on the thread yesterday and noticed some people said they got a GPM update within the last few days, and since then the problem has gone away. Mine just downloaded an update a few hours ago to version 7.9.4920-1.S.4134653, and the only change listed under "what's new" was "bug fixes". Here is hoping this issue, the other bluetooth issue described in this article, are finally fixed.

It hadn't worked for a while for me and started working again after last week's Android Auto update.

It's been misbehaving itself in Android Auto for a while before the latest update. The solution that works for me is to force stop the app and then reopen it. Saves having to redownload music and such when you clear data or reinstall.

So a workaround, not a fix.

I uninstalled and reinstalled and mine started working again

This problem fixed itself with a device reset when I noticed it earlier.

A device reset? That should be a last resort. Easier solution was to downgrade the app. At least Bluetooth will still work.

I'm hoping he meant reboot.

I pulled up this article, but didn't have time to read, had to run to the post office. Went there without my music, regretted not reading first. Got back, read it. I force stopped the app then cleared the app cache. Then it ran, and played my music. No need to kill the 1gb of app data (downloaded music). bt stayed on the whole time. yippee.

I just uninstalled updates through Google Play Store, works like it should. I'll wait until they fix this to re-update it.

I uninstalled then used the original without updates and works fine. Just disabled the auto update.

And now..... App is running, music is streaming to my paired bluetooth speaker, but when i try to open the actual app... Crash!
But the music continues to play. Bluetooth still paired. Widget on homescreen still works. But app will not open.
.fun.

Talked to Google Play store reps through app and got steps...
From dialpad dial. *#*#checkin#*#*
*#*#2432546#*#*

Google is getting really good at breaking it's software with half baked software updates. Starting to lose me quick.

Reset phone setting to original state worked me Bluetooth worked as it should

I turned off my Bluetooth, launched the app and turned my Bluetooth back on. And it worked fine for me

I downgraded to v7.9.4918-1
http://www.apkmirror.com/apk/google-inc/google-play-music/google-play-mu...

I received yet another update (2nd one today). I'm hoping this one is the charm.

Yep, update to the update fixed my problems.

Happened just as I opened up Google Music on my new OP5. I contacted their support and they recommended selecting "Uninstall", which downgraded the version by 1 and sorted it out. First positive experience I've had with OnePlus.

Just got update on Google Music. Turned on Bluetooth, Opened Google Music, Played Music. Fix worked.

I just got an update too! It's fixed 😀

I had this issue today. It made me factory reset my phone.

That one bad update should've never even happened.

... I don't get your point. Yes updates happen and bad stuff happens ... If they fix it quick then all is well. It is impossible to avoid problems 100% of the time lol. Let's be real now.

Thanks for this! I was fortunate, reading about the new update, I checked, and there it was. A quick install later, and PlayMusic is working once again. Never had the opportunity to try turning off BT, but I'm also glad the update was available.

All I did was Settings - Apps - Google Play Music - Disable, reboot, enable. Worked after that.
Android Central Newsletter
Get instant access to breaking news, the hottest reviews, great deals and helpful tips
Thank you for signing up to Android Central. You will receive a verification email shortly.
There was a problem. Please refresh the page and try again.