WidgetLocker Lockscreen - Now with Ice Cream Sandwich, Honeycomb and Sense 3 sliders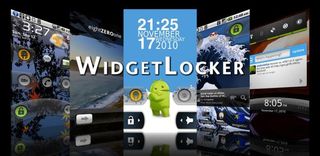 Everyone likes to tweak their device a little, and one of the apps that can help you achieve some visual and functional tweaks is WidgetLocker Lockscreen. Having been updated to v2.2 -- some new sliders have been added such as the ones from Ice Cream Sandwich, Honeycomb and Sense 3 which can give your device lockscreen a whole new look. Some other additions came with the update as well as some bug fixes:
Customizable Clock
Tablet Optimizations, Hardware Acceleration
Improved Preferences and Slider Setup Interfaces
User selectable app shortcut icons
Fixes:
Moto OTA Conflict (Battery problems)
Keyboard focus bug (SMS Popup apps)
Ice Cream Sandwich Compatibility
Unlock-With-WiFi Compatibility
Misc fixes and optimizations
We've written up a quick app review WidgetLocker Lockscreen previously, so if you're looking to learn more make sure you give it a look. You'll find the download link to the latest version past the break, remember -- it is a paid app but well worth the buy in cost if you're looking for easy tweaks.
Get the Android Central Newsletter
Instant access to breaking news, the hottest reviews, great deals and helpful tips.
Awesome!! I had to uninstall WL after I updated my MoPho due to the battery drain. I'm gonna download it again :)

Same here. I couldn't last a half day on my Bionic and it turned out to be WidgetLocker. If they fixed that, I may use it again.

Looks like the battery drain issue is really gone and now I have teh Sense 3.0 lockscreen!!

i just want to use the sense 3 lock screen but cant seem to get it to work

Took me awhile to figure out how to do it, but i eventually got it added. Delete all the existing sliders on the screen. And then press the menu button and then add. From there you can add the Sense 3.0. Once it's on the screen, you can long press on it and drag it down to the bottom if need be. I can't figure out how to customize which apps are listed (and order) in the Sense3.0 lock though.

Long press the widget => Edit
Use the top widget preview portion and try launch an app/invoke action, and it will bring up the configuration for that button (the "Slide to configure" Doesn't seem to be able to re-arrange order, but you can just set the new one at the right order

Dude. ICS Lockscreen. On my GB Phone. I'm soooooooo happy.

This app is great. Greatly improves the usability of the phone when you need it most... When you turn the screen on.

Love the new ICS lock screen on my Evo looks real good

For some reason, ever since the WL update, every time I hit the home button it's asking me which launcher to use. Even when I check "set as default" it seems to forget what the default launcher is now. Not sure why. Anybody?

Nevermind, I think I figured it out. You need to set "Home Helper" as your default launcher and control the default launcher settings through Widget Locker. Must be a new feature or something because I don't remember having it before.

Anybody know if this still disables the pattern lock?