What's on MrMobile's phone?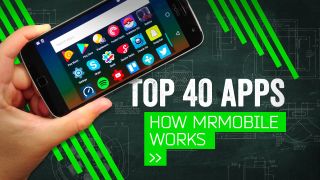 As we approach the one-year anniversary of MrMobile's launch, it seems only right to fulfill one of the most common viewer requests. You see a variation of the question in the comment section of nearly every video: "what's on your phone, MrMobile?" And while I personally find my app selection really predictable, I figure there's probably a gem or two in here that some of y'all haven't heard of yet. So dive on in to the How MrMobile Works catalog to take in my Top 40 Apps video – and if you agree with me that this collection could use some spicing up, drop a comment down below with your top app alternatives!
Stay social, my friends
Agreed. Thanks Mr. Fisher.

Ooh I have been waiting for this! Yess

I agree great video it feels like a lot of work went into it... A field I know nothing about video editing

It was extremely watchable. Love his blackberry android phone.

Great video! The big question is, will you be attending any of the anomalies this year?

Great job on the video as always..

Great video. Very helpful!

I'll have to check out Wallrox.

All good apps. I tend to cycle through them from time to time. Any good scheduling app will work for me, although i sincerely wish Google would go with a dark theme... That's the sole reason I'm using either CalenGoo or Business Calendar 2 calendar apps. Keep is good - but it's interface is terrible. Horrible. Every time I open it - I instinctively go - ugh... Enter Evernote, Wunderlist etc. and other tasks or work flow managers​. Nova - is absolutely great. I'm used to how to customize it and the widget padding is sublime. Action Launcher is very good too. In fact I'll say - the main reason why I'll probably stay with Android - is because of those Launchers... I'm a bit of a geek - albeit an older geek - I love efficiency, simplicity and originality. Looks like Google is starting to implement concepts that will bridge the differences between Apple and Android regarding security and updates etc. Good.
Android Central Newsletter
Get the best of Android Central in in your inbox, every day!
Thank you for signing up to Android Central. You will receive a verification email shortly.
There was a problem. Please refresh the page and try again.