WeFi Pro: get the most out of public Wifi access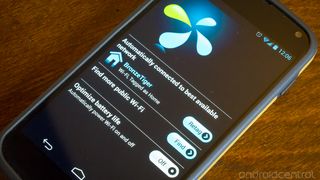 Many of us are coming to the realization that mobile data limits are, well, limiting. At the same time, public Wifi access has been a major initiative in many large cities and private businesses alike. WeFi Pro, which was previously only available to Cricket customers, is hoping to help users take advantage of the vast amounts of public Wifi available today.
Stick around after the break to see how WeFi Pro could help you cut down on the monthly data charges.
As I noted above, WeFi Pro used to be exclusively for use by Cricket subscribers but has since opened up to users on any carrier. The idea is the same, however and the app has just received several updates recently that have improved it functionality. The idea here is to help you offload your data usage from cellular networks to Wifi when an acceptable connection is available, hopefully doing it intelligently so that you'll always have the best connection available. WeFi Pro relies on a network of 130 million open Wifi access points, which are user-submitted.
When you open up WeFi Pro, you get a simple interface with three lines -- your current network connection, the nearest public Wifi access point, and a battery optimization toggle. The current network connection area shows the name and a little info of the network you're currently on, and if you're connected to a Wifi network it allows you to tag it as home, work, or public. Tagging a Wifi network you're connected to as "public" lets it be added to the system so that other users can potentially use it in the future.
The nearest public Wifi area shows the name of the establishment and its distance from you, as well as a "More" button that takes you to a map of the location. Checking "Optimize battery life" will let the app periodically turn off WIfi when it thinks you're in an area where Wifi will not be a viable connection. Optimization is on by default, and also by default if you turn it off it will come back on in 6 hours. Luckily, you can change this setting to never turn back on if you'd prefer to manage turning on and off your Wifi manually.
Also found in the settings is the ability to automatically join any open network and manage when you'd like to be notified about Wifi access points. None of the notifications are on by default -- which is nice -- but you can choose to be notified for open networks, networks requiring sign-in, only networks from major chains and brands (Starbucks, etc.), and frequently seen networks. It's nice to see that you can get more granular control over which networks notify you, rather than every network you happen to walk by.
One of the new features in WeFi Pro is mapping of open access points, which could possibly be the most valuable part of the app. In a large city, just opening up the map view shows a ridiculous number of open points. Tapping on a given pin in the map will give you information about that location, such as the name of the business and its address. If you want to view information about multiple sites at once, you can also view open a list view, with granular information about their exact addresses and distances from you.
Overall, WeFi Pro offers a great set of data that can be used to get your phone, tablet and computer onto public Wifi when you're out of the house. Even if you don't take advantage of the automatic connection, Wifi toggle and battery optimization built into the app, it's still well worth a look if you often find yourself without a stable connection.
Get the Android Central Newsletter
Instant access to breaking news, the hottest reviews, great deals and helpful tips.
Andrew was an Executive Editor, U.S. at Android Central between 2012 and 2020.