Unity Launcher: a little bit of Ubuntu flair on your device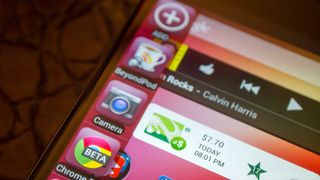 Canonical has laid out its plans to release Ubuntu phones at some point in 2014 -- but you don't have to wait that long to get a little bit of Ubuntu flair on your current Android device. Unity Launcher brings Ubuntu's interesting swipe-in sliding app selector to your device without changing your current launcher setup.
Stick around with us after the break to learn a little more about what Unity Launcher has to offer.
If you haven't seen the demos of Ubuntu's interface, the main app selection paradigm is anchored in a sliding menu that is revealed from the edge of the screen with a swipe -- bringing in a vertically scrolling list of your recently used applications. Unity Launcher brings this exact paradigm to your Android device, and does so extremely smoothly. The name is a bit of a misnomer though, as you don't actually replace your current launcher with it but rather use both in conjunction. Installing and configuring Unity Launcher simply puts the slide-in app selector functionality on top of whatever else you're using.
When you first open up the settings of Unity Launcher, you need to set the sizing and position of the swipe area before you can use it. You have to edit the "edge width", which essentially tells the app how much of the screen to have "reserved" to recognize when you're swiping. As the app indicates, the smaller the area the better because it will make that portion of the screen unresponsive to normal UI touches. I made the area on my Nexus 4 almost as small as the slider goes without any ill effect on the functionality of Unity Launcher or other apps I was using. It does take some getting used to once you make the area so small, but it quickly becomes a natural gesture.
Beyond the width of the swipe recognition area, you can also change how high the area is, it's color, sensitivity and position on screen - left, right, top bottom and everywhere in between. Once you've got it set up and working as you'd like, you can edit how long to have the tray visible when you swipe it in (default 1200 worked fine for me), the animation delay and the background styles of both the tray and individual app icons themselves.
Once all of the appropriate tweaks are made -- and customization-happy users will love the options -- you can finally get to adding apps to the launcher. You can bulk add them by going to the settings and selecting from a list of your installed apps and shortcuts, or you can edit the list from the "add" button at the top of the tray when it is exposed. Once apps are in place in the tray you can long press an icon to delete it or sort them -- selecting "sort" gives you sliding anchors to put the apps into their places. The tray can be brought up at any time, whether in apps or on the homescreen, which takes some getting used to but ends up being quite functional.
I came away seriously impressed with the performance and smoothness of Unity Launcher, and even more so with the new customization options available when I got used to relying on it to do my app switching. There's a free version of the app with very limited functionality, but luckily the paid version is only $1.99 (although it was only $0.99 just yesterday, curiously) to unlock all of the bells and whistles. If you're interested in trying out a little slice of the Ubuntu phone OS on your current device, it's certainly worth a try.
Andrew was an Executive Editor, U.S. at Android Central between 2012 and 2020.
Interesting... It looks like the MultiWindow 'launcher' on Samsung phones :P

"There's a free version of the app with very limited functionality, but luckily the paid version is just $0.99 to unlock all of the bells and whistles." Just checked, looks like it's actually $1.99. Otherwise, can't wait to give it a go:)

Oh wow. I bought it couple days ago it was $0.99. I'll update the post to reflect that.

Wow, 99 cents for the full version. Take that Action Launcher

It looks like you generated enough interest that the publisher jacked the price up to take advantage.

Yup. Price is now $1.99. Crashed my phone when I installed it (VZW GNex running latest AOKP), but it seems to be working ok now. Pretty slick.

VZW GNex running latest AOKP - Me too - no crash though for me... running smooth. *Free version over Apex Launcher Pro

It's nice, but I greatly prefer the WebOS inspired Wave launcher.

I really liked Wave Launcher but they haven't updated it in roughly a year and a half I believe. I use Swapps now, it's Unity launcher and Action launcher in one. it displays all of your apps off to the left just like Unity. I reccommend checking it out.

I'm not sure how long it has been since the last app update, but I'm running 4.2.2 and it still runs great. If it's not buggy or crashing and I can't think of any new features it could use, why would it need an update?

The thing that makes Unity great is the UI if you press on an icon it brings up an option to "delete" or "sort" using sort you can move the icon up or down in the launcher and also you can add Shortcuts . I've been using wave for ages now i'm switching to Unity .

But that's sooooo obsolete. We need an app that gives us the fuction of the BB10 Peak feature. Let me reply to text or email with a little hub to the left. . . . that shows everything.

BB10 is a big step up from the old OS, but there isn't anything on BB10 that I would want over what we've got even on stock Android. Every time I see BB10, I'm reminded of little Randy Parker trying to catch up to his brother and friends on the way to school "Wait up guys, aww gee..." Not to mention that Peek isn't in any way comparable to Wave or Unity. Different functionalities.

I would beat a baby seal to death with a club if I had to do all that swiping to check my mail notifications.

Haha wow, that was a laugh that I so desperately needed lol

I loved Wave Launcher, but Google Now killed it on my Galaxy Nexus. Swiping from the sides, Wave Launcher just appears too slowly, and I can't swipe up anymore without launching Google Now.

I always swiped up from the right hand corner, so I set the touch field to be over there and not in the middle. No conflicts with Google Now on my old GNex or now on my N4.
It worked well on my Nexus 7 also, but with so much more screen real estate I found it to be really unnecessary and uninstalled it.

I like this very much, it lets you add what you want at your fingertips and you can re-arrange the placement to put it where its most comfortable for your fingers. I've been using it on top of Chris Lacy's actionlauncher pro and its wonderful to say the least no issues what so ever.

Actually the free version works pretty well for me.

Anyone know what the "bells and whistles" are? I can't find anything on what's different about the paid version.

The difference is just a few more customizability options in the settings.

hmmm, so its like the Swapps launcher but without some of the features of Swapps? meh, ill stick to Swapps :P

Can you share the wallpaper from the video and also what is the clock widget you are using? Thanks

That's just a stock Ubuntu wallpaper, and that's DashClock Widget.

i thought dashclock was just a home screen widget?

i meant lockscreen widget and that you couldn't use it on the home screen.

Works on the homescreen too.

shame you can't install it unless your on android 4.2, i think it should be an option to uses it on the home screen of other devices.

Screw chris Lacy and action launcher

Are you a developer? Can you do better? Not trying to be a dick, but if you dislike an app, rate that app accordingly in the Play Store instead of trashing the name of a developer that probably worked hard on said app.

+9001 Let's see gogators develop a better launcher.

Not going to pay for it. Looks good since I'm a fan of Ubuntu but I don't think it's worth it.

And for everyone saying screw action launcher, this is not even on par with action launcher. Shouldn't even be considered a contender.

I like it, simple, fast, and elegant app launching solution. Paid the $1.99 after a quick test of the free version...

I like the concept, and it pairs up REALLY WELL with Paranoid Android Expanded Desktop, but I would only be interested in it if it showed my Recent Apps instead of shortcuts. Just a personal preference, but I would like to use it as my "multitasking bar" rather than "quick shortcuts of the home screen shortcuts".

Have you tried SwipePad? That works pretty much the same way as this but has an option of having it display your most recent apps and also lets you swipe in from different sides of the screen for different app lists. Personally I prefer SwipePad.

very nice. what I like about this is it doesn't change the touchwiz UI on my S3. I don't want to use a completely different launcher since I like touchwiz

I paid for it immediately after watching the demo video. I support good apps and everyone has to make a living. You can sacrifice a cup of coffee guys geez (to the people complaining about price). I like one screen on my SGS3 and hate having icons on my screen. This works perfectly for me to show off my wallpapers.

I don't think folks were complaining about the price. I think there are some who feel a little gypped if a Dev bumps the price when he gets a little press.

I understand but it's about demand. When demand goes up the price does too. He probably didn't know how to price it and when he saw the exposure he was getting he bumped it up. It probably took some time to create an app like this. I love it so far and know it'll follow me regardless of which ROM I flash on my SGS3.

Hey wait, Sorry to intrude but I am developer of Unity. This Review was published 8-10 hrs ago, I changed my mind about Unity price 3 days ago and updated it in Google Play 2 days ago. It takes around 10-12 hrs for Google Play to update prices. I even do not know it will get reviewed here. Price rise was just because google cuts 30% from revenue and our Government cuts 40% of that so eventually a dev gets just 50 cents out of it. This will get lot of new features so early supporters got it for 99 cents.I have Messaging 7, completely free, in which I invested lot of time. Point is please understand it's not greed.
Anyways, Thanks for supporting me.

While I had thought I would pass over this app, instead I am going to the app store to purchase this app and play with it. I am doing this because I appreciate the dev taking the initiative to read all these comments and to respond. I wish all devs were so proactively responsive.

Thanks, I believe a healthy ecosystem where people get what they want.

Not a big fan of Unity. Went back to 10.10. I'll wait for the free version that comes with the Ubuntu Phone OS. (Assuming it does)

No.
Just No. Unity sucks on the desktop & it sucks no less on a cell phone.

So... you've been a member on Android Central for a grand total of 21 minutes, and trashing software w/o constructive criticism is the best introduction you can think of???

Dang. And he even made a profile pic.

It's a waste of a good picture lol

Just an FYI it's in the Amazon Appstore for only a dollar.

ANDREW MARTONIK, just wanted to say that I really appreciate your video reviews which are very concise yet provide just the right amount of information and demonstration. Also, thank you for using manual focus so that we can actually see the screen clearly!

+1000 to the manual focus of the video. that's one thing that i noticed right away when watching his videos too. thanks Andrew!

I'm switching from Ubuntu because of the Unity interface, but they think I want it on my phone?
Android Central Newsletter
Thank you for signing up to Android Central. You will receive a verification email shortly.
There was a problem. Please refresh the page and try again.