Synaptics announces world's first in-display fingerprint sensor, launching with a 'top 5' smartphone OEM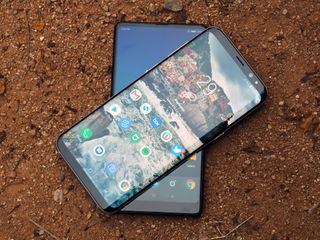 One of the leading biometrics technology companies, Synaptics, has announced a big breakthrough in phone authentication: in-display fingerprint sensors. The new "Clear ID FS9500" (catchy name) fingerprint sensor is designed for smartphones with near-bezel-free displays, and provides fingerprint authentication on demand completely within the display panel itself.
The Clear ID FS9500 sensor offers the same type of one-touch authentication we know today, but does it underneath the display glass — and it can handle a variety of situations including wet, dry and cold fingers. As you'd expect, it integrates a complete security stack with AES encryption and a variety of authentication features that companies can choose from. Seeing as it otherwise works the same as a dedicated hardware sensor, one of the great features of this in-display solution is that it can be turned on and off at will, meaning that unlike traditional sensors it doesn't occupy any space on the body of the phone when not needed.
We've seen technical demonstrations of this type of technology, but Synaptics is making this announcement because it says that it is already in mass production in partnership with a "top five" smartphone company. That already narrows things down a bit, but Synaptics has a couple other hints that seem too good to be a coincidence. In its press release, the company specifically calls out the demand for "bezel-free OLED infinity displays," which is interestingly the exact type of naming Samsung has applied to its curved displays in the flagship Galaxy S8, S8+ and Note 8.
This in-screen fingerprint sensor technology could certainly end up in all sorts of phones in 2018, but given the hints here we wouldn't be surprised if the Samsung Galaxy S9 was one of the first. Following the relative debacle of the Galaxy S8's rear-mounted fingerprint sensor and promises of upgraded iris scanning on the GS9, we could see the removal of the dedicated physical fingerprint sensor on the new phone.
In any case, we know a big-name manufacturer will have this Synaptics technology integrated into a phone soon. And that looks like it'll be a win for everyone.
Press release:
Synaptics Brings World's First In-Display Fingerprint Sensors for Smartphones to Mass Production with a Top Five OEM
Clear ID Optical Sensors are Faster, More Convenient and Secure than Alternative Biometrics SAN JOSE, Calif. – December 12, 2017 – Synaptics Incorporated (NASDAQ: SYNA), the leading developer of human interface solutions, today announced mass production with a top five OEM of its new Clear ID™ FS9500 family of optical in-display fingerprint sensors. Designed for smartphones with infinity displays, Synaptics' Clear ID in-display fingerprint sensors magically activate in the display only when needed. Clear ID is faster than alternative biometrics such as 3D facial, highly-secure with SentryPoint™ technology, and very convenient with one-touch/one-step biometric authentication directly in the touchscreen display area of smartphones.
The new Synaptics Clear ID optical fingerprint sensors deliver one-touch high-resolution scanning through full cover glass and enable sleek, button-free, bezel-free infinity displays. Synaptics' highperformance Clear ID FS9500 optical solution excels with wet, dry and cold fingers, and since it's protected by glass, is durable, scratchproof and waterproof. In-display fingerprint technology allows users to securely unlock the device in situations including while it's sitting on the table, at any angle, or while in a car mount. Synaptics' Clear ID performance is twice as fast as 3D facial recognition and requires only one touch to access your smartphone.
Serious Security:
Synaptics optical fingerprint sensors are available with SentryPoint™ technology, offering OEMs a widerange of unique and highly secure authentication features including: Quantum Matcher™ for adaptive fingerprint template matching and authentication; PurePrint™ anti-spoof technology to examine fingerprint images using unique artificial intelligence technology to distinguish between spoofs and actual fingers; and SecureLink™ which combines support for TLS protocol with ECC authentication and AES encryption.
"Consumers prefer fingerprint authentication on the front of the phone, and with the industry quickly shifting to bezel-free OLED infinity displays, the natural placement of the fingerprint sensor is in the display itself," said Kevin Barber, senior vice president and general manager, Mobile Division, Synaptics. "Synaptics' Clear ID fingerprint sensors are faster, more convenient, and more secure than alternative biometrics, and this optical technology represents a major innovation shift and opportunity for the smartphone market."
Sign up for Black Friday email alerts!
Get the hottest deals available in your inbox plus news, reviews, opinion, analysis and more from the Android Central team.
Andrew was an Executive Editor, U.S. at Android Central between 2012 and 2020.