Stargate Origins is now available in the Stargate Command app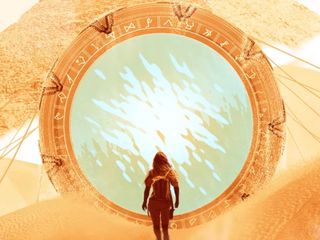 In a time before the SGC, before Atlantis, and long before a much too short trip aboard an Ancient ship, there was Catherine and Paul Langford. The original stewards of the Stargate are getting their own series in this massive universe, and that show is available right now if you know where to look.
That's right, 'gate fans, you can now watch the first three episodes of Stargate Origins in the Stargate Command app (opens in new tab).
For the uninitiated, Stargate Command is a central hub for all things Stargate. From this app you can watch every episode of all the shows, all of the movies, and tons of behind-the-scenes content. It is now also the first home for this new short series about the time before the ability to dial the gate had been discovered.
Instead of the 45-minute long Stargate episodes you are used to, Origins episodes are 8-minute shorts. The first three episodes are available now to those with an All Access pass, with plans to release the show to everyone with the app at 7PM Eastern on February 15th. Once the first three episodes have been unlocked for everyone, All Access pass holders will be able to watch the rest of the show. Currently, Stargate Command has no plans to make the whole show available to anyone without an All Access pass.
If you're up for the All Access pass, it is available for a one-time $20 charge. Stargate Command promises a lot of additional features available to these members soon, but for now the biggest benefit by far is access to this fun new trip through the Stargate story. And now that the app has full Chromcast support, you can also enjoy the entirety of the Stargate story on your television. Enjoy!
Grab the Stargate Command app from the Google Play Store! (opens in new tab)
Russell is a Contributing Editor at Android Central. He's a former server admin who has been using Android since the HTC G1, and quite literally wrote the book on Android tablets. You can usually find him chasing the next tech trend, much to the pain of his wallet. Find him on Facebook and Twitter
Strange that they'd be making a prequel to this, when Roland Emmerich is about to reboot his original movie.
Even then I'd rather have some kind of conclusion to SGU, rather than a prequel.

The movie reboot is an incredibly bad idea... And for better or worse more universe won't happen, more chance of Firefly season 2.

While I liked the show, I wasn't a fan of the way it retconned the movie. I would have liked to see full Emmerich's vision.

I was under the impression that the reboot was dead. At least, if GateWorld was correct.

Holy crap I would LOVE to have another season (at least!) of SGU. They ditched it on a complete hardcore cliff hanger.

I don't expect too much, but at 8 minutes an episode it's worth a watch. Thanks for the heads up.

I'm really not trying to be a ass ,but please have more in-depth Android how to articles. At least articles about Android,I'm not necessarily referring to this one, because it is a game for Android . im just saying in general, go back to Android Central's roots

The gates run on Android.

I have little interest in this prequel series, but I am due for a SG1 rewatch

There are a bunch of interviews with various people, if you're into that sort of thing.

I'm sick of studio A, or company B trying to make their own pay-to-stream services.That and I'd much rather see the Emmerich conclusion that money hungry re-hashes of old plot lines. SGAtlantis was so ripped off of SG-1 it was a joke after a couple seasons. SGU was cool, but I probably only liked it cause I didn't watch Battlestar Galactica.
Android Central Newsletter
Get the best of Android Central in in your inbox, every day!
Thank you for signing up to Android Central. You will receive a verification email shortly.
There was a problem. Please refresh the page and try again.