Speed limit feature now showing up in Google Maps for some users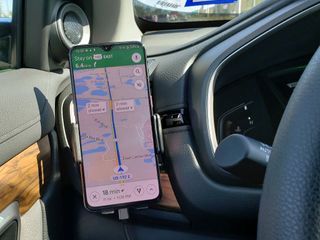 Earlier in the week, some Google Maps users began seeing speed trap warnings pop up in the app to alert them of areas where speed cameras were being used to watch drivers going faster than they should. Now, just a couple days later, users are now reporting that Google Maps is getting a new speed limit feature.
Speed limits in Google Maps aren't technically new seeing as how they kind of launched in July 2017, but only in the San Franciso Bay Area in the United States and Rio de Janeiro over in Brazil. However, Android Police has received multiple tips that speed limits are now live for people in New York City, Los Angeles, and Minnesota.
Based on these reports and the fact that Google Maps hasn't received an update on the Play Store recently, speed limits seem to be rolling out as part of a server-side change with no single location being targeted specifically.
It's kind of ridiculous it's taken Google this long to integrated speed limits into Maps, but either way, it's still exciting to see this starting to roll out.
Do you have speed limits on Google Maps? Let us know in the comments below!
Download: Google Maps (free) (opens in new tab)
Joe Maring was a Senior Editor for Android Central between 2017 and 2021. You can reach him on Twitter at @JoeMaring1.
I'm in Columbus, OH and I've been seeing it too but only on certain main/busy roads.

I missed this feature from the little Tom Tom I used to have back in the day.

I've had speed limits for several years on a Garmin device and more recently a few years on Android in OsmAnd. Welcome to the club, Google.

Yup. Garmin's have had that technology baked into their software for over a decade now.

Microsoft maps has had it for 8 years Google wtf lol

It'll will be easier now that you know the speed limit.

Its already easy if you know your states laws. It's also easy if you look up from your phone and see the signs.

No speed warning in Texas, that's why I use Waze. Let's you know when you go over the speed limit. Learned after paying $75.00 dlls for going over 6 miles an hour. Won't happen again.

Geez in Massachusetts you have to be completely reckless to get pulled over.

That's cheap compared to Crapifornia

Why are you stalking me at work???

I saw those roads in Plymouth and did a serious double take. I used to drive through that area all the time

So they are finally adding more Waze features to Google Maps. They should start letting Google Maps users report police as well.

Lol that would be awesome

Waze features? I guess. This is a feature that's lots of other. maps have had for about a decade.

Of the top nav apps available on Android and iOS, Google maps, Waze, etc., Waze had it first. Obviously standalone TomTom units and the like aren't included in this particular comparison.

I've had this for months on Google maps. I noticed it on one of my trips last summer

Yeah speed limits on Maps is great but what about being able to plan routes with HOV lanes like Waze?

I welcome this as a needed feature, especially when you are in a new area.

This showed up in Seattle today as well, even better, it's on Android Auto. No way to provide Fred if it'll wrong, but sticks nice to have!

Windows phone was doing this years ago

Yeah. Like 2012.
For such a crappy selling OS, there's a lot to miss.

Got it on my last trip... 18-01-2019.

Started showing up yesterday in the Dallas/Fort Worth area. Looks great!

Seen in some area in San Antonio yesterday.

I've seen this in San Francisco, and recently in Dallas I was able to report speed traps, but not in Austin Texas

It always makes me smile to see our US cousins sticking with MPH like the UK whilst those third world Europeans use that kilobongo rubbish.

Just noticed this since yesterday during a trip to the DC area. Only certain section of certain roads though.

It working for me here in Florida
Android Central Newsletter
Get the best of Android Central in in your inbox, every day!
Thank you for signing up to Android Central. You will receive a verification email shortly.
There was a problem. Please refresh the page and try again.