Sony Xperia X Performance vs. Samsung Galaxy S7: Same price, different values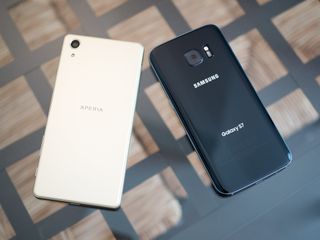 Sony and Samsung, among others, have phones at the very top of their range that are vying to be the perfect device to drop several hundred dollars on. In this case, it's the Sony Xperia X Performance, and the Galaxy S7. Both are compact, powerful, feature-rich and very much flagship devices for their respective companies.
But for most of us, choosing a phone that's this expensive isn't a coin-toss sort of situation — there needs to be some serious thought about which one is best for your hard-earned money. The Xperia X performance was announced right alongside the Galaxy S7, but is now widely available — and that means it's time to see what $700 gets you in these two phones. Read on.
Hardware, specs and features
Sony's phones have long offered unique, aspirational designs that just exuded beauty, though its latest couple of offerings have really gone down the path of iterating to death the great original "OmiBalance" look from the first Xperia Z. Materials have changed slightly, curves have been tweaked and we've seen buttons move, but the Xperia X Performance is undeniably a Sony phone — for better or worse at this point.
Stagnant design aside, taking the Xperia X Performance as a standalone phone it's actually very well crafted. The metal frame and back eschew antenna lines altogether, the materials come together flawlessly and the front is covered in perfectly sculpted glass. It's flat in the back, rounded on the sides and somewhat slippery — just like the Galaxy S7 — because of it, but that's not much of an issue on a phone this small. The Xperia X Performance is built just like we want a compact flagship to be — the only exception being the funky button placement, with a flush power key that's a bit tough to press and volume buttons awkwardly below it.
Image 1 of 3
If we're going to put down Sony for simply iterating on designs we should at least throw a portion of that Samsung's way as well, as the Galaxy S7 is quite similar to its predecessor. Sure it's a little thicker and has a few tweaks here and there, but this is basically a Galaxy S6 — but again, that's not necessarily a bad thing when taken in a vacuum. The Galaxy S7 is actually a tad smaller than the Xperia X Performance, is built fantastically well and keeps its buttons in a more ... traditional layout. The glass on the back is a bit slicker and prone to damage in ways the metal back of the Xperia X Performance isn't, but you can't fault this phone for that small difference.
In what's increasingly an oddity in the flagship space both the Xperia X Performance and Galaxy S7 have rather small displays, with 5.1- and 5-inch panels, respectively. The Galaxy S7 sticks with a higher 2560x1440 resolution and AMOLED display type while Sony keeps its tried-and-true 1920x1080 LCD — both are absolutely great displays, and the X Performance matches all of the high bars set by Samsung with the Galaxy S7. That isn't something we can say about many phones out there.
Elsewhere inside the phones, you'll find many of the same features. A Snapdragon 820 processor runs both, save for the few Galaxy S7 models with Exynos processors, with ample RAM of 4GB in the GS7 and 3GB in the X Performance — 32GB of storage and an SD card keep both phones on level ground in that respect. You get full waterproofing on both phones, which is something we've increasingly started to expect on flagships — we've also come to expect fingerprint sensors, which the Galaxy S7 has and the Xperia X Performance in the U.S. does not ... for some reason we'll never understand or forgive. The one big advantage the X Performance has here is stereo speakers, which offer much richer sound albeit not at any higher volume than what the GS7 offers.
Software, performance and battery life
Both Sony and Samsung have reduced cruft and streamlined their Android interfaces over the past few years, but Sony has definitely done so at a quicker rate. For what it's worth, Sony's software experience is much closer to "stock" Android at this point, with its visual customizations basically coming down to new icons, its own launcher and a different looking lock screen, though they all fit in pretty nicely with the stock Android look and perhaps more importantly work like stock Android does (even down to standard on-screen navigation buttons).
Samsung definitely has the more heavy-handed design ethos of the two, where its color palette and animations touch every corner of the operating system. The software just doesn't feel as sleek or elegant as Sony's, though it does feel a bit more "complete" as the design changes touch every corner of the system. As we all know there's a sizable pile of pre-installed Samsung apps to contend with here, but in this comparison you're greeted by much the same on the Sony side — and in both cases, we wish the companies would tone back on the pre-installed apps that most people don't want to use.
When it comes to performance, both phones get work done just fine with their high-end processors and ample memory. We felt no difference in app launch times or multitasking, or working in heavier apps and games, aside from the Galaxy S7's camera launching much quicker (which we'll get to in more detail below).
But most of the solid performance on the Xperia X Performance is quickly eroded by rather horrendous touch screen response, which on this phone is as bad as we've seen in several years. The display simply isn't sensitive enough to touch, meaning it's tough to type, swipe and scroll through the interface. Not only is it downright frustrating on a daily basis, it's completely unacceptable for a phone of this price. We noted the issue as a major deal-breaker in our review, and although it's less pronounced we've also seen the issue crop up in the lower-end Xperia X as well. The issue could presumably be fixed in a future software update, but there's no indication of that fix being on the way.
On the battery side of things, both phones offer a solid day of longevity despite having different battery capacities. 3000 mAh in the Galaxy S7 is just over 10% larger than the 2700 mAh in the Xperia X Performance, but both get the job done for us with a full day of use and double-digit percentage left at the end of an average day. When you push the Xperia X Performance a bit harder you can drain it down to a critical level (that's where that extra 300 mAh would be nice), but we've never been worried about the battery on a regular basis.
When it comes to charging, both have the standard — but unspectacular — arrangement of a Micro-USB port and Quick Charge 2.0 support, with both including a quick charger in the box as well. Sure we'd prefer USB-C at this point, or at least Quick Charge 3.0, but there's nothing wrong with this standard setup. The Galaxy S7 offers a distinct advantage of wireless charging, if that's your sort of thing, but perhaps you're okay giving that up to get the all-metal back of the Sony.
Cameras
With a name like "Sony" behind it, you'd think Xperia phones would have absolutely fantastic cameras ... but as has been the case for some time now several companies have been besting it at mobile imaging. Tell me if you've heard this one before: a 23MP Exmor RS sensor, with an f/2.0 G Lens and a physical shutter key. Yup, we're getting the same basic formula here as previous Sony flagships, and while the results are solid they aren't of 2016 flagship quality. The Galaxy S7, on the other hand, is the example most people use as the "best" phone camera out there with its 12MP sensor (with larger pixels), f/1.7 lens, OIS and powerful image processing.
Before you get to looking at the actual quality of the photos, you'll find the Galaxy S7 is far quicker to launch, capture and view photos, while the Xperia X Performance struggles a bit to get started and open up for the first shot. After taking photos there's a couple second delay before you can get to them and pinch in to view the results as well, which quickly gets old. The X Performance certainly has enough hardware, and shot-to-shot times are fast, which definitely adds to the frustration there. The physical shutter key doesn't provide anything extra to the experience, instead just introducing potential for shake in the camera, which is extra problematic without OIS inside.
Image 1 of 2
Both camera interfaces are simple, but can get a bit more confusing once you start hopping into the full Manual modes or launching other shooting modes — which can in either case be downloaded if you want to play around. Sony makes it clear that its default "Superior Auto" is the best way to go for average shooting, and you have to go over to Manual to do any sort of tweaks or even to get HDR — Samsung, on the other hand, gives you a simple HDR toggle and even offers Auto HDR in the default shooting area.
So how about the end results? Check out the gallery of sample photos below:
Xperia X Performance (left) / Galaxy S7 (right); click images to view larger
Getting ready for the comparison we took photos with the Xperia X Performance in both the 8MP setting, which downsamples from the 23MP sensor, and also in the full 23MP resolution option. In the end we didn't notice much difference in quality, though the 8MP shots were predictably smoother in low light and were of course much smaller in terms of file size, and since it's the default mode we mostly stuck with 8MP for the above shots.
Going head-to-head with the Galaxy S7, the Xperia X Performance offers a bit more accurate colors and sharper lines when in perfect daylight situations, which shouldn't come as a surprise to anyone who's followed analysis of the GS7's camera — it's known for being just a little soft and warm in many situations. When the lighting gets any more challenging, the Galaxy S7 has the big lead here — the X Performance's smaller pixels and lack of OIS keep it from producing good shots in any sort of difficult lighting situations, whether altogether dark scenes or just dark portions of well-lit scenes.
It's not that the Xperia X Performance's camera is particularly bad — and it'd be much more acceptable on a lower-end phone — but that the Galaxy S7 is just better overall, befitting of its price. It's not difficult to have a smartphone camera that can take crisp photos in good lighting situations ... it's the fringe cases and overall performance that separate the great cameras from the average ones, and the Xperia X Performance doesn't handle those situations well enough.
Bottom line
The Xperia X Performance and Galaxy S7 both kick the trend of bigger and bigger flagship phones, and we're happy to see it. You get a smaller phone that you can actually use in one hand, but don't have to deal with reduced performance, subpar displays or short battery life. It's great that there's more than one option out there hitting the high-end in a smaller package.
The Galaxy S7 isn't a perfect phone (no phone ever will be), but it's pretty darn close, and really justifies its price as well as any other phone can. On the other end, it's clear that the Xperia X Performance has a handful of issues to take into consideration when evaluating it on its own ... and it sports a $699 price tag as well, above the just-released $669 U.S. unlocked Galaxy S7. At that price, it's hard to look past the Xperia X Performance's lack of fingerprint sensor (in the U.S.), completely unforgivable touch screen response problems and so-so camera performance — particularly when the GS7 is readily available and doesn't have the issues.
If Sony had priced its phones more appropriately, perhaps this comparison wouldn't even be made and it'd be easier to give the X Performance a pass, but at $699 we're going to be looking at it with a critical eye — and in doing so, it doesn't come anywhere near the overall experience of the Galaxy S7.
Sign up for Black Friday email alerts!
Get the hottest deals available in your inbox plus news, reviews, opinion, analysis and more from the Android Central team.
Andrew was an Executive Editor, U.S. at Android Central between 2012 and 2020.