Some Ring Doorbell Pro users could temporarily see other people's houses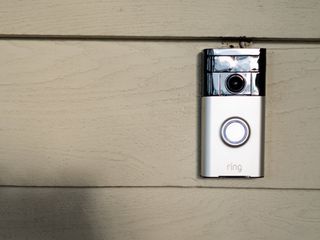 A big part of using any kind of connected security system is trusting the company you're paying to keep your information private, and a handful of Ring Doorbell Pro owners recently found that trust had been compromised. Notifications started coming from other Ring Doorbell Pro owners, with video feeds attached that were not from the right house.
Seeing someone else's house in your security app isn't cool, but knowing that there's a distinct likelihood someone else is looking through the camera mounted on your door frame is more than a little unsettling. After receiving a tip from a reader who was understandably concerned, we reached out to Ring for a little clarification on this. Brand Manager Yassi Shahmiri offered an explanation.
While it's nice to see Ring address the issue quickly, and it seems true that this only affected a small group of users, it's a scary thing to have happen. If you were one of those affected by this Ring Doorbell Pro issue, shout out in the comments below!
Get the Android Central Newsletter
Instant access to breaking news, the hottest reviews, great deals and helpful tips.
I'm a bit disappointed to read this. I've been considering a Ring Video Doorbell.

Security issues happen. To me, the most important part is how the people in charge respond to them. This makes me feel better about Ring as a company. Sure, how it happened was a stupid oversight. But admitting it, being open about how it happened, and saying how they are fixing it is very important and things not every company will do.

So as long as they are upfront and honest that makes it ok? Yes, security issues happen, but they don't need to. It carelessness and we shouldn't let companies off the hook so easily. "Oops, my bad, sorry" just doesn't cut it anymore.

It wasn't just "Oops, our bad, sorry" though. It was more like "Oops, our bad, here's what we did wrong, here's what caused things to go sideways, here's how we fixed it." And no, that doesn't make it okay, but a timely, transparent, and thorough explanation does do a lot to keep me from losing faith in a company. Posted via the Android Central App

Well how effective is "merging the databases" really going to be? One would have thought that rather than simply using randomly generated numbers there would have been some hashing going on using MAC addresses of hardware and user ID numbers such that there'd be no way for the software to get confused in the first place.

+ one trillion! Expecting any company to be God like perfect is false hope. NICE JOB RING!

Tell me how you have never made a mistake in your life? Posted via Nexus 6p

Ok. I'll make sure I never make a mistake and I'll make sure I'll invest in a company that has never made a mistake either. Posted via the Android Central App

You obviously have no idea how software works. Posted via the Android Central App

Please tell I wonder if illiterate people get the full effect of alphabet soup

I'm glad to see your perfect and don't make mistakes.

True... It's been awhile since I've done any database programming... Having a single database generate unique identifiers is easy... And there are ways to handle multiple databases with a single unique identifier... Makes me wonder how they are going to handle a fail over event and see if this repeats... I'm sure they're competent and this is just an unfortunate oversight which does occasionally happen. They could do weekly checks to see if there is any duplicates...
I would highly suggest that, maybe randomly... To see if anyone has hacked their database. Posted via the Android Central App

I know, it's scary, right? Somebody could see the outside area in front of your house. Nobody's ever been able to do that before, not at any time in history!

That's not the issue. The whole point is being able to see someone on your porch and answer when someone rings your doorbell. If you're getting someone else's feed, chances are that you're not getting your own. This could be the difference between scaring away a would-be robber and getting your house burgled.

Not good sure, should not happen, BUT, isn't everyone here overreacting? Come on, whats so insecure about someone else somewhere else in the world getting a picture of the porch of my house??? And they would not even know where that is!!! Like hundreds of people that pass by the street get a better view of that, Every Day!!! Cry babies... Posted via the Android Central App

And by the way, the title of the article is wrong and misleading, if the doorbell is properly installed outside the door then it's not a picture of your house, maybe your front neighbour's house but not yours for sure... Posted via the Android Central App

I don't think I overreacted at all. At no point did I say I was scared or that mistakes should never happen, so I'm not sure what's the issue with my "bit" of disappointment, but that's exactly how I felt after reading this. I live alone, and strangers having access to video of me (or my guests) entering and exiting isn't ideal. (And I'd definitely hate to have a cam indoor with footage of my bedroom sent elsewhere, like Gotham mentioned below.) I don't know what to tell you guys, but that is simply how I feel about the matter. Anyway, Jerry makes a good point.

Very well said Jerry. Mistakes happen. None of us are flawless. It's how the problem is resolved that has always been most important to me. Whether an individual or a company. Posted via the Android Central App

So they are now merging test with production. Sounds like in the future they will be testing with the production database?

Not only how the problem is resolved, but the speed to detect and resolve is also important. This looks like the issue was very short lived. I am a Ring client, so I am happy to see them address this quickly.

Tried two of these with 3 different routers. Never got it to show up on the trashy app. Suck because the reviews say if your one of the lucky few to get it to work its very impressive. Just save your receipt if you buy it and make sure there is a refund policy. I will never buy anything from this brand again. Posted via the Android Central App

I'm one of those 'lucky' 10. I had video this morning of somebody else's front porch, and I've had two instances where I walked through the door with no motion video — making me wonder if that other person got those videos. Thanks Russell and Android Central for tracking down an answer... I am hoping they'll be reaching out to me with the same answer so I haven't heard back from their customer service yet.

Is the Ring Stick Up Cam the one you use when you're mugging people? Posted via the Android Central App

It happened to me. I was actually looking into a bedroom with a kid who was maybe 8 years old. Kinda weird. It was only on video stored in January since I got the bell in March Posted via the Android Central App

Only less than ten....yeah, right....

Considering two people commented here about it happening to them, I'm finding that number suspect as well (especially if said members have been posting here a while). Posted via the Android Central App

Yeh I agree, I have a ring pro and someone else's footage showed up in my recordings. It let me download it and everything... 10 in 4 million is bs I've never been that lucky.. Will be calling them tomorrow..

wait wait let me get this right. People consider seeing someone from porch a security issue. Last I check the ring can show video and do voice communication. It doesn't however unlock the doors at all. Now if it were connected to the locks and let people in that'd be a major problem. To me this is a non security issue. Its a problem but the ring door bell doesn't affect actual home access. Its a inconvenience i will admit.

Just got the Pro (as opposed to the original model) installed a week ago and have not seen video from anyone else. The nice feature about the Pro is that it has a live view, so you can click on it and see what is going on at any time. People were complaining about this not being on the original version, so I don't know if it has been added through a software update. Generally the motion sensor works pretty well, as you actually get video of someone's face as they are walking up to your door, not just having it kick in when they are already walking away so you get the back of their head (another complaint I've read on reviews of the original).Only real complaints I have on this are:
- the motion detect at night is worthless because it goes off on average once every 5 minutes. I hope this can be fixed through a firmware patch and the company issues one. I just have to turn off motion detect in the app at night on my tablet, or else my tablet is buzzing all night next to my bed with false alarms.
- sometimes you can't connect to view what is happening, either through the live view or if you get a doorbell ring/motion detected alert. I suspect this has happened to me where I've had a slower cell connection. I don't think I ever have an issue when I am connected to fast internet via wifi at home. Overall it is a slick device that makes me feel slightly more secure. I at least have the illusion that there is now some small deterrence factor from someone stealing a package delivered to my front door, or some shady person up to no good if they walk up and see it there. I would definitely recommend the pro over the regular, as the video quality on the pro is 1080 versus 720 on the regular. I'm not sure how you could get usable screen shots of people's faces with the regular, where I feel the quality on the pro is pretty good. Also, the Android app is very nice and easy to use.

Are you actually getting 1080p? I have the Pro and the videos I'm downloading from my account are 1280x720, 15fps. I wonder if the original Ring was actually getting 720p.

I haven't checked a downloaded video file, but the specs say it should be 1080:
https://ring.com/videodoorbells

That's the problem — they're advertising 1080p but delivering 720p. First they tried to say it must be my slow connection (which is ~5x faster than their recommendation) and then they switched to telling me that 1280x720 was in fact 1080p, and he "knew" that because some 1080p [Hollywood, feature] movies he had downloaded were also at 1280x720.

I've been having nothing but trouble with my Ring Pro since we installed it. The first unit I was sent worked for a short while, but wouldn't ring my indoor chimes, and then it stopped wokring competely. I spoke to three customer service reps, two of which were useless, and one who issued me an RMA after extensive troubleshooting. It was also suggested that I use their free installation service through a company called "Geek-a-too", which I did. That tech arrived and did his level best to install the new Ring Pro unit and make it fully finctional. This took over three hours, nost of which was spent on the phone with Ring tech support trying to figure out why it wasn't working. Turns out that Ring has rolled out an update that was totally FUBAR. So, they got my unit to rollback to the previous software version, and in turn, finally work...for a few hours. Once it got dark, the Ring Pro started to randomly ring our indoor chimes every few minutes, over and over and over and over....until I disconnected it. The next day I rechecked the wiring and left it on all day, and it did work...until it got dark, and then the ringing began again. So, it looks like it's gonna be another day on the phone with tech support. This time it's either going to work, or it's going back for a refund.

This "Glitch" wouldn't influence my decision to buy as much as the $200 price tag does. I have less expensive IP cameras in use. Posted via Serenity

Yes, how much is this?, and how much monthly bill? Posted via Android Central App

Check it out on www.ring.com. Regular version is $200, pro is $250. Video cloud hosting of all the video clips is $30 per year. You can download any video clip or share it on various social media outlets, And the pro version is not on sale on Amazon yet for some reason, just the regular, so you have to go to the ring website to see the pro.

Skip the play toys and just buy a swann or lorex system. Trust me when I say, there is no comparison. Posted via the Android Central App

Well there is a market for those systems just like there is a market for this. I wanted something easy, and you don't get much easier than replacing a doorbell with this, where you have the low-voltage wiring right there. I assume I would have had to run extra wiring to be able to power a permanently mounted separate camera somewhere above my door (or change batteries frequently for a battery operated unit). Not something I can do myself nor do I want to pay to have done. All you have to do is download the app to your phone, connect the doorbell to your wifi, and bam you are done. I also didn't need multiple cameras covering various parts of my house, which most of the Lorax systems on Amazon seem to have 4 or more cameras, I just wanted one that covers my front door. And, you can actually talk to someone that rings your doorbell with this system (I have done that) whereas you can't with just a camera monitoring system like Lorax. Again, I can see where someone wants/needs a more robust camera system with multiple cameras (I'm sure better cameras), and a local DVR unit that you don't have to pay an annual service fee. However, that solution is overkill, or not the right solution, for just as many people.

I have a Lorex system. As far as I've been able to tell, there is no way to notify the app on my phone when someone is at the front of my house. This door bell will ping your device. If you need/want that feature makes a difference on it's value.

I'm not a programmer but couldn't this be avoided by a simple line of "If-Then" code? I mean... If (# is duplicated) Then (generate new random #) for said customer... Why would that be so hard? But again, I'm no programmer. Posted via the Android Central App

I like how they presented transparency and moved quickly to solve the problem. Since this isn't tied to my front door lock or opens my August or anything i see that the worst thing that could have happened is someone can see when the mail arrives or someone is at my door. In that case there is would be no impact for me. That said, I'm in the Skybell HD camp, but was seriously considering a Ring for a bit. I think I'll let this mature a bit more before I opt in.

Let's face it. It's a video doorbell, not a security camera set up in your bedroom. So what, someone saw you received a package from UPS. Posted via the Android Central App

This is all so silly. So what if someone sees you or your guests arrive or leave? How does this represent a threat, for heaven's sake? This is a Seinfeld episode... A story about nothing. Posted via the Android Central App

this along with home security camera are still too risky.

Not a Ring Pro in your banner pic.