Some LG Optimus G models may see a KitKat update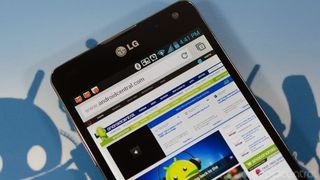 French carrier SFR has confirmed 4.4.2 update
Remember the LG Optimus G? It was pretty much the Nexus 4 on the component side, but came with a better camera and an LG-flavored operating system. Right now, it's sitting pretty on Android 4.1 for users who haven't abandoned all hope and went the custom ROM route. But all that could be changing.
French carrier SFR has announced the Android 4.4.2 update for the Optimus G coming sometime later this summer. We don't know what — if anything — that will mean for other carriers here in the states and abroad, but it is an inkling of hope.
The Optimus G would probably run KitKat very well. It would be nice to see it get one more big update before LG forgets about it. Let's hope this pans out, and other carriers take LG to task on it.
Source: SFR. Thanks, Adrian!
Get the Android Central Newsletter
Instant access to breaking news, the hottest reviews, great deals and helpful tips.
Senior Editor — Google Ecosystem
Jerry is an amateur woodworker and struggling shade tree mechanic. There's nothing he can't take apart, but many things he can't reassemble. You'll find him writing and speaking his loud opinion on Android Central and occasionally on Twitter.
That's right! ... ( 0ppo F5) ...

If it improves the battery life on that power sucker, bring it on

Wow! If this happens to my Rogers branded Optimus G...then I'll be eating crow! (See what I said about this very topic a year ago)

I actually just ordered an AT&T Optimus G from eBay for $249 (Brand New) and the slight chance that the AT&T variant might get it has me pretty happy :)

GS3 or Optimus G.
I chose the GS3.
GS4 or LG G2.
I chose the LG G2. GS5 or LG G3? I'm looking for true Premium quality. Posted via my SPARK enabled Sprint LG G2, K00949438Yd FRAMILY!

You got it backwards. The Optimus G was better than the S3 and the S4 over Optimus G Pro. The next phone you should be anticipating is the Note 4 not the G3.

Well, the Optimus G Pro was more a competitor for the Note 2 as the S4 came out the following year. Posted via a device much better than yours.

You just bought the AT&T version? That was the worst one. AT&T took the beautiful international version that all the carriers got and mucked it up! -Sitting in my car which is better than yours, on my driveway to my house that is better than yours, on my phone that is much better than yours! :) Posted via Android Central App

The only difference is the camera. So not sure how AT&T messed it up. Everything else is the same. The AT&T version actually has the SD card slot as to where the Sprint version does not.

If I can remember correctly. It was wider, thicker and could not use the awesome global bumper case. Posted via Android Central App

It was slightly more wide but it was actually thinner. Only by .1 of a mm though Lol 8.5mm vs 8.4mm. Wonder why the AT&T model was wider though. It's pretty odd. Posted via my Xperia Z

diztronic makes a perfect cheap bumper case for the att version.

nah. ATT version is very good, actually. card slot wins it. 8mp camera takes better photos than the 13mp version.

The g pro came out after the s4!! Although it was aimed at the note2 and destroyed it as well. Also even though the optimus g came out in 2012 it was mid November!! Which makes it more a 2013 phone than 2012!! It destroyed the s3 and in real life comparison beat the s4 as it opens apps way faster. Has no lag that plaques the s4!! The s4 even has to load its own pictures!! That's pitiful!! My nephew and cousin has both phones!! I have the original HTC one. And the g pro 2 is better (IMO) than the note3!! As for the s5 vs the g3?? Please!!!! G3 kills it!! Samsung is only good at advertising there fake plastic phones!! Not bad phones but have to much lag. Even the s5!! By the way, I also own the Harmon kardon m8!! The s5 killer!!

Sprint Optimus G = no Google Wallet
Sprint GSIII = Google Wallet Posted via my SPARK enabled Sprint LG G2, K00949438Yd FRAMILY!

You chose your phone due to Google wallet availability? Where do you even use it and how often? Posted via Android Central App

So the Optimus G getting the update but the Optimus G pro future is cloudy

The Optimus G Pro has already been confirmed to be getting the update. I think the Korean variant is already getting it.

The LG Optimus G Pro is going to be updated to KitKat 4.4 check my link down below!! Posted via Android Central App

LG has been saying that for months. All these leaks and no firm information. .

Yep the LG Optimus G Pro will be getting its taste of KitKat really soon!!!!! http://www.androidpit.com/lg-to-start-rolling-out-kitkat-to-optimus-g-pro Posted via Android Central App

So will the LG Optimus G!!!!!! http://m.gsmarena.com/lg_optimus_g_will_get_android_kitkat_in_summer-new... Posted via Android Central App

This is exactly why I will not buy anything LG unless it's a Nexus device. They are always late and spotty with upgrades. Posted via Android Central App

Cool. Except I'd rather keep root and have a working SD card access

Anyone who cared should have been running Kit Kat a long time ago on this device.

Every single KitKat rom has its issues. Posted via Android Central App

So what I'm hearing is, LG hasn't updated their 2012 flagship with even one version of Android...If lucky you may see one before its dropped. Such great support Posted via Android Central App

It was updated last April, just not kit kat

4.12 Posted via Android Central App

Still looking for my KitKat update for my Sprint G2!!!! Where the hell is it?!?! ugh! I absolutely LOVE the phone, but what the hell?!

And here we are five months later and no sign of AT&T getting KK to LGOG. Not a big deal for me because I picked up a G3 but I was surprised to even find this thread. I like LG but I have no illusions about updates from that OEM. The bigger issue on the LGOG is Google Play is now crashing like a fiend. I tried everything under the sun, including factory reset. Really wish I hadn't because with GP crashing and my back up from April 2014, I can't update a single app. Sigh. Was using as a backup and for Spotify at my desk (to save battery on my G3). And yes it is rooted (but no custom ROM).