Sky Sports News finally comes to Android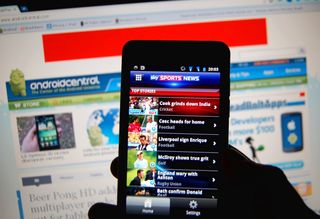 For sports fans, the long wait is finally at an end. The Sky Sports News app has landed on Android. It's been a long old wait, but with the English Premier League season about to begin, the timing is perfect.
It looks a lot like the iPhone equivalent, but that's not such a bad thing. Nothing complicated, simple well laid out menus with dedicated sections for individual sports. It also touts as providing exclusive video content, a latest news ticker, a customizable home screen, and the brand new Sky Sports News Radio service.
The downside; Radio only works on Android versions 1.6 - 2.2. No indication as to why, and since I run 2.3.4, this portion of the app is unavailable to me to test. Shame.
Market says it cannot be installed in this country. Droid Incredible 2.

Yay! Now soccer can bore me on the go!

Yeah...I am sure you live a real exciting life...It's always the loud mouth, least athletic douche bags with their over sized local football jersey that yell the loudest about how boring soccer is. You probably never played a sport in your life. And that is fine. Just shut your mouth and speak only about things you know about, like world of war craft or Japanese anime porn.

Incompatible with Evo stock GB

samer here...just like the espn goals app...not available in the USA :/

some time it sucks to be in US

Finally! I've been waiting for this app ever since I got my Desire HD. Now Sky need to hurry up and release Sky Go for Android!

More often it sucks for us being in the UK ;-) google movies being one reason

Probably should have noted in your article that this app is not available in some countries.

Not able to install on the EVO 3D :-(

Got my hopes up, we have 6 hours to get this installed!!!!!!!!!!!! It won't install on any of my devices ugh. Is it based on IP address or device?

Dudes/Not dudes... Lend me your shell likes. This is an excellent tool, and as it is free to use/distribute for UK license payers I am posting a link to my dropbox account for times when I need to download it. http://db.tt/lYnEM63 My Phone: DHD running GB 2.33/sense. works wkd. Now I am 100% sure you are all good honest people of the Earth, and you wouldn't dream of trying this from the States, or other countries, but if you do, can you tell me if its working? >;-) Enjoy. And upload with a link if my bandwidth goes.

Just for the sake if science, you understand, I thought I had better test this app in the USA. If it helps when I was living at home I used to subscribe to Sky. Works a treat on my Atrix on 2.3.4. Thank you for letting us experiment....now I suspect I have forgotten how to delete apps from my phone well until May anyway.

Works well for me here across the pond! ;) Inspire 4G. thanks man appreciate it!

Works for me here across the pond! ;) Inspire 4G. Thanks man, appreciate it!
Android Central Newsletter
Get the best of Android Central in in your inbox, every day!
Thank you for signing up to Android Central. You will receive a verification email shortly.
There was a problem. Please refresh the page and try again.