Shadowgun Legends is ready to blow minds on NVIDIA Shield in 2017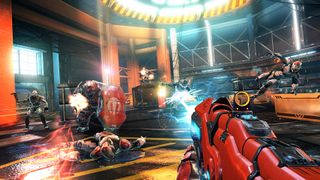 NVIDIA had a fairly quiet Gamescom this year on the Shield front, but there was still something pretty tasty to show off. Coming to the Shield TV in Q1 2017 is Shadowgun Legends and it's a substantial step forward for Madfinger from its mobile games of past years.
Shadowgun Legends has been tailored to the Shield TV and the Tegra X1 chipset to exploit its power and create a full fledged first-person shooter. It's a way off from being finished, but what I've seen at the show already has me salivating for more.
Freeing from the limitations of touch interfaces and going into a more console-like state, Shadowgun Legends adopts a control system much like you'd find on many console FPS titles. Twin sticks for moving, sprinting and looking around, left trigger to aim, right trigger to fire. It's basic, yet familiar, and so pretty easy to pick up and play.
What's startling at first, considering this is basically an Android game, is how incredible it looks. Madfinger is usually pretty handy with graphics, but Shadowgun Legends takes things to another level. The developers are passionate gamers and this newest project with the Shield TV in mind takes them beyond mobile and into the console class.
Textures look detailed and lighting is more realistic than any Madfinger title to date, right down to the shimmer on wet areas of the floor. It's a way off being finished but from what I've seen so far it's not going to disappoint your eyes.
More will become available as we approach early 2017, but the legions of Shadowgun fans are going to be very impressed with Legends. Especially this version on the NVIDIA Shield. It looks and plays great and takes the franchise into console-baiting territory. We eagerly await a chance to play some more.
When will they update the shield?

It doesn't need updating yet.

There was no mention of the existing nVidia Shield Tablet K1 - just the Shield TV and the X1 chipset - does that specifically mean the K1 is excluded?

Gives me hope for the new Nintendo NX! Also, looks exactly like Killzone 2 on the PS3 in terms of graphics. Pretty impressive!

I was thinking the same.....report came out today that the nx has a 720p screen. I was hoping for 1080. It's still a rumor but it'll probably be true

So presumably it will run on the Pixel C (which has the same chipset)?

The Pixel C doesn't support a gaming controller.

It says it will also be "android and iOS", so I assume a toned down version will be available as well. The one I saw is tailored to Shield TV.

I wish we could get other genres besides FPS on the ShieldTV.

The racing is pretty good have you picked up Riptide Renegades?
Android Central Newsletter
Get the best of Android Central in in your inbox, every day!
Thank you for signing up to Android Central. You will receive a verification email shortly.
There was a problem. Please refresh the page and try again.