Seidio Active Extended case review - protection with a kick(stand)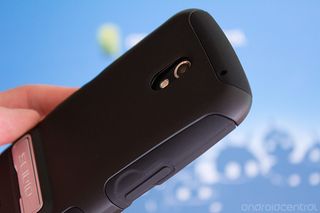 The Seidio Active Extended case is a more subdued version of its big brother, the Combo Extended case. You still have room for a larger battery in the back, but there's one less layer of hard plastic to deal with. The big difference here is the metal kickstand with magnetic clip. This can make your Android device the perfect desktop clock, or a bedside companion for watching videos.
Style
The Seidio Active Extended case does a really good job of masking the extra room it needs under the hood for the larger battery. Aside from the slight one for the kickstand, there's no pronounced bump like on the Combo case if you're getting the OEM 2000 / 2100 mAh version. If you really need juice, girth be damned, there's a 3500 / 3800 mAh one available from Seidio too.
The Seidio Active Extended case keeps a lot of the same queues, including the solid grip on the silicone core, but keeps all of the ports open without any flaps getting in the way. There isn't a lot of variety as far as color scheme goes, unfortunately. I'm personally happy with the classic black, but those of you looking to add some style to all this utility may want to keep looking.
Function
Between the kickstand, impact protection, and extra room for battery, the Seidio Active Extended hits a lot of the right notes. While the Combo Extended case is certainly tougher, the Active Extended case's slimmer profile is definitely worth it. Now putting the phone in your pocket isn't entirely out of the question, though without a holster, there's not much of an alternative.
The kickstand operates just fine, though even with the magnet in place, it doesn't stick particularly strongly to the case. It's not the kind of thing you want to have accidentally slip open, since under the wrong circumstances it could be easily popped off. Luckily, anything less than a fingernail at a specific spot probably won't get it open. The resting angle is pretty much 45 degrees, which is good enough for most situations. It would be nice if the kickstand were designed to keep the phone upright in portrait orientation too, but I guess you can't win 'em all.
When it comes to the extended battery, I'm more of a "go big or go home" kind of guy. The 2100 mAh wasn't really worth it after I had spent some time with the big 3800 mAh battery with the last case (though there's certainly something to be said for compromise). There are both larger and smaller options available, at least.
As for sheer protection, the Seidio Active Extended case does about as well as you would expect any hybrid case to do - it does well enough to cushion falls as well as protect from scratches.
Pros
Handy kickstand
Room for extended battery
Cons
Bottom line
For $34.99 you get an excellent range of functions, from solid protection, room for an extra battery, and a kickstand to boot. The kickstand could use a few extra tweaks, like a stronger battery latch and a lock mechanism to hold it up in portrait orientation, but all-in-all, the Seidio Active Extended case is very well-rounded.
You can find the Seidio Extended Active case here in the ShopAndroid store, currently $5.00 off, and snag an extended battery here.
Android Central Newsletter
Get instant access to breaking news, the hottest reviews, great deals and helpful tips
Simon has been covering mobile since before the first iPhone came out. After producing news articles, podcasts, review videos, and everything in between, he's now helping industry partners get the word about their latest products. Get in touch with him at simon@futurenet.com.
The serial number on this case, plus the large rectangle on the back have literally worn themselves into my One X after 3 months of use. Totally destroyed any future resale value. Worst. Case. Ever.

That's all I needed to keep me from buying one.

When your ready to sell, make up an issue & do a warranty replacement. A bit of a hassle, but it should yield you a newer looking device for maximum return dollars.

beware Seidio Active cases. the exoskeleton corners break off in short order. i only buy TPU cases now. i love Diztronic.

I'm using the Seidio Active (non-extended) case with my 2100 mAh extended battery (which has lots of color options). The 2100 mAh extended battery add so little bulk, that most cases still fit even if they don't official support the extended battery.

Been using a non-extended Seidio case on my AT&T Note for about 3 months and I love it. Adds a little bulk, but that's to be expected. Great protection, never had the corners break and I've dropped my Note off my counter quite a few times. Putting it face down on the dash of my car works well, doesn't move at all while cornering. The kick stand really comes in handy as well, I watch a lot of YouTube videos in bed and it's awesome for that. Keeps the S-Pen nice and secure as well.
Android Central Newsletter
Get instant access to breaking news, the hottest reviews, great deals and helpful tips
Thank you for signing up to Android Central. You will receive a verification email shortly.
There was a problem. Please refresh the page and try again.