Samsung Galaxy S7 versus Nexus 5X: Same size, different audiences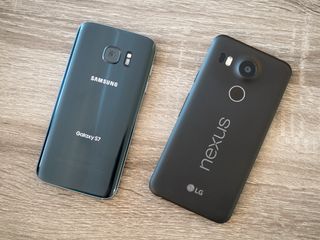 A good number of smartphone fans were excited to see that with the latest generation of Galaxy S phones, Samsung decided to keep its flagship a very modest size. The Galaxy S7 has just a 5.1-inch screen, which is pretty small for today's standards and is even notably smaller than its sibling devices the Galaxy S7 edge.
Much the same story played out late last year with Google's Nexus device release, where it resurrected the spirit of the Nexus 5 in the brand new Nexus 5X. The screen size jumped just a tad, but this is very much a "smaller" phone at 5.2-inches diagonal screen size and generally with small dimensions compared to the big 'ol Nexus 6P.
But even though both of these phones have the same appeal to those who want something a bit more compact to carry around every day, they each target different audiences beyond that. Right off the start pricing is a huge differentiator, and the phones have divergent takes on hardware and software. Despite the differences, we want to see how these two phones compare head-to-head. Here's a look at the Galaxy S7 and the Nexus 5X.
Hardware and specs
If you're someone who enjoys having a smaller phone that's easy to wrap a single hand around and use without worry of dropping it, you'll be happy with either of these phones. Though the Nexus 5X is a tad larger thanks to bigger bezels, both phones are compact and stand out from the large screens covering the mobile landscape. They're also both thin and light, with rounded corners and edges along the back.
Beyond that, just about every detail pertaining to the hardware on these phones is different. Just at a glance you can already tell that the Galaxy S7 is manufactured from better materials and executed to a higher standard, and with your hands on both you'd be hard-pressed not to lean toward the great feel of Samsung's latest. The metal and glass come together absolutely perfectly on the GS7, and even if you prefer a plastic phone the Nexus 5X isn't exactly the best example of what can be done in polycarbonate.
What you're holding onto is a big part of the hardware equation, but so is what you're looking at: the screen. Saying that the Galaxy S7 has a better screen shouldn't come as any surprise here, because that's going to be the case no matter what you compare it to. But in this case, the delta is a bit larger with the Nexus 5X. The 1080p LCD on the Nexus is good, for sure, but it doesn't exhibit the great saturation of Samsung's latest — nor does it come anywhere close to the brightness or daylight visibility.
Coming to the line-item specs, you can't really find a place where the Galaxy S7 isn't ahead. The Snapdragon 820 (or, where applicable, Exynos 8 Octa) processor is far ahead of the Snapdragon 808 in the Nexus, as is the 4GB of RAM that doubles the competitor. The default storage is doubled, too, at 32GB and also offers an SD card slot for expansion. The GS7 has a larger 3000 mAh battery, but also has wireless charging that was unfortunately left out of the Nexus 5X. And you can't talk hardware without mentioning the GS7's complete waterproofing.
Despite the overall lead the Galaxy S7 has here, the Nexus 5X definitely stands up to it in a few areas. The Nexus 5X's fingerprint sensor is absolutely up to speed with the GS7's, and in some people's eyes better due to its rear placement. Its USB-C port is definitely preferable overall compared to the old micro-USB connector, and the front-facing speaker, while not necessarily louder, is dramatically better for sending sound toward you and not being blocked by your hand when in use. And while the Nexus 5X's plastic may not feel great, it doesn't pile up smudges and get slippery like the Galaxy S7's glass.
Software and performance
If you'll recall, we dove into this software comparison a little while back when setting the Galaxy S7 edge up against the Nexus 6P — things are the same here. Even though both phones are running Android 6.0 Marshmallow, there are obviously very clear differences in flavoring applied.
Samsung's take on software can be a bit polarizing, particularly if you're someone who has taken a liking to the way Google does things on the Nexus 5X. The Galaxy S7 has a lot more baked-in features and apps, along with some visual changes that are cohesive albeit a little heavy-handed compared to the "stock" Marshmallow offering. The GS7 is very much capable of handling all of this extra overhead, but that doesn't mean you necessarily are.
Aside from the simpler and easier-to-understand interface that the Nexus 5X offers, there's something to be said for its basic set of pre-installed apps. Unlike the GS7, the Nexus 5X doesn't come pre-loaded with tons of apps you can't remove, and it offers just one app to do each task — no duplicate email, messaging, calendar and gallery apps to deal with. And that's before you get to all of the carrier cruft that you're going to have to deal with when you buy the Galaxy S7 in the U.S.
There's also the discussion of security updates. The Nexus 5X can of course count on getting them monthly from Google without any hiccups, and while Samsung has definitely stepped up its cadence the sheer number of models it has to support often slows things down. At this point you can expect to get a "monthly" update about every other month, and while that's a big improvement it certainly isn't as reliable as what the Nexus gets.
A much-needed performance update hit the Nexus 5X in March, bringing it from a frustrating experience up to a capable performer. Even still, its Snapdragon 808 processor and 2GB of RAM just can't push its software fast enough to catch the top-performing Galaxy S7.
Using the Nexus 5X daily you'll be able to find some slowdowns here and there when working in heavier apps or quickly switching between several apps in a short period, and when you set it side-by-side with the Galaxy S7 the speed differences are pronounced. I wasn't able to find a single situation where the Galaxy S7 was slower than the Nexus 5X, and that's not completely unexpected. Though the Nexus 5X is perfectly capable of handling everything I threw at it, it was just a couple beats slower than the industry-topping GS7.
And even though the Galaxy S7 performs better, it also offers longer battery life. Now that makes sense when seeing the 3000 mAh battery that's larger than the Nexus 5X's 2700, and you can probably expect about 15% longer battery life out of the GS7. Both phones of course offer great fast charging solutions, but not having to worry about that as often is a great feature of the Galaxy S7 — the Nexus 5X just comes up short in battery on a regular basis.
Camera quality
Samsung was coming from a position of strength with an absolutely wonderful camera on the Galaxy S6, and chose to make some dramatic changes with the Galaxy S7. The move to a lower megapixel count in conjunction with larger individual pixel size is a big one, and it's arguably an overall side-step in quality from what we had before. On the other side of things, Nexuses have historically had very compromised (and just straight-up bad) cameras, but the Nexus 5X (and of course 6P) is easily the best Google has ever put out.
Numbers-wise we're looking at 12-megapixels from both cameras, though the Nexus 5X has larger individual pixels at 1.55-microns (versus 1.4-microns). The GS7 has a faster f/1.7 lens, as well as OIS, to support that sensor. Take a look at a few side-by-side comparison shots here:
Galaxy S7 (left) / Nexus 5X (right); click images to view larger
It only takes a few shots with these cameras to see their personalities in taking photos. The GS7 lets in an obscene amount of light into every photo, regardless of whether you use HDR, and pumps up the saturation in colors across the board — sometimes to a fault. On the other end, the Nexus 5X is rightly criticized for having a very low dynamic range, and often reproduces the scene closer to life but not necessarily in a bright or appealing-to-the-eye way.
What's interesting to see is how much more detail the Nexus 5X is able to capture, particularly when using its (admittedly slow) HDR+ mode. Even zooming in slightly to photos shows how crisp and clear every shot is, even compared to the Galaxy S7, which is no small feat. The Galaxy S7 is definitely an overall better camera, especially when it comes to quickly capturing photos in a variety of conditions, but the contest is closer than you might think — the Nexus 5X offers more realistic photos and better clarity in most shots, it just leans heavily on HDR+ to accomplish it.
While the merits of the photo quality from each phone are easily debated, it's tough to say that the Galaxy S7 doesn't come out on top in terms of its camera software. Even though the Nexus 5X's software is simplistic and easy to understand, the Galaxy S7 manages to keep things simple as well while also enabling advanced features to be at your fingertips. The interface from Samsung gives you quick toggles for your most-used features, while hiding a full "Pro" mode for those who want it. It's also just downright faster than the Nexus 5X, from processing photos to general navigation.
Read: Camera showdown: Galaxy S7 vs. Nexus 6P vs. iPhone 6s Plus vs. Lumia 950
The bottom line
Naturally, this comparison will start and end with a discussion of price and value. At a starting price of $349, the Nexus 5X is at least $300 less than a Galaxy S7. Even bumping up the storage to 32GB to match the Galaxy S7's default configuration, you're saving at least $250. Considering Project Fi? If so, the $199 Nexus 5X is a whopping $450 less than a Galaxy S7. That's not even close — in some cases multiple times the cost — in terms of pricing, and that should weigh heavily on the conclusions in this comparison.
The Galaxy S7 obviously offers better external and internal hardware, more features, a better screen and an overall better camera. The Nexus 5X has a few key features that are nice, along with much cleaner software and appeal to those who like simplicity — all while not giving up too much in terms of performance or camera quality.
Obviously this is a bit of a lopsided fight, but that's why we have the great equalizer of price involved. The Galaxy S7 is definitely the better overall phone here, but is it nearly twice as good as a Nexus 5X, as the price suggests? I wouldn't go anywhere near saying that's the case, but there's never a linear relationship between price and phone quality.
Someone looking for a solid, budget-friendly phone with sprinkles of high-end experience will get one heck of a phone in the Nexus 5X. If you want to spend top-dollar and get a corresponding top-end experience, the Galaxy S7 is the only one that's going to satisfy.
Android Central Newsletter
Get instant access to breaking news, the hottest reviews, great deals and helpful tips
Andrew was an Executive Editor, U.S. at Android Central between 2012 and 2020.
Samsung pay is a game changer. It is the reason to get a new Galaxy. I only use Samsung pay to pay for everything everywhere. I havent found a place it doesn't work. All my credit cards are safe at home. The Galaxy's are great phones besides Samsung pay with it there is nothing that can touch them. FYI Samsung bring back the IR port I love using my phone as a universal remote. Posted via the Android Central App

I don't think u like Samsung pay Posted via the Android Central App

What samsung phone are u using that have an ir port? Afaik, s7 doesnt have them Posted via the Android Central App

The s6, s6 edge, s6 edge+ and Note5 exist..

Nope, only the regular flat s6 got ir blaster Posted via the Android Central App

He said a new galaxy which is s7 so... Posted via the Android Central App

So I should pay double the price for the phone so I can pay with Samsung Pay??

I have the Note 4 Nexus 6 and Nexus 5X, I use the Nexus 5X as my daily driver, nice size and smooth as butter with great camera and fantastic fingerprint sensor, unlocked and rooted running Pure Nexus ROM, hard to go back to TW hell and bloat filled device. Will be putting the Note 4 on sale. Posted via the Android Central App

Alfred is my daily driver......that term irks me, I kno, opinions are like a$$holes Posted via the Android Central App

Imagine how Alfred feels about your comments.

The size difference may be minimal on paper but the physical dimensions of the GS7 make it feel like a much nicer size. The height and width make the 5X seem a lot larger. I still wouldn't buy a GS7 over a 5X though for a lot of other reasons. I'd prefer a front fingerprint sensor though. Since you can map more than one finger you could unlock the phone while it lays on a desk or you could unlock it with your thumb if you're holding it which is just as easy and natural as the rear placement.

I really don't see any notable difference in the size when it comes to usability. Sure the bezels on the Nexus 5X are a tad bigger, so it's a few millimeters wider and taller, but the grip of the plastic easily fixes that when compared to the slick glass on the gs7.

Motorola should have had a contender in this size and performance.

They did, the Moto X 2014. Too bad it had other issues.

Yep Posted via the Android Central App

Well it's 2016 so... Posted via Galaxy S7 edge

Yeah neither of these phones are Compact at all. Not even by today's "standards". What defines the standards? Just because the 6P is a mini-diner tray it doesn't set any standard. Besides, with the likes of the Xperia Compact and the SE thankfully existing, if anything, 5" is the standard. In that sense, both these phones have the standard size. Posted via the Android Central App

Standard:
an object that is regarded as the usual or most common size or form of its kind They are the standard "mid sized" phones.
The SE and the X pedia compact could be called "compact phones"

Other manufacturers have phones with 5.5" screens in this size.
The nexus 5, and oneplus x are compact, these phones not really. Posted via the Android Central App

Even the Xperia Compact is not that compact. Isn't its screen something like 4.7"? That has it competing with the standard sized iPhones rather than the actually compact SE or the phablet Plus.

I've found I actually like the lower light shots by the 5X more than the S7. The S7 makes it too yellow and muddies things up so much (reminds me too much of the LG G2). The 5X does a great job keeping things realistic while bringing in just enough light to make it more visible, and also maintains some semblance of sharpness. To be quite honest, the S7's camera has disappointed me a bit as it also has issues with figuring out where to focus, even in great light.

Couldn't edit... was going to add that in spite of that, I kept the S7 and not the 5X. :)

Wow, I had a completely different experience. The camera was my least favorite thing about my 5x (the fact it would crash half the time didn't help). But the camera on the S7 is my favorite feature of that phone. I'm literally in awe everytime I take a photo with it. My girlfriend has an iPhone 6, and she is even starting to think about switching because she loves the photos so much. I admit I haven't shot a bunch in low light situations. But the normal landscape or foodie shot has been awesome for me.

Oh yeah, I should've clarified. I was really only talking about low light. And even then the S7 isn't bad by any means. But in pretty much every other scenario the S7 owns the 5X in photo quality, let alone functionality of the app, etc.

You do know that all the issues where fixed with the March point release for the 5X, no camera crashing here, everything is smooth as butter. Posted via the Android Central App

Zero lag in my wife's 5X although she did just get it,obviously after the March update. Posted via a still buttery smooth nexus 7 2013 .

The March update was very, very good. Fixed most of the issues up for me. Posted from one of my various Nexus devices.

Wait until you get the April update!!

laggy, slow, camera issues (nexus 5x) vs fast, bloat infested, slow updates (galaxy s7) had both, realized i cared less about no bloat and fast updates than i do about the lag and slowness and terrible camera performance. swapped out for an s7, haven't looked back.

Exact same situation here. I also switched from Fi to Verizon. The service nagging from Verizon is terrible too. I've been in Nexus land so long, I didn't realize how bad it was. It is worth it though, like you mentioned.

No camera issues anymore since March update

True!!!!! Posted via the Android Central App

I have the 5X, I would not call it a compact phone. It's still on the large side. And I've had all the updates but the camera is still not reliable. Regularly lags trying to open and sometimes... Doesn't open at all! Plus it definitely feels cheap. I know it's supposed to be the Nexus 5 successor but no way is it as good as the Nexus 5 when that first came out. Posted via the Android Central App

I have none of the issues you are talking about. Posted via the Android Central App

Well that makes me feel even better... Thanks(!) Just goes to show how unreliable this piece of garbage phone is. Posted via the Android Central App

So you're saying that it's a piece of garbage because only some people have problems with it? Posted from outer space on my Moto X Style

No, it's because I have a problem with it, f*** everyone else! If theirs works, great but if mine doesn't... You want me to be happy??! If was a great phone...until the camera screwed up. What can I say. Posted via the Android Central App

Do a factory reset, something happened during an update. Posted via Techmology

For a person who prefers phones in the 5'2 screen or smaller. The GS7 is absolutely the phone to buy. It's just an amazing device with lots of power, long lasting battery, gorgeous display and the camera is just fast and takes gorgeous pictures. I find myself using the camera a lot more than before, OIS is definitely a plus. Now for those who constantly use TouchWiz as its weak point on Galaxy devices, well there's a solution for that. It's called Nova Launcher. This phone has zero lag or apps crashing. I honestly don't miss stock Android one bit, I also realized updates are not that important to me no more. I prefer having the best phone in the market even if it means spending a little extra money. Its definitely worth it. Posted via Samsung's beast S7

I also use Nova Launcher, it does not take away the funky bloated TW experience.
Heck I use Nova Launcher on my Nexus devices, smooth as butter, do you know why. Posted via the Android Central App

Nova is a launcher. Touchwiz is much deeper into the software that just the launcher. Moto X Pure

The 5x is awesome!!!! Be Together Not The Same

Too right. Posted via the Android Central App

Be careful what you say in here, the Samsung fanboys will roast you on a steak. Posted via the Android Central App

No. Just you. Posted via the Android Central App

How old are you, seriously, I suggest you get off the sauce. Just me, what. Posted via the Android Central App

So you're the only one allowed to make sparky remarks? Must be nice. Posted via the Android Central App

Where you mentioned in any way shape or form in my post, just asking. Posted via the Android Central App

I'm just roasting you a steak, like you predicted. Want a beer with that? Having some fun with you. Calm down. :) Posted via the Android Central App

P Posted via Android Central App

Roasting on a stake would be even more painful.

lol Posted via the Android Central App

Hahaha good one. Posted via the Android Central App

I wish the 5X was closer in size to the LG G2. Performance is pretty good on the 5X, with the occasional slow down, but overall, I'm happy with this phone. For the price (got it with the $150 Fi discount), it's hard to beat this phone.

I bought my wife the 5X with the insane deal Google was offering to join fi. I have to say that I'm very much impressed with the camera and the over all performance of the device. She actually loves it coming from moto. Posted via a still buttery smooth nexus 7 2013 .

With the deal that you get on the Nexus 5X with Fi, I'd probably consider getting one as an Android testbed for new Android releases. Personally, it doesn't suit me as my daily driver since the camera lacks stabilization and while battery life is adequate, I want a little more, but as an Android testbed, I don't think I could ask for any more than what it offers. Unless I want a 6P, but that would be my daily if I only had to choose between 2 of them. Posted via the Android Central App

You got it,5x as a play phone,that's what I'm doing with a moto x pure. Posted via the Android Central App

Samsung could have a core i7 processor and a 8k screen and I wouldn't choose it over guaranteed security patches and os updates. In six months the s7 will slow down enough that the nexus will pull close in performance and you will wonder why you spent $500 more for the s7

That's why choice is good.They took the 5x off my list when they pushed it out with only 2gb of RAM and I believe the performance issues it has had have shown that to be a poor decision.They really did have enough differentiation between the 6p and the 5x without low balling the RAM. Posted via the Android Central App

I give most companies a chance, but sorry I would never own a Moto phone. I'd go Huawei first. Posted via the Android Central App

It's cool,the moto was only used as a phone for a few months,it's just to play with.It fell in between my lg g3 and now S7edge. Posted via the Android Central App Also,I don't think there will be any more moto for me.Lenovo has cleaned house and I expect them to turn moto into garbage now.

I think they already did. Many of the guys who were responsible for the "Googlified" Moto is gone now. Motorola Mobility is basically now a shell of its former self. I wouldn't be surprised if they sold rebranded Lenovo phones in the future.

Yep Posted via the Android Central App

Apparently you did not try the Nexus 5X, Ram is not an issue, phone is smooth as butter, I also have the Nexus 6 with 3 GB of ram, the Nexus 5X is my daily driver, the only thing better on the Nexus 6 are the dual speakers. I get 72000 in Antutu on the 5X which is not shabby for a slow phone, cough. Posted via the Android Central App

I'm glad for you,it was still a stupid move to release the phone in 2015 with 2gb of RAM.The same amount of RAM in the original nexus5 from a few years ago.After all,one of the favorite Nexus mantras is "futureproof".2gb of RAM is not futureproof",enjoy your butter. Posted via the Android Central App Never mind the fact that the phone has already had multiple well documented problems and has essentially been at a discounted sale price since about 2 weeks after release.

Apparently those issues have been resolved. The Nexus gets timely updates.

Just curious, why is 2gb RAM not enough? Most use cases of having tons of RAM include running VMs, video-editing, other content production related tasks. And based on personal experience, Nexus devices have much better RAM management than Samsung devices. Posted via the Android Central App

Got rid of Nexus 6 for gs7. Reasons? 1. Water resistant. I work outdoors in all weather, and ceremoniously tossed my freezer bag I kept handy in case of downpours, 2. SD card 3 . Wireless charging. Works through a Otterbox Defender case, which that particular case was something I can't use with Nexus and I really like the Defender at work and play. There's more but that's the highlights. Install Google Play launcher, clock, and keyboard and you have a durable water tight device with a Nexus ish experience. I miss the extra screen real estate and dual speakers but overall I think the s7 was an excellent choice.

Nexus 5x is a lot better phone for the price. But if you have an extra 400 dollars (which is not worth the difference in specs) the gs7 blows away the 5X. Personally if battery and SOC was on par, i would choose the 5X. I have a 6P, and an S7E Posted via the Android Central App

Smartest statement in here Posted via Techmology

My 5 month old 32GB Nexus 5X has a future-proof USB-C charging/data port. I love the ice blue colored back that stays visible through the clear Ringke case. Photos are incredibly life-like, and not over saturated. Monthly security updates and no more "virus protection" expenses. The Android Marshmallow software suite is ample, it runs smooth and remains simple. Lagging has not been an issue because (duh) I don't install every app in the world. Pure Android gives me control over the apps that I do install, and I do not have the bloated apps from carriers or manufacturers to deal with. Project Fi is regularly costing me $26/month, all inclusive, and works very well when I travel to TX, IL, Mexico, Germany, and here where I live in New York. At home and office and hotels, my phone calls are all crystal clear on WiFi. Verizon was charging me $60/month to connect my old Samsung Galaxy 5, where service abroad was a joke. I happily sold it to a Verizon customer through Craigslist. Bluetooth connection performance is better with the 5x than the Samsung in my car and my headphones. I'm very glad that I made the switch to the 5x. It just keeps getting better.

Try the Pure Nexus ROM on your Nexus 5X, it is fantastic, with a plethora of extra features.
I also use this case, it looks great and makes the device easier to hold. http://forum.xda-developers.com/nexus-5x/development/rom-pure-nexus-laye... http://vrsdesign.com/device/android-cases/nexus-5x-cases/nexus-5x-case-h...
Bought it here.
https://www.amazon.com/gp/aw/d/B015GHQGVS/ref=ya_st_dp_summary?tag=hawk-... Posted via the Android Central App

How is USB-C "future-proof"? Is my regular USB charger cable suddenly going to stop working someday? I don't see all the fuss over type C that it's in any way a consideration when buying a phone. I just bought the S7 edge. If it came with type C, great. That is doesn't matters not a bit to me. Posted via the Android Central App

Gerryinbc, all I am saying about the USB-C connector is that it happens to be installed on the latest Apple and Pixel laptops. It is really fast to charge the device and transfer data, and it is reversible (no wrong way to plug it in). USB-C was missing from this review, now it is not.

Well enough. But having it does not future proof your device. It's a good thing but not a needed thing. By the time they stop making regular USB cables and chargers for my phone it will be sitting in a desk drawer totally forgotten along with a Palm Pilot, an iPhone 4S and Lumia 920 and a Nexus 5 and who knows what else. Posted via the Android Central App

Yeuch. The word dove. Why the hell does the writer use dove as the past simple. Revolting. Posted via the Android Central App

Pricing becomes a moot point if you partake in any of the S7 promos like BOGO or $400 staples rebate. Posted via Galaxy S7 edge

What is BOGO, and what $400 staples rebate. Posted via the Android Central App

Both offers are expired by now but all carriers had a buy one get one free on S7 making each 50% off or one full price and 1 free and staples had a $400 MIR on each phone if you got your S7 through them. People on slickdeals think you stack both offers making both phones essentially free. We'll see. Posted via Galaxy S7 edge

The second device is NOT free, LMAO. Posted via the Android Central App

How isn't it if you get visa gift card with the value of the phone on it? Posted via Galaxy S7 edge

You are right,of course.If a person pretends they cannot understand that a 650.00 visa card laid in their hand is money,they are only being intentionally ignorant in order to argue.If the same offer were made for the htc10,it would be the greatest thing of all time.Blind fanboyism,useless. Posted via the Android Central App

Both of you don't get it, it has nothing to do with fanboyism, whatever that is. No one is giving anyone a free $700 device. Posted via the Android Central App

The BOGO offers through the carriers only stay in place if you stay on the plan for the entirety of the financing agreement. If you leave the plan, you owe the carrier for the balance, just like you normally would. The carriers simply credit you the monthly payment you would normally be paying.

That's only AT&T and if you plan to stay with them you still get reimbursed the price of a phone over the course of 30 months.
VZW only required you stay with them for 6 months
T-Mo had literally 0 requirements. you can pretty much sell the phone as soon as your BOGO card gets delivered.
I give 0 ***** about Sprint so I'm not sure how their BOGO worked.

You are absolutely correct.You actually have to read the fine print and look at the differences.Bottom line-the AT&T offer is a dirtbag joke while the others are good to go. Posted via the Android Central App

I love seeing pics of my area when you do these reviews. Half the time you're getting shots that I've taken in my own comparisons done for fun (working on a pretty damn comprehensive Nexus 6P to S7 comparison right now). Oddly enough I prefer the Nexus camera experience and shots most of the time. Still working on being efficient with Samsung controls and quick editing. Posted via the Android Central App

I'm fan of Nexus devices,so...Nexus 5x 32GB.

Can we have a moratorium on use of the phrase "smooth as butter?" Please? It's become a bigger cliche than "epic fail" or "rotflamao."

I couldn't agree more with your assessment, henceforth and for ever more, I shall use the phrase "Buttery smooth". Unlocked Marshmallow Nexus 6 on Verizon. I'm a happy guy.

That's my phrase, LOL , and yes the Nexus 5X is "smooth as butter". Posted via the Android Central App

Absolutely everything about my S7 edge is "smooth as butter", including the back. Which is why I am using a case even though I do not like cases. Posted via the Android Central App

For a $800 device it should be smooth as butter, but still not as smooth as a Nexus device, TW or any skin will do that, from all the skinned devices sense seems to be least heavy skin "especially the new HTC 10, which is as close to pure nexus as you can get". Most of today's smartphones will do everything you ask of them just fine. It's the value factor that comes in to play for me, is the S7 edge $530 better than the Nexus 5X "I paid $270 for the 32 GB", I don't think so. For my money the supposed flagship devices are way overpriced for what they give you compared to mid tier to upper tier devices. This is another reason Apple's high end device sales have hit a wall, including many other manufacturers. Posted via the Android Central App

I find the skin useful so if it does slow the device down I don't care. I do know that my Note 4 is slower than my S7 edge and I don't care. It works for me.
I know the Nexus phones are good. I have the N5 and that is still the best phone I've ever had dollar for dollar. But it's not all about dollars. The S pen is a lot smoother on my Note than it is on my Nexus, if you get my drift. Posted via the Android Central App

I also own a Note 4 and know what the s-pen is and does, TW is just a skin that should be put to rest, also the Nexus never had and never will have an s-pen, your post is moot. My Note 4 is on the market for sale. And apparently you DID NOT read my post thoroughly, only what you wanted to read. Posted via the Android Central App

I read it. You didn't seem to grasp the gist of mine. I am saying that the skin is useful. Without it there is no S pen. If you don't like TouchWiz then you should buy something else. But I like the functionality it offers such as the S pen. There's more than just that of course.
So you go ahead and put TouchWiz to rest for yourself. It's quite easy to do. Buy Nexus or LG or HTC or whatever other brand you like. But I and many others see a value in Samsung phones such as the S7 and will continue to buy them until something better comes along. Posted via the Android Central App

Uh... While the Nexus 5X is not a bad phone - I still wouldn't consider it, even for a $100, just because it lacks the wireless charging. The way I use phones - I don't NEED (or want, because it can potentially shorten the lifespan of unremovable batteries) "Fast Chraging" and I really, REALLY hate the wiring mess created by various cables I already use for various portable devices. Wireless charging really helps to cut down on those annoyingly visible USB cables, especially by using neatly integrated desk/night stand chargers like IKEA Jyssen or the vehicles which already come with these pads built-in. Not to mention the FACT that you'll prolong the lifespan of USB connector on your phone by not using it every day. Google's exclusion of this very convenient, practical feature is really inexcusable, especially considering that it'll only cost a couple of $$$ (or even less) to add inductive coil and slightly (by a couple of millimeters) increase the overall thickness of the phone (which would actually make it more comfortable to hold and decrease camera "hump"). Oh well, maybe they'll come to their senses and order some other company to make a more competitive and feature-laden model, with wireless charging and perhaps increased battery capacity.

I agree totally. I have the Note 4 and it came without wireless charging. But Samsung does make a back cover that allows for wireless charging. It makes the phone a bit thicker and easier to hold as well as eliminates the camera bump thus protecting the lens.
I very much enjoyed and used wireless charging on the N5 and I think it's a shame that Nexus no longer offers this. I like the new Samsung phones and their inclusion of wireless charging simply seals the deal for me. Posted via the Android Central App

I also had the Note 4 and I added the pleason wireless charging conductor pad, that you can use with the existing back, wireless charging is nice, but not a deal breaker, USB-C on the other hand is the real deal and the future, and would not buy another phone without it. Posted via the Android Central App

Both of you apparently did not read it, or just read "I don't really know what you read" what you wanted to read, like most people on this board, but it's understandable, considering you have a plethora of 15 year old fanboys just posting to post. Posted via the Android Central App

Who are you talking about? Or did you just post for the sake of posting something? Posted via the Android Central App

You and the other knucklehead, I like the who me response, classic. Next time read sometimes post and respond accordingly. Posted via the Android Central App

Well you didn't reply to a comment, either his or mine. You commented on the story. That's why I wondered. Why are you calling the other poster and myself knuckleheads? Because we have an opinion on wireless charging that you may not agree with? You should do a few things. Learn how to post. Learn how to post clearly and intelligently with sentences that make sense. Have some respect for other people's opinions. Refrain from calling people names if you don't agree with them. Posted via the Android Central App

Your opinion had nothing to do with the comment I posted, they got and the other character where responding to, are we CLEAR in this. Posted via the Android Central App

You're going to have to reply in English. Posted via the Android Central App

Great Aticle Andrew and Very Informative keep t up...

No comparison at all Posted via the Android Central App on my Galaxy S3 Neo Dual Sim which thankfully doesn't have S-pen and does not have a horrible metal body.

As a Nexus 5X owner, I take issue with USB-C being a "definite advantage." Sure, it may be more future proof, but I had to buy all kinds of new cords and adapters. Not to mention that the phone takes forever to charge on a regular USB port. Also, this seems like an absurd comparison. Nobody would be choosing between these two phones. What's the next article? The iPad vs. Pebble? I mean, they can be compared but it won't be helpful as nobody would actually be choosing between the two.

Nexus 5x is a realistic phone!!! Superb performance after all the updates!! My S7 edge is soooo slippery without Spigen... Posted via the Android Central App
Android Central Newsletter
Get instant access to breaking news, the hottest reviews, great deals and helpful tips
Thank you for signing up to Android Central. You will receive a verification email shortly.
There was a problem. Please refresh the page and try again.