Samsung Experience 9.0 makes emoji on Galaxy devices less awful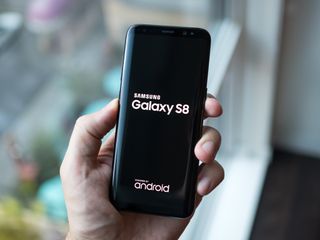 (Image credit: Android Central)
Depending on what phone you have, chances are the emoji on your handset look slightly different when compared to the ones on your friends and family members' phones. A lot of companies have their own unique art style when it comes to emoji, and Samsung is one of them that tended to abuse this trend.
The Samsung Experience 9.0 / Android Oreo update is now rolling out to the Galaxy S8 and S8+, and along with all of the new features and performance optimizations, you'll also find that the emoji for the phones have received a visual overhaul.
Samsung's emoji have always featured a very distinct look, and while beauty is always in the eye of the beholder, stark differences between Samsung's design and the look used by most other companies could often lead to mixed signals when sending messages. For example, Samsung's eye-rolling emoji:
While all of the emoji from Apple, Google, Microsoft, etc. have the same general design, the one from Samsung Experience 8.5 looks completely different. In Samsung Experience 9.0, it's much more in line with the norm.
There are changes to a lot of other emoji as well, including kissing, smiling, grimacing ones, and more.
Lastly, in addition to updates to existing emoji, Samsung Experience 9.0 also adds a heap of new ones. You can check out the full list here, but some of the highlights include barfing, head-exploding, and start-struck emoji.
The new emoji style will be available on the Galaxy S8/S8+ as part of the Android Oreo and Samsung Experience 9.0 update, and we'll likely see them make an appearance on the Galaxy S9 out-of-the-box following its debut at MWC 2018 later this month.
This year's 157 new emoji include kangaroos, toilet paper, feet, and more
Joe Maring was a Senior Editor for Android Central between 2017 and 2021. You can reach him on Twitter at @JoeMaring1.
I'm glad because the emojis on Nougat still confuse me since some look different, like the eyeroll one. I'll be looking forward to 9.0.

I don't really use much emojis on my phone but these Samsung ones are terrible, some looks totally different from what is supposed to be. The new ones are much better.

yes, they are bad. Even the "cookie" emoji looks like a cracker https://www.androidpolice.com/2017/07/10/fail-samsung-dishonors-cookie-m...

I hate them, they look too much like Apple's. I liked that Samsung's were distinct.

One issue.... Samsung laughing emoji was the best and now its being redisigned into apples version.. :/

Does the s7 also get experience 9.0 or still 8.5?

I feel that most emojis from 8.5 were more expressive.

"makes emojis on Galaxy devices less awful" No bias there.

Well they are. It's frustrating, because what I see on my phone often doesn't resemble what other people see on their phone. The eye-roll is a classic example. The Samsung emoji looks like a grin, and the others at least resemble what it's supposed to be.

*some* are. Others are getting worse. The current winking emoji is much better looking, for example.

Samsung experience 9.0 = water pistol

freaking finally. Especially that eye rolling one. That's not what I picture when I want to send "eyes rolling"

I like Samsung's version better myself. Why make everything g look the same.

Text messages are fine for information. I pitty those who overeley on screens to communicate. If you actually depend on emojis to communicate, perhaps in a relationship, that might be a red flag you need to make a personal change.... Or confirmation you are both teenagers... Or, worst case, adults functioning at a much younger mental age. Try talking to someone on your cell phone... It's better for you. Emoji obsessed? Really? The truth is you can easily change from the awful Samsung keyboard to Gboard by Google or SwiftKey.... So who cares. The Samsung keyboard has more profound issues than emojis

I just speak to my wife in GIF's now..

I used Gboard but I wouldn't say it's childish to use emojis. I use them to communicate laughter better than "lol" changing keyboards doesn't change the emoji though

I don't care what anyone says, iOS emojis are the standard. Other OEMs can try all they want.

Samsung should learn a few things from Microsoft here. They're very similar to others yet very unique at the same time. I really wish we could download emoji sets, like we can Icon packs.
Android Central Newsletter
Thank you for signing up to Android Central. You will receive a verification email shortly.
There was a problem. Please refresh the page and try again.