S Translator on the Samsung Galaxy S5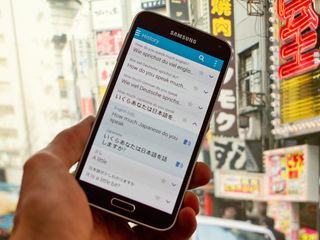 One of the preloaded apps on the Samsung Galaxy S5 is a new text and speech translator. It's a really helpful way to get by in foreign countries thanks to a conversation mode that translates the spoekn word from one language into another with an impressive amount of speed. The Samsung App Store provides high quality language packs for just about every region, so you'll be covered just about anywhere in the world. The one downside here is that you'll need an internet connection to translate, so make sure you've got a healthy roaming pack or a strong Wi-Fi connection.
The primary translate page allows users to input text or speech in one of two languages. Tap the language name to chose which two to work with. Whenever selecting a new language, you'll be prompted to download the high quality language voice pack.
Tap the text field below the language selector to type in your phrase, or one of the two microphone buttons at the bottom to speak the phrase. Tapping the expanding square button once a phrase has been inserted will expand that message to the whole screen. Pinch to make it big, so your foreign friend can easily read it.
Tap the navigation button in the top-left to see your previous translation history. Tapping the downward arrow next to each subheading will show both sides of the translation, along with a star icon which you can tap to add it as a favorite, or tap the mouth button to hear the audio output. Tapping the magnifying glass icon at the top will let you search through that history.
The next item on the navigation menu is a list of your favorites, which are shown in the same interface as the history list. Tapping the menu button in the top-right for either one will let you select, delete and sort phrases, as well as adjust the text to speech readout speed.
The last section available from the navigation menu is an extensive selection of preset phrases. Start by selecting the two languages at the top of the screen. The one on the right will be your device's default language.
Next tap the broad category (like shopping or sightseeing) and a more specific keyword below that relating to what you want to say. Preset phrases can also be found by tapping the magnifying glass at the top of the screen.
Once those are selected, a long list of common related phrases are shown below. Tap the stars to save them, or the arrow and talking head to hear them.
That's about all there is to the S Translator app on the Samsung Galaxy S5. The interface is well laid-out, and the selection of phrases is downright boggling. Be sure to load up your language packs before heading out, because they can be fairly large.
Simon has been covering mobile since before the first iPhone came out. After producing news articles, podcasts, review videos, and everything in between, he's now helping industry partners get the word about their latest products. Get in touch with him at simon@futurenet.com.
Sounds like a reasonable feature that can be of good use. Posted via Android Central App

This sounds awesome! I travel a lot and am deciding between the S5 and the M8, and this is definitely a plus for the S5 Posted via Android Central App

It's not a plus really. You should never let an app be a factor in deciding which phone to buy, because there are always alternatives that are often better. Google translate has all of this, except the phrases. Plus it has offline text translation. And there are heaps of phrase book apps. Pretty poor article really, no comparisons and doesn't even mention possible alternatives. Just another s5 fluff piece to get more hits I think. Posted via Android Central App

it's something that no other phone has google translate isn't as indepth for certain languages; like korean

I can attest to that. For Korean translation, it's often wrong. Definitely a plus for me when i get my S5 :)

Don't do it for the app. Because once they come put with a new phone they will remove your access to it.

This was a service I recieved on my galaxy note. But gir whatever reasons Android samsung and Google decided that this preloaded ap should no long be available. Don't be decieved even though they give it preloaded once a new phone product comes out they will take it away.
Android Central Newsletter
Get the best of Android Central in in your inbox, every day!
Thank you for signing up to Android Central. You will receive a verification email shortly.
There was a problem. Please refresh the page and try again.