Resident Evil 4 VR Remake coming to Oculus Quest 2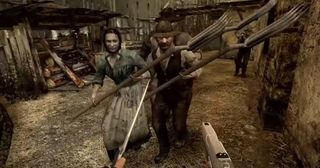 (Image credit: Capcom)
What you need to know
Capcom is working on numerous Resident Evil projects, including a new mainline game and a Netflix show.
It showed off these new projects at a special Resident Evil showcase stream.
The final reveal was of Resident Evil 4 VR, to be released on the Oculus Quest 2.
Capcom revealed during today's Resident Evil showcase that one of the upcoming RE projects is a VR remake of Resident Evil 4 for the Oculus Quest 2. We'll know more about it next week, but it appears to be a complete reimagining of the game for VR, though we don't have very much to go on.
A Resi 4 VR game has been rumored to be in the works for a while, with documents about the game having been leaked in the massive data breach at Capcom last November. We now know Armature Studio will develop the game with assistance from Oculus Studios.
So far, we know very little of the game beyond what was shown in the trailer. The locations we can see look very recognizable, especially the village from the game's first hour. You can see Leon going up against a band of the Spanish villagers and their torches and pitchforks. It appears to be the exact same game as you remember, only in first-person rather than third.
The graphics don't exactly look remade -- if anything, the models resemble those from the game's original release a bit too closely. We can also see Leon typing on keyboards, turning a crank, and performing a little knife and gun juggling act I don't think he did in the original game.
That's all we could glean from the short preview. We'll be getting more information about the game during the Oculus show on April 21, which will be available to watch on Twitch and the Oculus Facebook page. It's unlikely the game will be released ahead of Resident Evil Village, which comes out on May 7.
There have been rumors of a remake of Resident Evil 4 in the style of the RE2 and RE3 remakes for a while now. As yet, we can't confirm whether this is the only RE4 project in the works, but it was the only one shown at the showcase.
Be an expert in 5 minutes
Get the latest news from Android Central, your trusted companion in the world of Android
Rachel Kaser is an Android Central gaming contributor, who's been writing since 2013 and gaming since the age of five. She's covered everything from gaming news, reviews, and analysis -- if it exists in gaming, she knows about it. She also contributes to Future's other sites, iMore and Windows Central. If you want to hear her opinions on games, pop culture, tech, and everything in between, follow her on Twitter @rachelkaser