Reigns selected as big winner at Google Play Indie Games final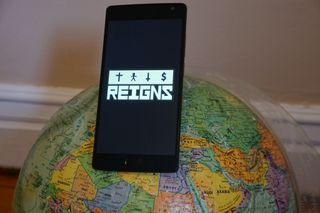 The first ever Google Play Indie Games contest has wrapped up with UK developers Nerial winning twice over for their outstanding game Reigns (opens in new tab). This comes as little surprise to us: Reigns is a fantastic game and one of our favorites of 2016.
On top of winning the overall prize, Reigns also won the Unity prize, which provides Nerial with a 12-month subscription to Unity's professional game development platform.
We took another look at Reigns, as well the runner ups, The Battle of Polytopia and Causality. You can find the full list of finalists here.
Reigns
Reigns is a game all about making the right decisions to keep your kingdom prosperous and secure. You start out as a young king taking over control of his kingdom in the first year of his reign. Advisers, citizens and animals appear as cards, coming to you with issues and questions that require a ruling — swipe right for yes, swipe left for no.
The decisions you make will affect the four aspects of your kingdom: the church, the people, the army or the treasury. Each is tracked at the top of the screen by the meter, and your duty as king is to monitor them and make sure that no meter becomes entirely full or empty — if that happens, your fate is sealed and the heir to the crown rises and becomes the new King.
It's an absolutely unique title that will hook you in with it's dark sense of humor, stylish design, simple game-play and intriguing storytelling. Check out our beginner's guide for more information on how to play the games and some tips to help you start your reign out right.
Download: Reigns ($2.99) (opens in new tab)
The Battle of Polytopia
Fans of turn-based strategy games like the Civilization series will absolutely want to check out The Battle of Polytopia. Developed by Midjiwan AB from Sweden, this stylish game packs in a deceiving amount of strategy and fun. Explore the world around you and build up your kingdom by investing in new technology and troops as you capture villages and expand your empire.
It's easy to see why this game made Google Play's top three — with multiple game modes including the rarely seen pass-and-play option for playing against friends and 20 tribes to unlock and play as, this feels like a full-fledged strategy game packaged with cartoony graphics and scaled down perfectly for playing on a mobile device. The turn-based game-play against the AI is brisk and you can add more opponents or up the difficulty level if you're in need of a bigger challenge. Best of all, it's a free download from the Google Play Store! This games feels perfect for your daily commute on public transit, or really any time you got time to kill — If you start a Domination game (last tribe standing wins), you can save and resume your game at a later time as needed.
Download: The Battle of Polytopia (Free) (opens in new tab)
Causality
Causality will absolutely blow your mind. This is just a brilliant game where you control time and make adjustments to the level and alter the sequence in such a way that you help your stranded astronauts reach their goals.
Set in simplistic-yet-beautiful alien landscapes, this stylish game will have you wracking your brain as you try to figure out how to guide each astronaut to their color-coded exit within the time frame. Of course, you have full control over the timeline, and can jump to any point in time and change an aspect of the level. There are 60 mind-bending puzzles to unlock and complete in this outstandingly polished and challenging game.
Download: Causality ($1.99) (opens in new tab)
Marc Lagace was an Apps and Games Editor at Android Central between 2016 and 2020. You can reach out to him on Twitter [@spacelagace.
Reigns is a very good and entertaining time waster. I got it when it was on sale and am happy with the purchase.

Love Reigns. But it's gotten stale once you play all of it. It needs more storylines
Android Central Newsletter
Thank you for signing up to Android Central. You will receive a verification email shortly.
There was a problem. Please refresh the page and try again.