Quora review - the biggest name in social Q&A comes to Android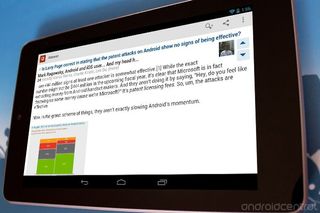 Quora launched its Android app today, extending the mobile presence of its social question and answer network. Though they've been on iOS for a little while now, Quora on Android is highly polished and built with Google's design practices in mind. Location is tied in to provide you with relevant topic suggestions, plus there are push notifications to let users know about a variety of activity, and voice search integration.
Style
The design of Quora on Android has a high degree of polish. The grey/red color scheme looks sharp and clean, and swipe-based navigation feels great.
Although Quora looks fine on the Nexus 7, it could use a few more tablet optimizations, such as a slideable side panel for easy navigation, or viewing multiple kinds of content at once. That kind of thing would be really useful when viewing the app in landscape orientation. Also, drilling down into individual users is a little tricky as profile portraits next to answers are really tiny, even though it's really easy to tap to see who had voted up an answer. It's also a fine line between tapping the text of an answer (which goes to the answer page) and the headline (which goes to the question page).
There is a simple resizable home screen widget for perusing the most popular answers on Quora, though I'd rather have something a little more personalized, such as the latest activity on questions I'm following.
Function
Push notification toggles are available for when someone follows you, when someone answers a question you're following, when someone upvotes your answer, when someone comments on your answer, when you get an inbox message, or when someone asks you to answer a question. Location can be shared with Quora in broad or specific ways, depending on your comfort level.
Of course, all of the standard activities, such as messaging friends, following new questions, checking your credit count, and upvoting questions are all there and working fine. Some of the more detailed actions on the network are available on mobile too, such as seeing the visitors to a question, and suggesting changes to questions and answers (though being able to is a little muddled; you have to tap the text to make suggestions).
There's a search bar available pretty much everywhere throughout the app, which is really handy, plus it uses the native Android voice search if you're feeling too lazy to type out a question. Quora is also a searchable option through the Android-wide search bar, making finding answers even easier. The system-wide share button is also just about everywhere, allowing you to share Quora questions and answers to a bunch of other networks and Android apps.
The one weird thing about the search bar is that it's where you go in order to ask a new question. Sure, it makes sense to funnel users into checking to see if their question has already been asked elsewhere, but it's not particularly intuitive. A run-of-the-mill pencil icon on the top bar combined with a pop-up suggesting similar questions before publishing would accomplish the same thing. In any case, Quora also ties in with the native camera app on your device, so you can add pictures from your immediate surroundings if appropriate, though it's not immediately clear how to add pictures from the New Question screen.
Pros
Excellent integration with native Android elements
Clean, sharp user interface
Cons
Needs more optimization for tablet layouts
Some navigation confusion
Bottom line
Quora is a really active network, and a fine place to hear clear opinions from pros on very specific subjects. It's clear that the devs have put a ton of effort into making sure Quora fits in with the Android experience, and they have by and large succeeded. There are still a few tweaks to be made on the navigation front, but overall, it's a really great experience. If you haven't given Quora a real shot yet, this new Android app is your cue.
Simon has been covering mobile since before the first iPhone came out. After producing news articles, podcasts, review videos, and everything in between, he's now helping industry partners get the word about their latest products. Get in touch with him at simon@futurenet.com.
Android Central Newsletter
Thank you for signing up to Android Central. You will receive a verification email shortly.
There was a problem. Please refresh the page and try again.