Qmadix QI-7 Stereo headset review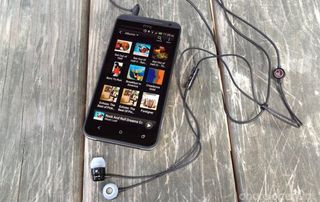 The reality is that most included headsets with Android phones are just OK; they are a step up from what some competitors include – but they are rarely "audiophile quality." Enter the Qmadix Qi-7 stereo headset – read on to see if this is a worthy upgrade to what you are currently using.
I have tried a bunch of Bluetooth stereo headsets and while I appreciate the convenience of no wires, the downside is that they need to be charged and the sound quality just can't match a good, wired headset.
Now, the reality is that most compressed MP3 audio tracks are not exactly of the highest musical quality – but a good set of headphones can bring out some of the subtle undertones to your music that make you want to listen a bit longer.
What's in the box
The Qmadix QI-7 comes with the headset (including microphone and button for taking calls) and four sets of ear gels; one with a dual flanged tip and the other three being single flanged in three sizes. The Qmadix Qi-7 also comes with a very nice leather travel pouch which is a nice touch.
Design
The Qmadix Qi-7 is an in-ear headset. The tips sit in your ear canal. The body of the headphones are made of alloy are relatively small in size. The construction of the housing is solid and finished in a black glossy paint.
The control button for the microphone is attaches to the left cable. There is an adjustable cable router that can be used to tighten the headset and the microphone sits down the cable from the ear buds.
It is worth noting that the cables of the Qmadix Qi-7's are on the thin side. They have a nice rubberized coating, but I can imagine that one good snag might cause some damage.
Functionality
The Qmadix QI-7 functions both as a Stereo headset for taking and receiving calls and as a stereo headphone for listening to music.
There are no volume controls, just a button to pause and play music and take phone calls and to activate voice commands on the phone. I found that this feature worked mostly OK, but on some devices the activating voice commands was not always consistent. One some HTC phones, just hold in the button to initiate voice commands and double click it to redial the last call. On some Samsung phones, however, I could take calls when they came in but I could not consistently trigger the voice dialing by holding the button down.
Comfort
The Qmadix QI-7 are a medium sized ear bud type headphone. They are designed to sit inside the ear canal and a good fit is really important if you want your music to sound good. Like most headphones of this style, you need a "seal" to form so that you can get maximum isolation and maximum bass response.
I had a little trouble getting the right fit initially with the Qmadix Q-i7. The double flanged ear tips that came on the headphones didn't fit well and kept falling out of my ear. Now, my issue (at least the one that relates to headphones) is that after surgery a few years ago, the canal of my right ear is much smaller than the left. So, I often need to put on a smaller ear gel on just the right hand side. After experimenting, I found that the medium size single flanged ear gels worked pretty well for me.
I wore these headphones for a couple of hours, took them on a bike ride and used them while I was cutting the grass. They stayed put and only started to bother me after about a solid hour or more of continuous use.
Call quality
The microphone for the Qmadix QI-7 is located down the cable in a pretty good proximity to your mouth. Callers felt that I definitely sounded like I was on a headset, but they could understand me. I was able to hear great since I had the caller's voice right in my ears.
It is clear that this headset is designed for music first and calling secondary in terms of priorities - and, for my needs, that's about right.
Music quality
Most buyers of the Qmadix QI-7 are looking first and foremost for sound upgrade to the stock headset bundled with the phone. Music quality is a very subjective thing, but I listened to lots of genres of music and was able to make some generalizations.
When listening to "my music" as my kids call it; Springsteen, The Who, Pink Floyd, etc. I found that the vocals were very strong – maybe even too strong. The very high end – symbols, the high E string on the guitar, etc. were clear and strong.
What rock music was lacking with the Qi-7 was strong and punchy bass. It seems like this headphone really emphasizes the mid range. Now, for country, bluegrass, piano instrumentals and the like – that was good and these sounded great. For anything with a strong beat or lots of bass, these were lacking. I did notice that on those phones with Beats audio onboard, they bass was a little stronger, but that was clearly "artificial" and due to the EQ settings of the Beats audio system.
All in all, these were very "efficient" headphones, meaning they played loudly and could be turned down to a lower setting than many other headphones – which is a good thing to save your ears.
The wrap up
The Qmadix QI-7 is a very good replacement to the stock headset that came with your phone. Music quality was good, albeit not "stellar" like some offerings from premium audio manufacturers. Mids and high frequencies were covered well, but bass response was a little lacking. So, if you are looking for good headphones for hip hop, rap or heavy metal – these may not be the best bet.
Call quality was good – not as good as most Bluetooth headsets, but certainly passable. These are designed as music primary and calling secondary headphones.
The good
Relatively comfortable fit with optional ear gels included
Sound quality of many genres of music was quite good
Sturdy build quality of the housing and microphone
The bad
Cables were a little on the "thin" side
Weak bass response in the music
The verdict
If you are looking for a set of Stereo headphones that improve upon the sound quality of stock earphones and allow you to field calls and pause and play your music, take a listen to the Qmadix Qi-7. For many styles of music the sound quality was good and they are very efficient and comfortable.
Buy it now
Others like this one
Get the Android Central Newsletter
Instant access to breaking news, the hottest reviews, great deals and helpful tips.
Hi, You should try out these Sony BT75 bluetooth headphones: http://www.amazon.com/Sony-XBA-BT75-Balanced-Armature-Bluetooth/dp/B006K... I currently use a pair of wired Beats headphones with my Android devices, but after trying these Sony's the sound is actually better. They are expensive and you only get 3.5 hours off of a charge, but they have a nice recharging case and recharge quickly. These are the first bluetooth headphones that are actually audiophile quality and they also boost the audio level quite a bit, something that is lacking with most smartphones.

I have personally owned these headphones and can say these headphones are great with bass heavy music and other genres as well. the downside is that they're a little expensive and can be broken somewhat easily.

I just purchased the Klipsch S4A for Android. I am very impressed by them. They have a proprietary shape of the bud to fit in your ear better. They have amazing clarity and bass. Price is in the %60-$80 range much like these.

I just wish the S4A had a braided cord,and an app that works on my phone.

I agree --- any set of ear buds over $30 should have a braided or some high wear protection for the cords and connection points. Klipsch does have an APP for their head phones. I'm replacing my iPhone with the HTC One and of course these great Sennheisers are not compatible! I'm leaning to the Klipsch SA4.

I've owned several sets of these headphones (some stolen, some sent through the washer). I keep coming back to these. I try other brands, and they just don't have the bass these have, so I rebuy these. I actually haven't heard any other in ear headphones like these with as much bass. I would really like to know a set that you've tried that have more. I love bass. These have so much it tickles the inside of my ear sometimes. But I could handle more if you can think of a set with more. I even tried the in-ear Bose ones and they didn't have as much bass as these!