New hardware as far as the eye can see [#acpodcast]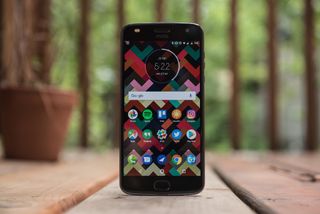 It's all hardware this week, folks.
This week, Andrew, Jerry, Flo and Russell get back to the roots talking about all of the new hardware. We get into the merits of buying an unlocked HTC U11 or Galaxy S8 or Xperia XZ Premium, the new Moto Z2 Play replacing its predecessor, and everything we know so far about the Essential Phone.
And of course, you'll never guess what Jerry has to say!
Show notes:
The U.S. unlocked Galaxy S8 is available
Moto Z2 Play review
Moto Z2 Play announced as Verizon exclusive until July, unlocked this summer for $499
Essential Phone will have near-stock Android, expand to U.S. carriers soon
This episode of the Android Central Podcast is brought to you by Thrifter, the best place to get great deals in your inbox every day!
Get the Android Central Newsletter
Instant access to breaking news, the hottest reviews, great deals and helpful tips.
Andrew was an Executive Editor, U.S. at Android Central between 2012 and 2020.
Play & Download links not working.

Had a bit of a technical issue. It's fixed now. Thanks for your understanding!

Play & Download links not working?????????

Should be working now. Ghosts in the machine.

How long does it take to show up in Google music?

Sorry, didn't see this. Usually about 90 minutes after publishing it. We try to publish it asap so nobody has to wait for the blog post.

Jerry you are becoming the walt mossberg for google

Great, thanks guys.. will listen at the gym tomorrow ;)

Well I reserved the essential phone.. So there goes from no one to one person.

And what's with telling don't buy the essential phone expect if it's not one of you guys? Huh? Pretty much anyone who is buying this phone knows what they are buying and they know they are somewhat beta testing. It's somewhat offensive to think we are not intelligent enough to know that.
It's not that common man knows about this or even cares about this.

you are "one of us" the broader sense, not the literal.

Wait, why is Flo a horse?

Again loved the podcast and the comments. My main reason to listen to it was to get the crews opinion on the new 'Essential' phone. I think everyone basically had good comments about their concerns with the phone - screen resolution and most of all - polish and fit \ refinement of everything working correctly - including applications and attachments. My draw to it - is I'm interested in seeing a phone in which an engineer \ a group of engineers - wanted to present to the world. Now with that said - I want \ expect a phone that is - extremely polished - as a show case - to show that this is what 'we' can do for you... Something that works and works well and is efficient. Innovative... Now you have my attention. Besides - I hate 'quick and dirty ' whether it's code or design - never a good idea... Never. Ever. In general - I would like a generic phone that works well, stays current with all updates, supported for a reasonable time - and have the ability to choose which eco system that I like - which is Google right now . I think that's a good \ stable \ general statement that most people can agree on - just insert their existing system choice there.. and what type of quality and performance you want.

Right now my phone of choice is going to be the Pixel 2, with it's integration of Google's new AI foundation. I'm not sure if the new Essential phone can either match or share that in capability - or exceed that... or go in some other direction.

I used a Moto X Pure Edition for a year on Verizon. Unlike Flo and her Nexus 6P, my service never dropped. I suspect there's more there.

Further listening, I *think* I know what happened with Flo's Nexus 6P. Setting up the SIM for an iPhone can cause issues. It should have been set up for a random Android phone.