Android Central 288: Google I/O 2016 (Part 1)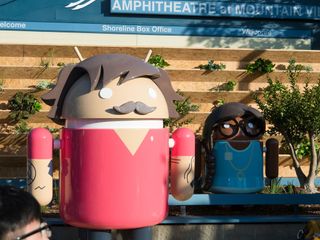 We're coming at you live from Google I/O 2016! It's Google's annual developer conference where we not only learn about upcoming consumer-facing products and services for things like Android and Chrome and VR — developers get to learn how to start using them!
And because there's so much awesomeness going on this week, we're going to do TWO podcasts to recap it all. Part 1 covers the keynote address and all the major news from the first day of the event, like Allo and Duo, Google Home and Google Assistant, and Daydream, Google's new VR effort.
You can find all of our Google I/O 2016 coverage here!
Stay tuned for Part 2!
Thanks to this week's sponsors!
Casper.com:

(opens in new tab)

Get an obsessively engineered mattress at a surprisingly low price. Save $50 with coupon code AC.
Harrys.com:

(opens in new tab)

Shave better, shave smarter. And save $5 on your first purchase with promo code AC.
Finally Micheal Fisher. Posted via the Android Central App on Nexus 6p

More Michael Fisher. MOAR. Posted via the Android Central App

Did all of your video equipment get stolen, or did someone detonate an EMP? It's been 7 weeks since a podcast video.

No equipment needed far video just need to use hangouts which is very very easy :) Posted from my Nexus 6/Nexus 7 2013/Surface Pro 3

They said a while ago they're focusing on audio only shows for now. Posted via the Android Central App

Which is totally lame given that they seem to try so hard to make more videos for YouTube at the same time.

Podcasts and unboxing videos are two very different things

Video podcasts are easier Posted from my Nexus 6/Nexus 7 2013/Surface Pro 3

Well I think the bigger problem is having people that are able to do the video stuff. People complain bitterly about poor audio which is part of the reason for not doing video now, then when people don't have good cameras then people will complain about that

Don't know about this podcast But I see that Russell Holly's video works just fine over at TWiT's I/O special! :) Couldn't help but rag on Phil again this week.

Just don't listen to the cast if you don't like the audio only. Phil says not many people watched it. If enough people stopped listening I am sure they'd go back to video. The whole focusing on audio quality is a bunch of **** too, lol.

its weird that they have nothing new to annouce regarding project fi

That's probably more for a consumer focused event, rather than a developer conference. Posted via the Android Central App

Still no video? What year is this? Don't you realize you this is where you should put the emphasis on? This is like a putting on a food show... On the radio. You sure can't blame the available internet bandwidth this time.

Why, voyeur? Need to see their hotel room? Posted via the Android Central App

Those who are whining miss seeing their faces. It gives them something to, well, you know. Posted via the Android Central App

Ha! Posted via the Android Central App

Well let's see what direction Google takes its new messaging app. Living In An Android World

I admit I really want to see Duo make a big splash this year. And the AC team made the best case for that see-whose-calling preview yet: that it stabilizes the video connection before you swipe into the call.

Great podcast. Slight correction. Allo is the Russian way of answering the phone. Have never heard anyone use allo to greet each other in person. Posted via the Android Central App
Android Central Newsletter
Thank you for signing up to Android Central. You will receive a verification email shortly.
There was a problem. Please refresh the page and try again.