Android Central 289: Google I/O 2016 (Part 2)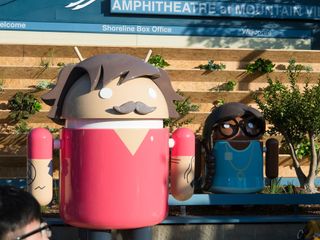 As promised, Part 2 of our Google I/O 2016 podcast. This one picks up on the second day of action, including what we learned from the in-depth session on the new Daydream virtual reality, some quality time with the upcoming Android Auto features — oh, and a little thing about Android apps running on Chromebooks.
You don't want to miss this one. And be sure to check out Part 1!
Yes yes yes. damn it . Posted via the Android Central App

What, no video? With that out of the way, I hope everyone enjoys the audio only podcast. Posted via the Android Central App

I see that Russell Holly's video works just fine over at TWiT's I/O special! :)

"We popped your cherry...", seriously Nickinson, you're not in Junior High School anymore! Posted via Android Central App

Jealous? Posted via the Android Central App

This is a fun mattress, get a grip Phil Posted via the Android Central App

Jerry it's always a pleasure to see you bud, just wish you could push for video over voice, it's definitely the future bro. Posted via the Android Central App

Boo hoo, I couldn't see people's faces! Whatever. Posted via the Android Central App

Keep posting podcasts. Video or audio, I'm alright with it. Posted via the Android Central App

I always love these group podcasts, at Io and other venues. Partly because I think those involved enjoy them as well. They can get a bit confused with so many of the team speaking, but THAT is the point - it's partly a friendly social gathering, I just wish I could join in. Io this year had a lot of interesting things in it. I was especially keen to hear what was happening to Chromebooks; so it was great to hear Jerry and others responding to that development. The AC team is big now, but widely spread, so these group gatherings are essential. Thanks all. Posted via the Android Central App

Unless they get somebody who is good looking and female....I'll prefer just audio ;) Posted via Serenity

I look forward to Jerry's article on using a Gear VR as a bong. Posted via the Android Central App

Good gosh, probably the least engaging podcast ever... if you don't mind a group of grown men beat a dead horse complaining non stop about the less than desirable LOGISTICS at a conference, enjoy the last hour of this pod cast. 'Oh it was hot' 'oh man the lines' 'I need sunscreen' 'come back next year, it will be better' 'but it was hot' 'I stood in lines all day'.... f o r. a n. h o u r. We get it. It sucked. Mention it and get on with some actual android info.

Android apps on a Chromebook are not a reason to buy a $700 chromebook... Come on...

Go to any autoparts store like Autozone or O'reilly and they will let you use a code scanner for free...

Yes Posted via the Android Central App
Android Central Newsletter
Thank you for signing up to Android Central. You will receive a verification email shortly.
There was a problem. Please refresh the page and try again.