Android Central 254: New Toys, Old Grievances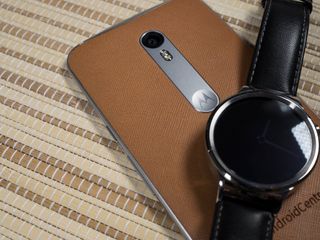 If you're interested in the new Moto X or the Huawei Watch, we've got you covered. Plus, a preview of our Hauawei Mate S review, and we enlist your help in fixing what ails us about Android. And we answer more of your questions live!
Thanks to this week's sponsors!
Braintree: Check out their mobile payments SDK.
FanDuel: Paying out more than $75 million in fantasy football winnings each week! (Sign up with code ANDROID!)
Red Hat: See what open-source enterprise software can do for your business.
Lynda.com: More than 3,000 profesional video courses to learn from.
It was live... On Wednesday. Posted via the Android Central App

Guys - Loved the discussion of the "Wuatch," android wear, M360v2, and Gear S2. The Wuatch and S2 are the first wear watches that look truly compelling. First and foremost for me is aesthetics. The ability to have nearly unlimited well-crafted watch faces is precisely what I'm looking for. I'm sure I'll appreciate having an app here or there, having the weather on my wrist, asking google now the random question, but it's the aesthetic that matters most - I have a collection of watches and a digital watch first and foremost, for me, must serve as a watch! This is also why I care a bit less about long battery life - I take my regular watch off every night already. ...And why I care slightly less about the cost - good watches cost a LOT of money. ...And why I care a LOT about the screen quality (400x400 amoled is, I think, the best pixel density yet for a digital watch, though I appreciate that that won't mean the watch faces actually look crisp or have accurate color matching). Can't wait for your reviews of the Wuatch, S2, and Moto360!

I don't understand the comments about not being able to use music for alarms. Every phone in our house allows that - S3, M7, G4. Every HTC phone I've had allows that - you just select it from your list of installed music. Was the gripe that you can't use Play Music and stream from the cloud? Posted via the Android Central App

Either Andrew or Russell said they use Verizon almost consistently. Why is that? Isn't it easier to switch around new devices with T-Mobile? I'm currently a Verizon user and I'm considering switching for price and ease of device swapping. (Also for Android Pay) Posted via the Android Central App
Android Central Newsletter
Get the best of Android Central in in your inbox, every day!
Thank you for signing up to Android Central. You will receive a verification email shortly.
There was a problem. Please refresh the page and try again.