Android Central 196: Podcast to the Danger Zone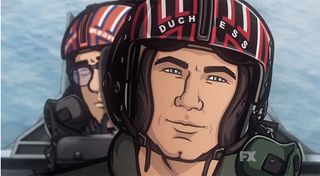 Andrew is dodging the Blue Angels as they get ready for Seafair in Seattle, and we're podcasting in the Danger Zone anyway, going a day early and without any real preparation. So you know this one's going to be fun! Join us for more on Android Wear, where Motorola's at these days, Android L and the rumored "Shamu" Nexus device, HTC and Windows Phone 8 (yes, really), and loads more of your questions!
I've had this song in my head since I saw the title earlier. Side note, met the cast of archer at comic con last weekend and it was awesome!! Great podcast guys. Thanks for doing it every week. Posted via Android Central App

Phil, Do you find that instagram will wake lock? Every time i've tried to use it, it kills my battery.

Thanks for your podcast!
In spite of Phil's entertaining, but kind of weird openings (although, I am starting to look forward to them ;-( -very strange!) your podcast is really great at providing fascinating updates on a wide variety of Android topics. Thank you for that! It is clear that Android Central is unique and worth watching --if you have an android phone, if you have a beer, and if you have hour to kill! ;-) BTW, your answer for "Rooting vs. flashing roms" was kind o of generic. However, as Alex said –each manufacturer is quite different and the processes are different so the answer really is …it depends.
On the same topic, I liked your answer about checking the forums --but I would have like it more if you had also mentioned XDA. That would NOT have diminished AC at all! Bottom line: Thank for the podcasts, they are really informative. (even when Jerry is boycotting!)

Missed having Jerry in the podcast.
Android Central Newsletter
Get the best of Android Central in in your inbox, every day!
Thank you for signing up to Android Central. You will receive a verification email shortly.
There was a problem. Please refresh the page and try again.