Android Central 189: Tabs, keyboards and redesigns — oh, my!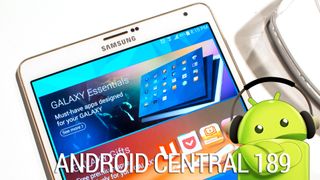 Strap in, folks. This one's gonna be big. We've got the lowdown on the all new Samsung Galaxy S Tab tablets — both of them — from Thursday event in New York City.
Plus we talk with SwiftKey's chief marketing officer about the popular keyboard going free, adding emjoi and serving up a theme store. You'll find that starting at 40 minutes in — in the audio-only version of the podcast, which you can stream or download here.
And finally we chat with the design director of Mobile Nations about our shiny new header! If you wondered why we did what we did, here's your chance to find out! That section starts at 57:25. Again, this one's on the audio-only version.
Plus, we answer more of your questions live on air. Enjoy!
No more of this "oh, my" nonsense. Posted via Android Central App

Thank you for that useful comment. Posted via the Android Central App and the LG G3.

Lol Posted via Android Central App

I started watching the podcast on YouTube and started cracking up at 00:01. I can tell this one's gonna be good lol.
Phil n those faces, smh Posted from my caseless GS5, because I believe in myself

Gotta do something in that weird few seconds when you're not sure if it's recording, or when it's gonna record. :) Be sure to listen to the interviews in the audio version, though!

Hi Guys I listen every Friday night usually about 7 or 8 AZ time. Get a nice glass of wine and enjoy. I just have one question. Why couldn't you have played the audio of the guest while you were making the podcast. It was a real pain to have to go to the audio only version. Just my 2 cents. BTW Swiftkey rocks for fat finger guys like me!

Tell the SwiftKey guys to make the minimal keyboard themes with all the symbols showing like @#& etc Posted via Android Central App using galaxy s4

Love this show, you guys are great. Keep it up.

What is the device pictured I. this article damnit!!!!!! Posted via Android Central App

Phil was uming like crazy this week. He had one that had to be a record um. Um um um um um um um um um um. Posted via Android Central App

Great interview with the SwiftKey guy, you can definitely tell he's the head of marketing. Posted via Android Central App
Android Central Newsletter
Get the best of Android Central in in your inbox, every day!
Thank you for signing up to Android Central. You will receive a verification email shortly.
There was a problem. Please refresh the page and try again.