Play Store Material makeover adds new My Account page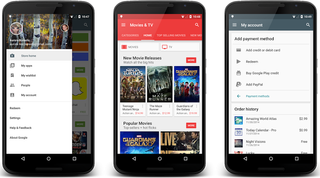 Google will be rolling out a software update for its Play Store app, giving its digital storefront a Material Design makeover. For Material lovers, the Play Store will get full-height drawers, consistent visuals and scrolling in the My Apps section, real-time card shadows, and a new My Account page.
The new My Account feature will allow you to quickly manage your payment information and prior orders from the Play store.
Additionally, according to Google's Kirill Grouchnikov, there are more features that "you'll need to hunt down on your own."
If you have received the update, let us know what new features you notice with a Material-inspired Play store.
Source: +KirillGrouchnikov
Haven't received the update yet. Hopefully I'll get it soon. Maybe someone will provide an apk for it sooner than later.

Oh wait... http://www.mediafire.com/download/s10z8tuiwm2t9rq/Google_Play_Store_com....

Sweet, thanks +1 Posted via the Android Central App

Thanks bruh Posted via the Android Central App

apkmirror.com usually has them which is what Android Police references most of the time.

That's because Artem is one of the founders of APK Mirror. ------------
Android: It will make you a sexual tyrannosaurs, just like me.

Downloaded the APK Posted via the Galaxy Note 4

WTF? Google's killing the hamburger arrow? Material Design consistency my ass.

It was used incorrectly in the Play Store. From what I've read, it's supposed to turn from the hamburger to the arrow when transitioning to another screen, such as an app page. Posted via the Android Central App

The hamburger is still there, the animation is hidden under the bar that slides out. The reason for this is consistency, so chill out. Google's trying to make it work. Posted via the Moto X Pure Edition

I get you on that one, but the thing that bothers me is that you can see the hamburger becoming an arrow beneath the menu tray... Posted via the Android Central App

Any idea on the build number? Not that I wouldn't notice if it was updated. Posted via Android Central App

Version 5.1.11 Sent from my Galaxy S4 via Android Central App

They desperately need an Android Wear section Posted via Android Central App

Click Apps from the start page. Then Categories. There you'll see Android Wear at the top. Posted from my Motorola Moto G

+1. I didn't notice. Downloaded the app, no changes. Checked version and I already had the latest. Posted on my LG G2 via the Android Central App

Google is just getting better with Android :) Posted via the Android Central App

I completely agree. Only a couple years ago was Gingerbread. Now look at how beautiful Android is! It's definitely becoming more superior than iOS. Brought to you by the Samsung Galaxy S5 on U.S. Cellular

I also love it as I have all Google services available in my country, excluding Google play store to buy Nexus device buy that's okay :)

What's with the menu now covering the arrow transition? It's like that in play games too.

This has to have something to do with me having to accept terms and conditions all over again yesterday, on every device that I used and opened play store with. Off to grab the apk I go. Posted via some candy

Yeah I wondered about that too, I figured something was up behind the scenes but didn't give it a thought until now. if I didn't have two factor authentication set up i might have been a little concerned.

Man p people really get bent out of shape over the magical transition arrow lol. Posted via some candy

Major 1st World Problems.

I thought they already updated to material design? Whatever, I love new updates so it doesn't matter. Brought to you by the Samsung Galaxy S5 on U.S. Cellular

That was Mat, they just added the erial.

Finally purchase history available. Though would be nice to just see purchased apps. Posted via Android Central App using galaxy s4

This has bugged me for some time. When I do a refresh or get a new device I'd like to see the apps I actually bought instead of a chronological list of all apps ever installed on any of my devices.

And also apps you didn't know you purchased.. :D Posted via the Android Central App

Cool. I'll be more excited if they bring it to the dark side. Wubba lubba dub dub!

I have lollipop on my nexus5, but am still waiting for the update to lollipop on my two nexus7 tablets all three of my devices are 32 GB 3g & LTE I live in Ireland so how much longer will I be waiting! tPosted via Android Centralm App

None of those have 5.0 updates available to anyone, not even factory images. Posted via the Moto X Pure Edition

The new My Account page is handy. Shows everything I ever paid for in Google Play Store Posted via the Android Central App

Hopefully Google starts offering dark theme in all of their apps. Posted via Android Central App

Definitely This, +1 Posted from the redheaded stepchild of the Nexii

nothing on my note 4 yet !

I'm also pretty disappointed about the magic arrow... When I first saw that in Google Photos, I immediately showed all of my friends. I liked the slide out menus being under the heading bar... It made it look a lot more polished than the full screen ones. They need to make up their minds with the little details of material design... Now some apps have the magic arrow, some have the normal sliding hamburger, some have full screen slide ins and some have under the menu bar slide ins... And yes, some even have the magic arrow hidden under the full screen slide ins... Posted via the Android Central App

And I'm talking just Google apps. Posted via the Android Central App

For example, check out the most recent photos app... It looks very nice to me. Now the current gmail app... It has the full screen menu and to me it just looks out of place. Is it just me? Posted via the Android Central App

The my apps page has been de-tabletified on nexus 10 in this update. Used to have a tab on the left with the apps and when one was selected, the info would show up in the rest of the screen to the right. Now it's just a stretched out, ridiculous list of apps taking up about 20% of the screen. Reminds me of the kitkat settings for the poor nexus 10. Smh Posted via the Android Central App

Ugh, the overuse of those garish colors and the space they use/waste is why I really dislike Material design! Reminds me of all the craptastic visual fluff added to Windows starting with Vista. Less is more knuckleheads! :(

"More features you'll have to hunt down on your own. " Really? What an arrogant load of crap. Google has become worse than Microsoft and Apple in its contempt for its customers.

I think they're just trying to have a bit of fun. Posted via Android Central App

I really wish they would show your Google Play balance, doesn't make any sense. Unless I'm totally missing where this option is hiding. I know you can see it if you make a purchase or start a purchase and then cancel before the final screen but that's a bit ridiculous.

Won't let me install when I click "Install". Posted via the Android Central App
Android Central Newsletter
Thank you for signing up to Android Central. You will receive a verification email shortly.
There was a problem. Please refresh the page and try again.